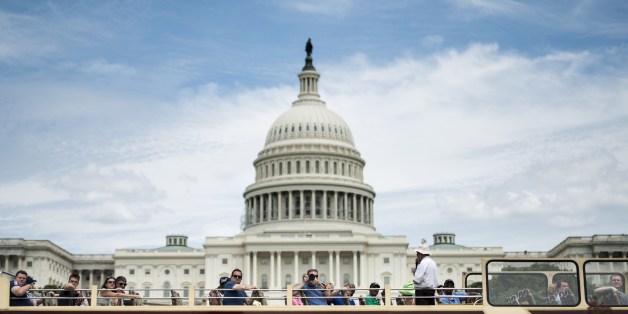 Republicans are more enthusiastic than Democrats about the upcoming midterms, but the gap is narrower than in past years that brought wave elections, according to a Pew Research poll released Thursday.
Forty-five percent of voters who support the Republican in their district, and 37 percent of those who support the Democrat, say they're more enthusiastic about voting than they were in previous elections, giving the GOP an 8-point advantage. In the June before the 2010 Republican House takeover, Republican voters were 13 points more enthusiastic; in June 2006, a Democratic wave year, Democrats had a 17-point advantage.
In the most recent survey, Republican voters were also 10 points more likely than Democrats to say they were closely following election news, and 9 points more likely to say they were absolutely certain to vote.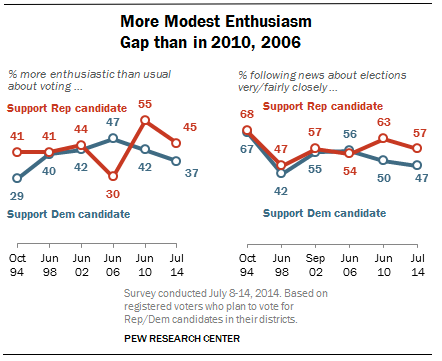 If the election were held today, 47 percent of registered voters say they'd choose the Democratic candidate in their district, while 45 percent would opt for the Republican. That's largely consistent with Pew's earlier polling -- neither side has held more than a 4-point advantage since December -- as well as with other recent national surveys, which overwhelmingly show a close split on the question. Two recent polls of battleground states, from Politico and from the Democratic group Democracy Corps, also found a nearly even divide. Democrats, whose core constituencies are less likely to turn out for midterms, traditionally need a greater lead on the measure to avoid losses.
The Pew survey finds anti-incumbent sentiment at a high since 1994, with 69 percent of Americans saying they don't want most of Congress re-elected, and 36 percent saying they don't want their own representative re-elected. (As the Pew report notes, the latter may be more of a comment on Congress' unpopularity than on any politician in particular, since only about half of voters even knew which party their representative belonged to. Regardless of polling, most incumbents win re-election.)
Majorities of Americans have wanted to oust most of Congress for the last two midterms, but there's a difference this time around: The antipathy extends evenly to both parties, with 38 percent of Republican supporters and 34 percent of Democratic supporters saying they don't want their own representative re-elected. In 2006, Democrats were 16 points more likely to say they'd unseat their own representative, while in 2010, Republicans were 21 points more anti-incumbent.
Fifty-eight percent of voters said the issue of which party controls Congress would be a factor in their vote, while just under half said their views of President Barack Obama would play a role. Of those, 29 percent said they considered their choice a vote against Obama, while 19 percent said it was a vote for him.
Pew used live telephone interviews to survey 1,805 adults, including 1,420 voters, between July 8 and July 14, reaching both landlines and cell phones.
BEFORE YOU GO
PHOTO GALLERY
Senate Seats Up For Grabs In 2014