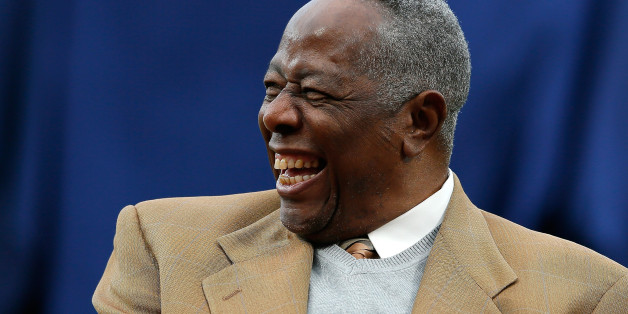 Baseball legend Hank Aaron sent an email to supporters of Democrat Michelle Nunn, who's running for the U.S. Senate in Georgia.
In a Wednesday email, Aaron compared fundraising for Nunn to baseball, where "every hit matters."
"The big ones, the little ones -- they all add up to a chance for your team to win," Aaron wrote.
Aaron touted his own success in the email, noting he holds the all-time record for RBIs:
The 755 home runs I hit in my time mean a lot to me, but there's another record that I'm proud to hold, the all-time record for Runs Batted In (RBIs).

You see, games aren't won or lost on the efforts of one person, they rest on the shoulders of team. And every RBI is a result of teammates working together to achieve one common goal -- victory.

If each one of us steps up to the plate and contributes during this 24-hour fundraising effort called a "money bomb," I know we can bring home the single biggest fundraising day of Michelle's campaign.

Now that's an RBI, I'd like to add to my records. Will you help me do it?
Aaron praised Nunn's "commitment to service," saying he's been "truly impressed" by the Democrat.
Aaron's not the first notable name to promote Nunn's campaign. Vice President Joe Biden visited Georgia in March to attend a fundraiser for Nunn.
Nunn will face off against Republican David Perdue in November in a race that will help determine which party has control of the Senate.
BEFORE YOU GO
PHOTO GALLERY
Obama Playing Sports