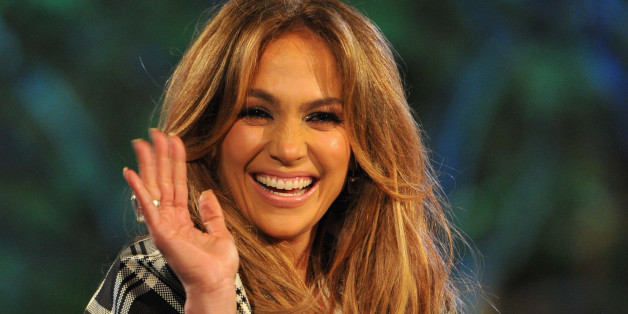 Jennifer Lopez is a powerhouse.
She executive produces a ground-breaking series for ABC Family, helps head a new network geared toward Latinos, reaches out to the community via her family's foundation -- and she's still making records, while raising her twins Max and Emme. It must be said: J.Lo is a role model.
From fly girl to actress to singer to producer to business exec -- the Nuyorican star has done it all and has no intention to stop. Check out 25 lessons the pop icon has given us.
1. Exercising is sexy...

Vía MTV.
2. ..and so is sweating.

Vía Tumblr.
3. Not to mention it's a great way to stay in shape while allowing yourself life's delicious pleasures...

Vía Tumblr.
4. ...and it gets you energized to party.

Vía Tumblr.
5. J.Lo has shown us it's ok to let your inner diva shine.

Vía Tumblr.
6. And demand what we know we deserve.

Vía Tumblr.
7. But we should never forget to relax...

Vía YouTube.
8. ...and not take ourselves too seriously.

Vía Tumblr.
9. The star also knows how important it is to have friends who share your interests.

Vía MTV.
10. And friends with whom to share all of life's emotions.

Vía Giphy.
11. While never taking for granted the one friend you love to bicker with.

Vía Ellen TV.
12. Jenny isn't too keen on sexism in music, especially when women are used as over sexualized props in male-dominated music videos.

Vía Tumblr.
13. So, she flipped the gender script for her music video "I Luh Ya Papi." Take that sexism!

Vía MTV.
14. She can be strong and fierce, but she also knows it's alright to get a little TLC

Vía Tumblr.
15. Even from her friends...

Vía Pérez Hilton.
16. Because it's all about enjoying life

Vía American Idol.
17. And getting everyone else pumped with your good vibes

Vía MTV.
18. J.Lo knows celebrating music is the best way to work it! While spotlighting her most famous asset...

Vía American Music Awards.
19. ...which she proudly owns in any outfit.

Vía Tumblr.
20. Because curves shouldn't be hidden but flaunted...

Vía Tumblr.
21. ...and celebrated at all times.

Vía Tumblr.
22. That's right, J.Lo knows it's ok to get a little kick out of admiring yourself in the mirror

Vía Tumblr.
23. Because we are beautiful, so smile

Vía American Idol.
24. Confidence is key

Vía American Idol.
25. But, most importantly, never stop being you.

Vía VH1.
BEFORE YOU GO
PHOTO GALLERY
Jennifer Lopez's Hottest Looks