As part of our Blended Family Friday series, each week we spotlight a different stepfamily to learn how they successfully blended their two families. Our hope is that by telling their stories, we'll bring you closer to blended family bliss in your own life! Want to share your own story? Email us at divorce@huffingtonpost.com.
Our reader Brynn B. is not exactly a fan of the phrase "blended family." If you ask her, the term sounds pretty forced and drab.
"Maybe that's the point that bothers me the most," she told us via email. "When people hear the term 'blended family,' it frequently is associated with words like forced, un-fun, drama, stress and evil Disney-esque stepparents."
And though she knows from experience how challenging merging two families can be, she'd rather associate her family with a different term.
"Instead, I call my family the Frappuccino Family. Because Frappuccinos are awesome, fun, and actually blended. But hey, it might also be because I love Starbucks."
Below, Brynn shares the five things she loves most about being a stepmom in a blended Frappuccino family.
1. You get to have a friendship with your stepkids.
"My husband brought two daughters into our marriage, Abigail and Shelby, and together we have a son named Frankie. My friendship with the girls is absolutely my favorite thing about being in a family like ours. My stepdaughters have two really great parents who love them to pieces. I don't have to be the 'mother' -- they already have a mom. I support their father with parenting, but for my personal relationship with them, I get to really enjoy the kids. For me, my role as stepmom is akin to an aunt or such. I'm still responsible, but I get to have a more relaxed and fun relationship with the girls.
With our son Frankie, I will always have to be a parent. I'm responsible for making sure that he grows up to be a contributing member of society which means making sure that I am his mother and not his friend. I will discipline and instruct. I don't have to do this with the girls. They get their discipline and instruction from their mom and dad.
Now that the girls are teenagers, the nature of or relationship is best demonstrated while shopping. When one tried on an outfit that was a little too plunging or a little too short, I wasn't worried. All I had to say was, 'You know your mom and dad won't allow that outfit.' I wasn't the bad guy or the parent that laid the rules down, I just enforce the expectations that their parents established."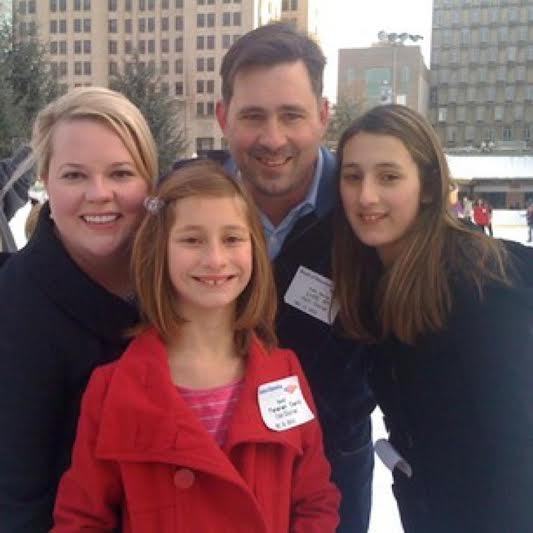 Brynn with her husband Michael and her stepdaughters, Abigail and Shelby.
2. You get to be a support parent.
"Before getting married, I was terrified about becoming a stepmom. I couldn't figure out what I was supposed do in this role -- I knew what not to do thanks to all those evil stepmothers in Disney movies. All kidding aside, I was going from single independent woman to wife and stepmother to two pre-teen girls overnight. I knew nothing about being a wife or mother, yet Michael knew how to be a husband and dad and the girls knew what parenting looked like.
I quickly realized that, for me, stepparent really meant 'support parent.' I like to think that I help make Michael a better father for the girls by adding my influence, suggestions and experience as a daddy's girl. I'm a support parent to the girls as well. Even though they have a great relationship with their mom and dad, there are times that they need to ask questions, discuss something, or just talk to a trusted adult that isn't mom or dad. It's not like it's secrets or anything, sometimes it's just something that I may be more familiar with. The girls get to benefit from the experiences of both of their parents' lives, but mine as well."
3. You already know what kind of parent your spouse is -- and you get to benefit from that experience.
"My husband is a fantastic dad and I knew that well before we had a child together. I didn't have to worry about how he would take to fatherhood because he was a dad long before he met me. In addition, I get to benefit from his experience. Granted our situation with Frankie being a preemie is vastly different from the girls, but there is still so much that he was already equipped to handle. He knew how to change diapers, install car seats, how to give an infant medicine, how to make bottles, how to clip baby's fingernails, what questions to ask the pediatrician at our first appointment, and a plethora of other things.
This is a huge blessing to me because I don't have a mom that I call to ask those questions to, the majority of my girlfriends have grown children, and the people I look to for answers and advice all live several states away."
4. You have the opportunity to be the unifier.
"This is a big thing. Divorce isn't just about the parents splitting up -- it tears whole families apart. In messy divorces, there is a lot of anger and hurt not just in the parent but in the family and friends of that parent. So many times I heard from friends that their kid would come home from a holiday with their ex and that family and would share how they talked bad about my friend. I vowed to not do this.
As for my husband's first marriage, I don't care what happened when they were husband and wife, I care about what happens to them as mother and father of two beautiful girls. I don't even refer to Michael's ex as his ex -- we always say, 'the girls' mom.' This makes us focus on what role is really relevant now.

I get to build up their parents. When the girls share something that happened with their mom (like a spa day or game night), I get to praise their mom to them. I frequently say 'what a great mom you have' or 'you are so lucky to have a mom who loves spending time with you.' By the same token, I get to build their dad up. They don't get to spend as much time with him but they know they're a big part of his life. I will make sure to text them to tell them that their dad was bragging about them, or let them know how much he misses them and how he cries after he drops them off every single time."
5. Most importantly, you get a lot more of the good stuff.
"By marrying Michael, I didn't just get a great husband with devilishly good looks and a great sense of humor and the promise of a life of adventure. I got two beautiful girls that make my life sunnier, happier, and infinitely better. My life is now filled with lots more laughs, love, hugs, adventures, and blessings.
My Frappuccino family is pretty darn awesome and I consider myself to be the luckiest and most blessed girl in the world to get to be a part of it."
PHOTO GALLERY
Meet Brynn And Michael's Family
Keep in touch! Check out HuffPost Divorce on Facebook and Twitter. Sign up for our newsletter here.
BEFORE YOU GO
PHOTO GALLERY
Blended Family Friday