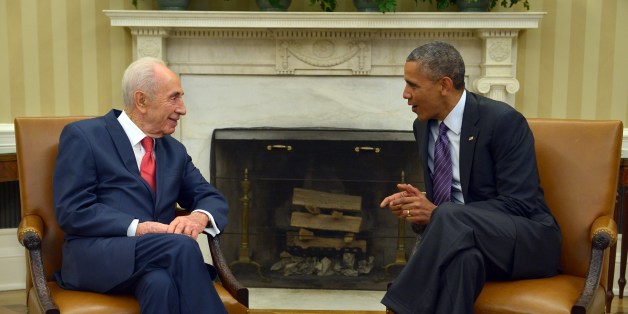 American's views of the ongoing Israeli-Palestinian conflict are about the same as they were during a previous conflict 12 years ago. A majority of Americans say no to impeachment, no matter how hard pollsters ask. And once upon a time, Gallup's live interviewers tracked the hairstyles of their respondents. This is HuffPollster for Friday, July 25, 2014.
AMERICA'S OPINIONS ON MIDDLE EAST IN LINE WITH PAST RESPONSES - Jeffrey M. Jones - "Americans are divided in their views of whether Israel's actions against the Palestinian group Hamas is 'mostly justified' or 'mostly unjustified,' but they widely view Hamas' actions as mostly unjustified. Those results are similar to what Gallup measured 12 years ago during another period of heightened Israeli-Palestinian violence, and they are consistent with Americans' generally more positive views of the Israelis than of the Palestinians….Americans are generally pessimistic about the Israelis and Palestinians being able to settle their differences and live in peace, and while the escalated tensions between the two sides have been a major news story the last two weeks, the American public does not view it as any more serious than past conflicts. Americans continue to exhibit more positivity toward Israel than the Palestinians, but also stop short of saying Israel's actions in the current situation are justified." [Gallup]
IS GEORGIA A TOSS-UP OR A SURE GOP BET? Ben Highton explains why his model gives Democrats little chance for victory: "Our forecast for the outcome of the Georgia U.S. Senate election this year is more optimistic for the Republicans than those of many other analysts. Our most recent forecast gives them a 98 percent chance of winning. Here we explain why….Two factors from the model combine to weigh heavily in the Republicans' favor in Georgia. First, with a Democratic president the midterm penalty (about 3 percentage points, on average) favors the Republicans and Perdue. Second, in recent presidential elections Georgia has been about 6 percentage points more Republican than the country overall, which our model suggests will translate into about 2 percentage points of the Senate vote for Perdue (compared to a state whose presidential vote mirrored the national vote)....Another factor to consider is campaign fundraising. Our model currently is based on relative party fundraising rather than candidate fundraising….In Georgia this year, the Republican Senate candidates have out-raised Nunn by about 3 to 1. Based on our model this gives Perdue another boost of almost 4 percentage points compared to if the fundraising between the parties was even. Of course, there was a hotly contested Republican primary and primary runoff on the Republican side while Nunn faced no other serious Democratic challengers. If the amount raised by all the Republican candidates combined is not a good indicator of overall Republican strength, then our model is overestimating Perdue's chances….Going forward, as Election Day approaches our forecast will give growing weight to the polls, assuming that more are reported. " [WashPost]
NO MATTER HOW YOU ASK, MOST AMERICANS DON'T SUPPORT IMPEACHING OBAMA - HuffPollster: "In the wake of a lawsuit in the works against President Barack Obama, some Republicans like Sarah Palin have been calling for the House of Representatives to go a step further and impeach the president. Two new polls out this week, from CNN and Fox News, both asked the public to weigh in. The way each pollster approached the question, however, was a little different. CNN asked a pretty simple yes/no question, following the same format they used for polls about Bill Clinton and George W. Bush: 'Based on what you have read or heard, do you believe that President Obama should be impeached and removed from office, or don't you feel that way?' Fox, after characterizing Obama as 'bypassing Congress and acting on his own' in a previous question, asked this, which seems to take as a given Republican claims that Obama flouted the Constitution: 'Do you favor or oppose impeaching President Obama for exceeding his authority under the Constitution by failing to enforce some laws and changing other laws on his own -- or for any other reason?' Despite Fox's one-sided framing of the question, the results of the two polls were strikingly similar. In this case, people turned out to be against impeaching Obama regardless of how the question was phrased. Just 33 percent of Americans in the CNN survey, and 36 percent of voters in the Fox one, supported impeachment -- about the same percentage who favored impeaching the last two presidents." [HuffPost]
NYT USAGE OF 'POLL' SURGED IN 2012 - Two years ago, Alexis Lloyd of the the New York Times R&D Lab created a tool to graph the usage of words and phrases. On Wednesday, the Lab opened up her Chronicle project to the general public. HuffPollster immediately plugged in our favorite word, which showed a significant upward spike in 2012. Could it be a FiveThirtyEight effect? [NYT Labs, chart of useage of "poll"; via @kwcollins]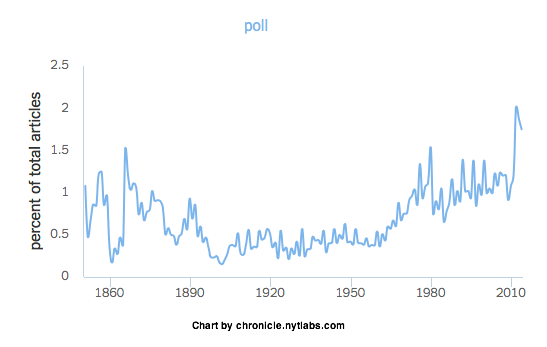 HUFFPOLLSTER VIA EMAIL! - You can receive this daily update every weekday via email! Just click here, enter your email address, and and click "sign up." That's all there is to it (and you can unsubscribe anytime).
FRIDAY'S 'OUTLIERS' - Links to the best of news at the intersection of polling, politics and political data:
-Democrat Paul Davis has an 8-point lead over incumbent Gov. Sam Brownback (R). [SurveyUSA]
-Most Americans like the idea of open primaries. [YouGov]
-Gallup interviewers tracked changing men's hair trends on college campuses in the 1970s. [@alec_h_tyson]
BEFORE YOU GO
PHOTO GALLERY
Israel-Gaza Conflict