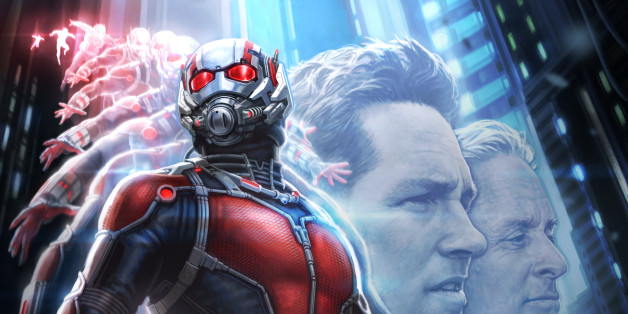 Marvel Studios brought the cast and director of "Ant-Man" to Hall H of the San Diego Convention Center during the studio's Saturday night Comic-Con panel. Actors Paul Rudd and Michael Douglas and director Peyton Reed were in attendance, as too were co-stars Corey Stoll (who plays the film's villain, Yellowjacket) and Evangeline Lilly (who plays Douglas' onscreen daughter, Hope Van Dyne). Stoll and Lilly had long been rumored for the film, but their involvement was made official by Marvel on Saturday.
"We've been fans of Evangeline for years, and couldn't be more pleased that she's agreed to join us on Ant-Man's journey to the big screen," Marvel Studios head Kevin Feige said in a statement. "We look forward to audiences learning more about her character when she joins forces with Hank Pym and Scott Lang in 2015."
In addition to the cast, Marvel showed off a brief teaser of test footage from "Ant-Man" to the Comic-Con crowds. Production on the film, which is set for release on July 17, 2015, doesn't begin until August. A smattering of reactions to the footage is below:
'Ant-Man' starts filming in two weeks, says Feige. But they do have a quick teaser to show...

— ScreenCrush (@screencrushnews) July 27, 2014
Marvel has ANT-MAN footage!

— ErikDavis (@ErikDavis) July 27, 2014
Ooooh, there's some neat dialogue with Hank Pym. #MarvelSDCC

— Ryan Penagos (@AgentM) July 27, 2014
Oh man. Hank Pym's kinda erky. I like it. Footage of #AntMan running. Then jumping on a flying ant. #MarvelSDCC

— Ryan Penagos (@AgentM) July 27, 2014
Early footage from Ant-Man showed him trying to escape on an ant, with the instruction of Pym in his helmet. Looks fantastic, I'm still in.

— Alex Billington (@firstshowing) July 27, 2014
WOW very impressed with what they showed us on ANT-MAN.

— LatinoReview-Kel (@Latinoreview) July 27, 2014
Antman clip showed a tiny sized hiest with Rudd having to ride a fly across a room. Pretty cool visuals, likely constructed by @edgarwright

— Peter Sciretta (@slashfilm) July 27, 2014
'Ant-Man' footage mostly test stuff with some voiceover from Rudd and Douglas.

— ScreenCrush (@screencrushnews) July 27, 2014
ANT-MAN looks a lot like demo footage. because it's demo footage. they start shooting in two weeks. admittedly, not that cool. #SDCC

— jonathan chang (@jonniechang) July 27, 2014
Edgar Wright was famously attached to directed "Ant-Man" for years, but he left the project in May because of creative differences with Marvel. Reed took his place a few days later.
"It's all working out very well. They couldn't be more enthusiastic now for where the movie is headed under Peyton's direction," Feige told HuffPost Entertainment in a recent interview. "Yeah, there was a certain amount of shock and disappoint, as there was for all of us, when we parted ways with Edgar. But they're all professionals and all excited for the film and for the ideas behind the film and for where we're taking the film. Now it is an awesome and unified cast and crew moving forward."
As many observers noted, however, Lilly revealed during the panel that she had not yet received a finished script for the film. That will likely change soon, as "Ant-Man" is due out in less than a year.
BEFORE YOU GO
PHOTO GALLERY
Comic-Con 2014