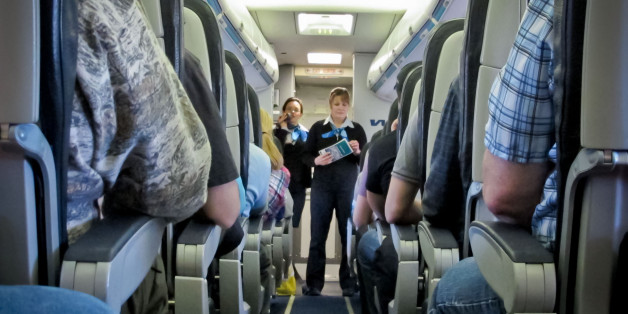 We spend a lot of time hating on airlines: passengers whine that the food is nasty, the luggage gets lost, and the flight attendants are grumpy and grouchy.
But if you're busy dissing airlines, it's probably because you're not flying the right ones.
The World Airline Awards recently named the airlines with the friendliest staff in North America -- and we bet you rarely fly with two of the top three. Virgin America took the number one spot, and we all know about them. But the other two friendliest crews are found on WestJet and Porter Airlines, two Canadian carriers you've likely glossed over in favor of bigger brand names.
WestJet put a tear in everyone's eye last December with an epically heartwarming video of crew members surprising passengers with Christmas gifts -- it's no wonder they were ranked the second-friendliest airline on the continent at the awards. And considering they fly to dozens of destinations in the U.S., Mexico, Canada, Caribbean and Europe, it's a wonder we don't travel with them more often.
Porter Airlines, meanwhile, is based in Canada, but they offer routes to U.S. destinations like Chicago, New York and Boston. Free beer and wine come in real glassware, and there are complimentary snacks -- the whole modern aesthetic is decidedly JetBlue-esque. Customers rave about Porter's "friendly people," expressing dire hope that the regional airline will "expand soon."
So if crabby airlines have got you down, take the experts' advice and fly those friendlier skies.
BEFORE YOU GO
PHOTO GALLERY
Airlines: Now vs Then