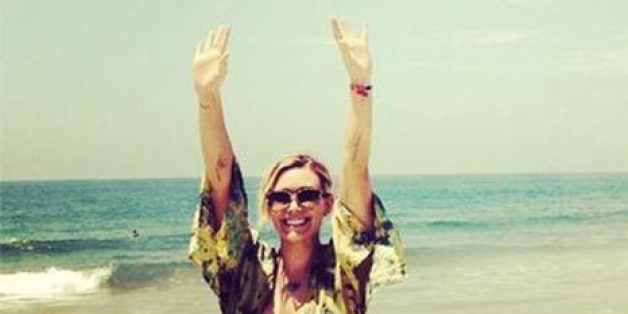 The lucky people on the right beaches across the United States at the right time may have noticed a special message flying across the sky on Saturday, July 26, promoting Hilary Duff's upcoming single, "Chasing the Sun."
Opting for airplane promotion, because why not, Duff tweeted out a picture of herself wearing a two-piece paired with a flowing cover-up, she wrote, "I swear the #chasingthesun plane is in the sky lol squint and look really hard." By looking really hard, the recent RCA signee meant printing out the picture and then acquiring the world's finest magnifying glass.
However, Duff made sure to tweet out plenty of photos of the spotted planes, with a final tweet of a close-up shot of the banner, revealing that her single will drop on Tuesday, July 29. "Chasing the Sun" will be the first release off of her first album since 2007's "Dignity."
I swear the #chasingthesun plane is in the sky lol squint and look really hard 😝 pic.twitter.com/fAwlmgiIY0

— Hilary Duff (@HilaryDuff) July 26, 2014
I am so excited for this Tuesday! I can't believe it's all happening finallly #ChasingTheSun thanks for all the ❤️ pic.twitter.com/cguaHhMNAX

— Hilary Duff (@HilaryDuff) July 26, 2014
BEFORE YOU GO
PHOTO GALLERY
Celebrity Bikini Selfies