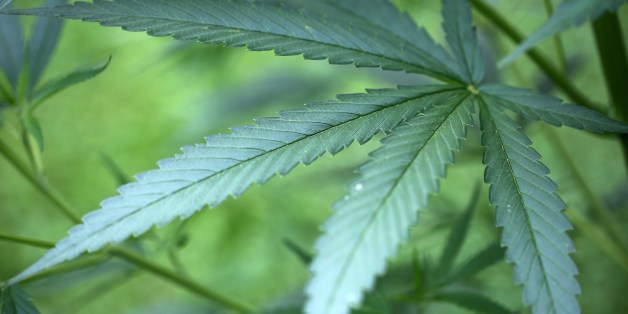 The New York Times' call to legalize marijuana in the United States is undoubtedly a landmark moment for the paper and for the continuing debate around the issue. So it's not surprising that the Gray Lady is giving the editorial, and the series accompanying it, the kind of star billing normally reserved for its splashiest news stories.
The Times is marketing the series very aggressively—possibly more aggressively than any other op-ed package. Reporters were sent a press release trumpeting the news, and the actual editorial featured the kind of visual flair and digital tricks—in this case, an American flag whose stars change to marijuana plants as you scroll down the page—typically given to lengthy news features.
The Times has been somewhat cheeky with its rollout; its series can be found at nytimes.com/HighTime, and editorial page editor Andrew Rosenthal will be hosting a Facebook chat on Monday at the very appropriate hour of 4:20 PM.
Writing on his blog on Saturday, Rosenthal described how the series took shape.
"At editorial board meetings we discussed how to proceed (none of us thought the status quo was viable)," he wrote.
"The need to speak out became clear. With the support of our publisher, Arthur Sulzberger, the editorial writers mapped out the series we started today. A team of web editors and designers created a special design for the Times website, as well as charts and graphs, videos and interactive features."
In an email to Politico's Mike Allen, Rosenthal said that most of the conversations that took place centered around "whether it was time for the Times (meaning the editorial page) to make this kind of statement and how to do it."
In a departure from normal practice, many of the editorials in the series are signed by individual editorial board members. In the press release, Rosenthal wrote that this was intended to bring a "more personal approach" to this highly personal issue. "We will continue to experiment in the future on different ways to use the power of the unsigned editorial, along with new and different ways to signal the author of other editorial articles," he added.
The experimentation comes as part of a wave of efforts by the Times to refurbish its op-ed offerings for the digital age.