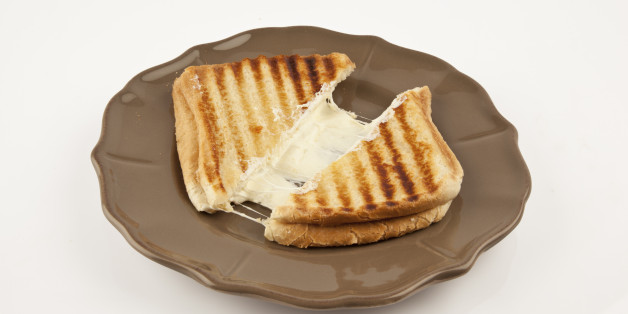 A tasteless restaurant review has prompted a heartwarming fundraiser.
While most food critics stick to actual food when sharing their views of a dining experience, a customer in Portland, Oregon –- in true troll fashion –- left an odious comment on Yelp about EastBurn that had little to do with his meal.
"My friend and I picked up some hot girls here, but he got his pregnant. But she was Canadian so she went home and got a free abortion so it's all cool now. You can get grilled cheeses here for $5."
The comment has since been deleted, but not before owner Mike Bender could weigh in.
Bender decided to donate all proceeds of the grilled cheese sandwiches in question to the Portland Women's Crisis Line, one of the first five sexual violence crisis lines in the United States. The group both empowers victims and aims to put an end to the violence that leads women to seek their services in the first place.
"5 stars to you Lee M. for making an example of how this kind of disrespect towards women is shameful and not at all funny. Yes, our grilled cheese is only $5 and was kindly listed as one of the top 25 in the country by Food and Wine Magazine. As a thank you for spotlighting this kind of behavior, all proceeds through August from the sale of EastBurn's Grilled Cheeses will go to the Portland's Women's Crisis Line. -- Cheers!"
Unfortunately this isn't the first time that a restaurant owner has had to turn lemons into something that's actually palatable.
Back in May, a reviewer posted a comment to UrbanSpoon, urging Atomic Grill, a West Virginia spot, to "show more skin," ABC News reported.
Owner Daniel McCawley decided to pay heed to the request.
He offered a $7 potato skin special, with all all the proceeds benefiting the West Virginia Foundation for Rape Information Services.
Now these are menu items we have no problem stomaching.
If you'd like to support the Portland Women's Crisis Line, find out how you can get involved here.
BEFORE YOU GO
PHOTO GALLERY
Notable Anti-Domestic Violence Campaigns