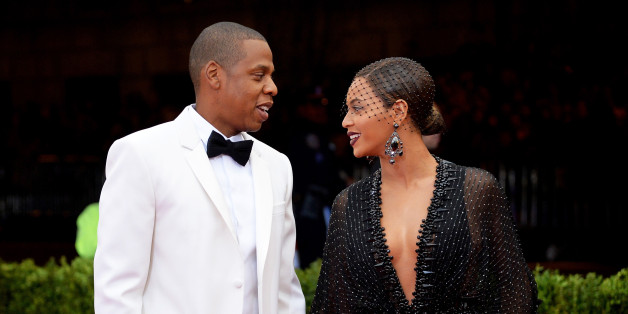 The New York Post is pretty convinced that divorce is imminent for music's biggest power couple, Beyonce and Jay Z.
Ever since TMZ obtained video of Beyonce's sister Solange attacking Jay Z after the Met Ball, rumors of marital problems have been flying left, right and center. The Post has been at the forefront of these claims, quoting sources who must be tapped into the couple's inner circle given the intel they are leaking.
The latest sign that the couple is heading for splitsville comes from claims that Beyonce was reportedly "secretly shopping for new digs without Jay Z." The Post's sources claim that weeks after the attack video went viral, the 32-year-old songstress quietly looked at a $21.5 million Chelsea penthouse, which means alleged trouble for the marriage because there is no way that Beyonce would be looking at such a space for a family member, nor would Jay Z consider leaving his massive Tribeca apartment. "I can say with certainty that Jay is not downsizing," a source told the paper.
At this point their sources say that it's not a matter of if they'll split, but when and how. Sources claim that while the couple presents the image of a happy family in their Instagram photos, which are posted regularly, the only time they spend together is on stage during On The Run shows.
But beyond allegations made by anonymous sources, there are a number of signs contributing to rumors that Bey and Jay may soon call it quits.
With the couple's relationship under new levels of scrutiny after the Solange attack video leaked, it became apparent that Beyonce had her Roman numeral IV tattoo removed from her ring finger -- a tattoo she got in lieu of an engagement ring.
At the couple's Cincinnati show on June 28, Beyonce changed the lyrics to "Resentment" from "I'll always remember feeling like I was no good / Like I couldn't do it for you like your mistress could" to "I'll always remember feeling like I was no good / Like I couldn't do it for you like that wack bitch could." And later she also changed the lines from "Been ridin' with you for six years [...] I gotta look at her in her eyes and see she's had half of me" to "Been ridin' with you for 12 years [...] I gotta look at her in her eyes and see she's had half of me. She ain't even half of me. That bitch will never be."

And if she's not changing the lyrics to her songs she's belting out brutally emotional covers like her rendition of Lauryn Hill's "Ex Factor," at the couple's New Orleans show (though it should be noted, it's a song Beyonce covered in the past, well before divorce rumblings ran rampant).

A blind item from Blind Gossip claimed on July 21 that a high-profile couple was in the process of "splitting up everything (properties, money, child/ren) right now, but will be keeping up appearances until the announcement." While most would brush off these blind items, Blind Gossip was the same site that accurately predicted Tom Cruise and Katie Holmes' divorce.
With all that in mind, it's important to remember that Beyonce and Jay Z are masters of publicity. And it's not beyond the realm of possibility to think that they might be the ones pulling the strings. It could be argued that the threat of a divorce could make their On The Run tour seem like the last time fans could potentially see them perform together, which could definitely be a narrative that would help drive ticket sales.
And doesn't it seem strange that Beyonce was able to keep her entire album a secret right up until the moment it dropped, and yet suddenly someone in her camp won't stop leaking secrets to The New York Post? Also, where is TMZ in all of this? Why hasn't the outlet, which was responsible for procuring the video that started all the divorce rumors in the first place, chimed in at all?
But with the couple's tour scheduled to end on September 13, if the rumors are true, we could soon be getting some answers to all these questions.
BEFORE YOU GO
PHOTO GALLERY
Beyonce & Jay Z