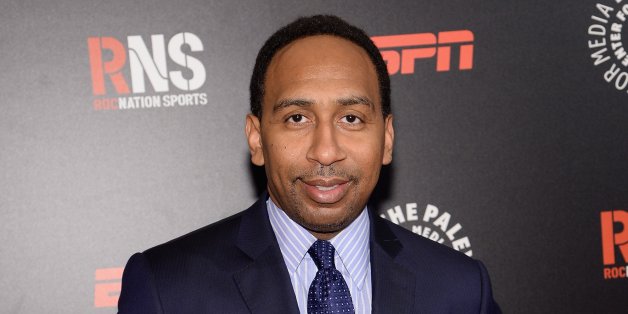 Stephen A. Smith is going to sit out a few plays.
ESPN announced on Tuesday that Smith will not appear on "First Take" or ESPN Radio for a week. The announcement came just one day after Smith publicly apologized for his infamous domestic violence rant. Both his initial comments, in which he contended that victims of domestic violence need to be mindful of the "elements of provocation" when dealing with abusers, and the subsequent televised apology were made during episodes of ESPN2's "First Take" debate program.
In its brief statement shared by ESPN PR staffers on social media on Tuesday afternoon, the one-week absence was not referred to as a "suspension."
ESPN announced today that Stephen A. Smith will not appear on First Take or ESPN Radio for the next week. He will return to ESPN next Wed.

— Josh Krulewitz (@jksports) July 29, 2014
ESPN announced today that Stephen A Smith will not appear on First Take or ESPN Radio for the next week. He will return to ESPN next Wed.

— Mike Soltys (@espnmikes) July 29, 2014
A day before his apparent suspension was announced, Smith described his comments about domestic violence as "the most egregious mistake of my career." The "First Take" co-panelist made his inflammatory remarks during the Friday episode of the previous week while discussing the NFL's decision to suspend Baltimore Ravens running back Ray Rice for two games following a domestic violence arrest during the offseason.
"On Friday, speaking right here on 'First Take' on the subject of domestic violence, I made what can only amount to the most egregious error of my career," Smith said in a taped segment that opened the program on Monday morning. "While elaborating on thoughts concerning the NFL's ruling versus Ray Rice following a domestic dispute with his then-fiancee, I ventured beyond the scope of our discussion by alluding to a woman's role in such heinous matters, going so far as to use the word "provoke" in my diatribe. My words came across that it is somehow a woman's fault. This was not my intent. It is not what I'm trying to say. Yet the failure to clearly articulate something different lies squarely on my shoulders. To say what I actually said was foolish is an understatement. To say I was wrong is obvious. To apologize to say I'm sorry, doesn't do the matter it's proper justice, to be quite honest. But I do sincerely apologize."
CLICK HERE to watch Smith's full apology
Shortly after Smith's apology on Monday, ESPN PR issued a brief statement on the controversy. That statement distanced ESPN from Smith's views but made no mention of punishment.
"We will continue to have constructive dialogue on this important topic. Stephen's comments last Friday do not reflect our company's point of view. As his apology demonstrates, he recognizes his mistakes and has a deeper appreciation of our company values."
BEFORE YOU GO