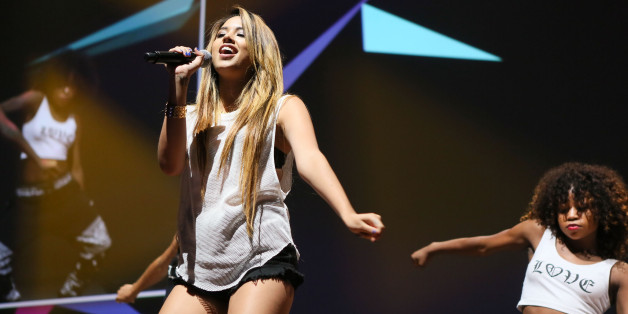 Jasmine V is back.
The singer and actress recently released "That's Me Right There" ft. Kendrick Lamar, the first track off her upcoming EP. The single is her first since 2012's "Didn't Mean It," which was released accompanied by a chilling video that detailed the star's experience with domestic violence and helped raise awareness for other victims.
The San Jose native is best known as Justin Bieber's love interest in his video for "Baby," and Villegas later confirmed the two had dated briefly after working together. After several years of working in music and television, the young artist was signed by Interscope Records in 2013.
The 20-year-old singer performed "That's Me Right There" for the first time on July 19 at NuvoTV's "Night of Comedy" in Los Angeles. On the red carpet, the singer spoke to The Huffington Post about what the new song means to her and the piece of advice she would give to anyone in an abusive relationship.
"I just shot the video [for "That's Me Right There"] a couple of days ago, so I'm really excited about that," Villegas told HuffPost. "I haven't put music out in a while and I feel like this song really represents me and who I am now."
The comedy event, featuring comedians Anjelah Johnson and John Leguizamo, was part of the National Council de La Raza's Annual Convention. Before she stepped on stage for her performance, Villegas said her new single was a culmination of a period in which she was "trying to figure out who I was."
After revealing that she had been in an abusive relationship for more than a year, Villegas has come forth with her story in the hopes of helping other victims speak out. The artist was honored for raising awareness against domestic abuse at Cosmopolitan For Latinas' Fun, Fearless Awards in June.
"My advice is to never hide it," the singer said. "I hid it and I had five people around me that could've helped me every day. I had so many opportunities when I was alone with those people [who] I could've told, and I didn't because I was so scared. My only advice would be, don't ever feel like you don't have a voice in any situation because you do, and don't hide it. I feel like you have to have people to help you because, you know, at the time I didn't see anything on TV about domestic violence so I didn't know where to go. I kind of felt like if I told people anything they wouldn't believe me and I didn't have anywhere to go, so I hid it."
BEFORE YOU GO
PHOTO GALLERY
How To Help A Victim Of Domestic Abuse