Twenty-five miles and counting!
On July 27, NASA's Mars rover Opportunity broke the record for the greatest distance traveled off-Earth, the space agency said. The rover surpassed the previous world record of 24.2 miles, which was set in 1973 by the Soviet Union's Lunokhod 2 lunar rover.
As of Monday, Opportunity's odometer read 25.01 miles, NASA said. Of course, the rover moves regularly -- so the world record is only climbing.
"Opportunity has driven farther than any other wheeled vehicle on another world," Mars Exploration Rover Project Manager John Callas, of NASA's Jet Propulsion Laboratory, said in a written statement. "This is so remarkable considering Opportunity was intended to drive about one kilometer and was never designed for distance."
(Story continues below.)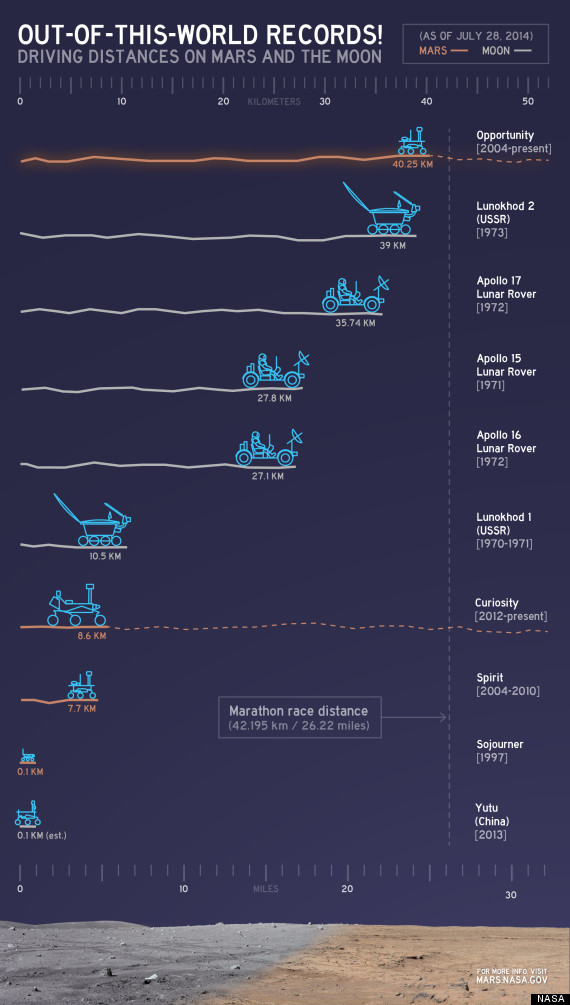 The record-breaking drive is quite the accomplishment for NASA, which sent the Opportunity rover to the red planet in 2004. Though Opportunity and its twin rover, Spirit, outlasted their estimated 90-day lifespans, NASA lost contact with Spirit in 2010 after it became trapped in sand.
Opportunity broke the U.S. record for the greatest distance driven off-Earth in May 2013 when it surpassed the mileage set in 1972 by the Apollo 17 moon rover.
Next up, Opportunity's operators are looking to break the marathon mark of 26.22 miles.
BEFORE YOU GO
PHOTO GALLERY
Curiosity: Mars Science Laboratory's Rover