This post is part of HuffPost's ongoing #PitBullWeek coverage.
Some people grow up with golden retrievers, and then for the rest of their lives are golden retriever people. Susan Tonielli grew up with pit bulls.
In 1977, she got the first pit "as a mistake," which "led to nine pit bulls total including the three I have now," she says. "I have never owned any other breed."
Mavis arrived at her parents' home in Ottawa, Illinois, when Tonielli was a horse-crazy 12-year-old, and "this was as close as I was going to get to a pony," she says. The dog came from a pet shop, as dogs more commonly did back in the 1970s.
Tonielli had asked for an English bull terrier. Eight weeks later, a big puppy -- and not the right kind -- showed up.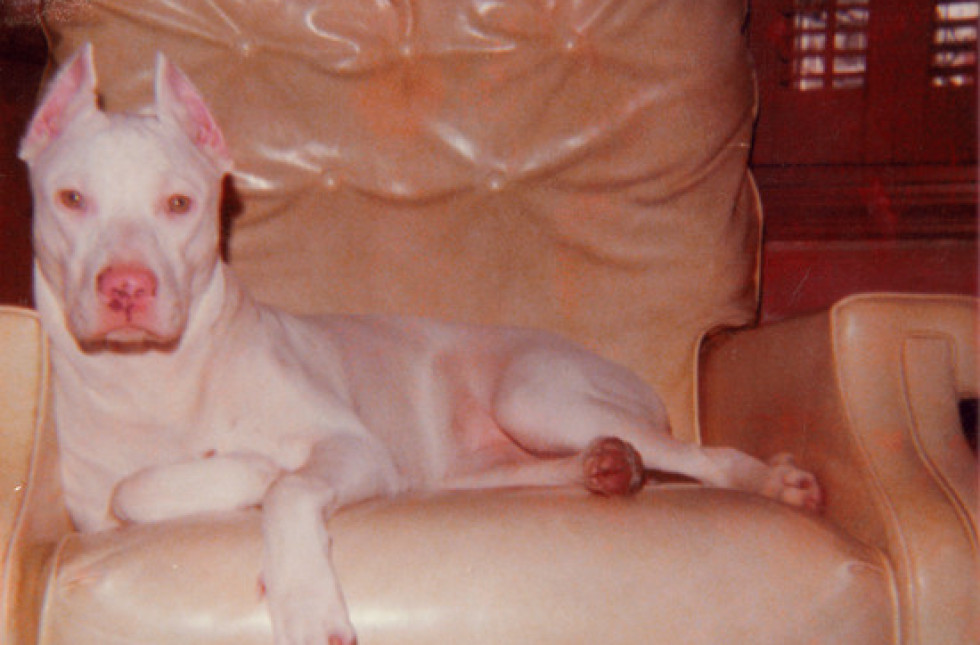 Mavis, 1977-1990
"I remember thinking, and this is not an English bully. Mavis was pure white with a pink nose and all floppy ears and legs," she says.
But whatever mistakes led to Mavis' introduction, this gorgeous pup "became a constant" in Tonielli's life, "as well as the rest of the family. And our friends loved her, and she loved everyone. She was there for me through high school and college... Funny and quirky as all get out."
Strangers would stop on the street to remark on Mavis' beauty. Yet Tonielli remembers that in 1990, as Mavis was being carried into the vet's back office to be put to sleep, "We cleared out the whole waiting room. A 75-pound incapacitated near-death pit bull still caused fear," she says. "I didn't understand what the problem was, my dog was dying, and I was horribly saddened by her death as well as the reaction of those other pet owners."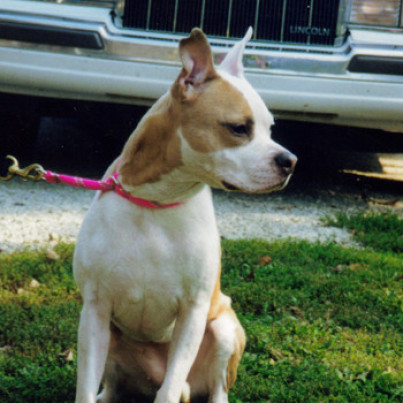 Minerva of York, 1990-2004
Next came Minerva of York, from a breeder (it was the early 90s; rescue still wasn't the option it is today).
"Now this was an adventure," says Tonielli. "Minnie arrived at eight weeks old. She was about the size of a women's size seven shoe. Tiny. Minnie was appropriately named. But perhaps we should have switched it to Mighty... She topped out at a whopping 36 pounds and was the puppy from hell -- too smart for her own good, constantly in trouble, to the point of having to put a cat collar with a bell on her so we could find her as she was an expert at hiding."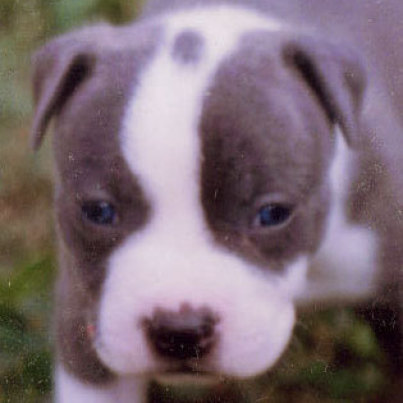 Merlin of York 1993-2008
Merlin of York -- the by-now-ubiquitous M names were in honor of the beloved Mavis -- was Tinnielli's first male dog. She got him as an eight-week-old puppy, and her feelings for him are still so strong that "if I could ever hatch an egg and raise a baby, this was it. If I could ever have various soul mates throughout my life, he was one," she says.
"This dog was my protector from the beginning. He would put himself between me and anything he deemed a threat," she says. "When I had a bout with panic attacks, he would stand by my side before the attack would begin. He knew the stress was coming before I did."
And it wasn't just Tonnielli he protected. Merlin also "nannied all the stray dogs that came through my house, as if he knew they needed some reassurance. He also ruled them with the velvet paw... I am still and always will be honored to have had this dog and this experience in my lifetime."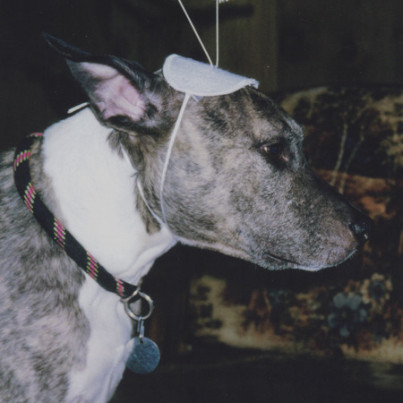 Maxwell 1993-2004
Maxwell was the first rescue Tonnielli brought home. He'd been brought to the local veterinarian's office -- now doubling as an animal shelter -- with two broken legs and a terrible fear of people.
"Maximoto. Maximundo. Maxwail... Max was so homely, I was afraid no one would would want him. He was like an old shoe," says Tonnielli. "He caused a bit of trouble at first with his wanderlust but then soon discovered he would not be beaten if he made a mistake."
This doggie fell in love with the fetching Minnie, Tonielli observed, but "to no avail."
Luckily, he was more successful in other endeavors. "Max fastidiously unwrapped all the Christmas presents every year. While I was working in my home office, he would lay in the middle of the floor and moan and wail to go outside," she says. "Funny dog who died too soon, of cancer related to the bones that were broken... Good boy Max for teaching me that I can raise a young adult dog to be a great pack member and friend. In adulthood, he was a beautiful dog. Definitely a pit bull mix."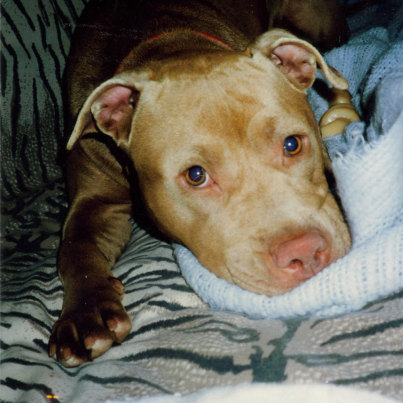 Myra 1994-2004
Myra, Tonielli's second pit rescue, "was a pancake, meaning that if voices or hands were raised she would flatten herself out like a pancake. Scared to death and obviously beaten," she says. "I didn't even take the time to get to know her once I heard that. She was spayed and I brought her home."
Within an hour, the other dogs had accepted Myra as one of their own -- and Myra had decided that she didn't want any of them out of her sight, ever.
"If we left, she would yell at us for an hour when we returned. Myra would follow me around the house and tell me off because I had left her," says Tonielli. "She had a squeaky little voice that did not match her big powerful body. We came to call her 'Buckets' for 'Buckets of Love.' She had a powerful build but a heart of glass, and we took great care not to hurt her emotionally. This is when I realized that they all have feelings akin to humans."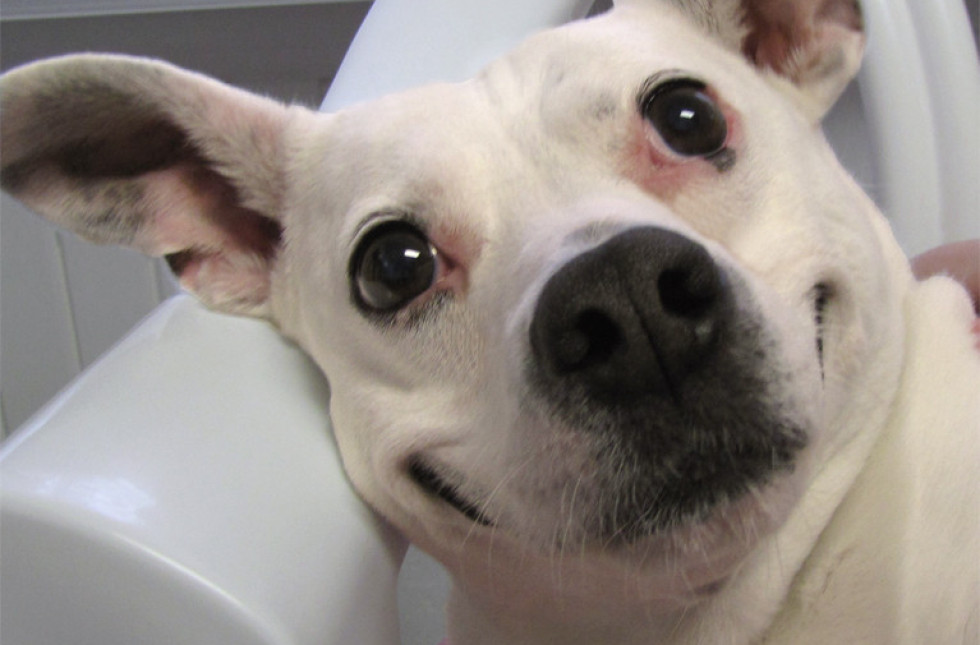 Morton 1998-2011
By now, it was clear that Tonielli had become the pit bull person. And so Morton was soon foisted upon her by "ladies at the shelter," she says, who claimed this grinning bully bore a resemblance to Minnie. They failed, however, to mention some of his other qualities.
"Morty was adoptee number three and was in my house for 20 minutes before I figured out he couldn't hear me. Morty was deaf," Tonielli says.
He was also prone to attacking the other male dogs in the house, which nearly got him sent to "the great pound in the sky, until my mother pleaded his case. From that point on, Morty became the kitchen dog." The problem was worked out with some well-placed baby gates.
"He had a very happy life for 14 years. Morty smiled. That is not Photoshop which you see in the picture. He smiled when you waved at him, he smiled when you gave him massages," says Tonielli. "We think that smiling was another form of extra communication because of the hearing impairment. Morty was a true blessing and we are so very glad that we had him in our life; he taught us to enjoy the simple things and that an impairment of any kind can be overcome."
This brings us, we are happy to say, to the three dogs that Tonielli has today.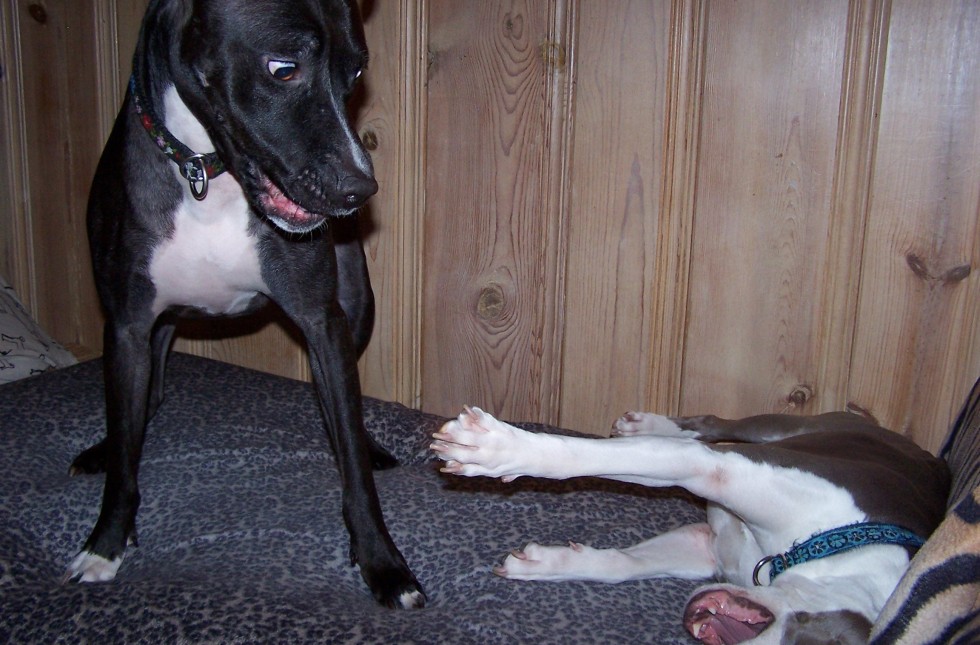 Silvee Mae of York 2004-, and Iris 2005 -
"Silvee came to me from the same breeder of Minnie and Merlin. Minnie had passed away, and my father loved her so very much," says Tonielli. "He had cancer at the time, and wanted to have another little Minnie."
Iris -- Tonielli says that she'd "run out of steam" for finding new M names, at last -- joined the family not much later, in 2005, a year before her father passed away.
"Homeless, and no one wanted her because she was just another 'black lab mix,'" she says. "Iris protects her little Silvee and cries when we take Silvee in the car. She is exuberant, loves us and her back yard with epic strength. The ground shakes under her feet. She is big and mighty [but] there is no need for fear of Iris. If you can get over the fact that she is a big black panther of a pit bull."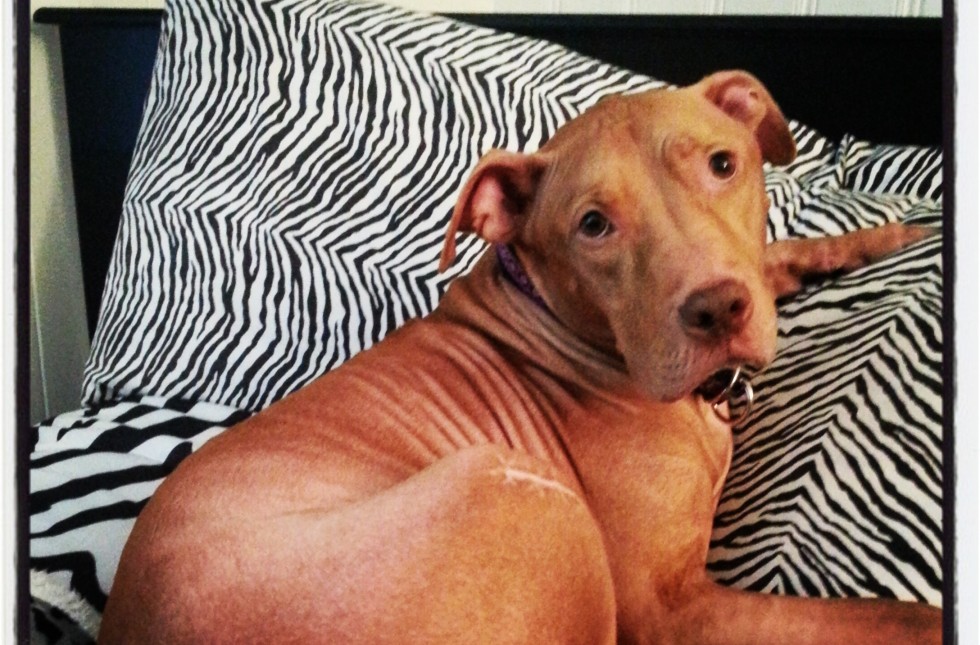 Duncan 2006 -
Duncan is Tonielli's latest rescue. He came through the shelter system, got adopted to someone else, then came back a couple of years later with "a newly added limp... He had an illustrious road on the way to my house, including an alias to keep him out of the hands of some not-so-nice people who were bent on having him," she says, calling him "Buckets of Love, the sequel" and "the closest thing to a regular English bulldog I will probably ever have. He snorts, snores, has short legs and a wide chest. And eyes that will melt your soul."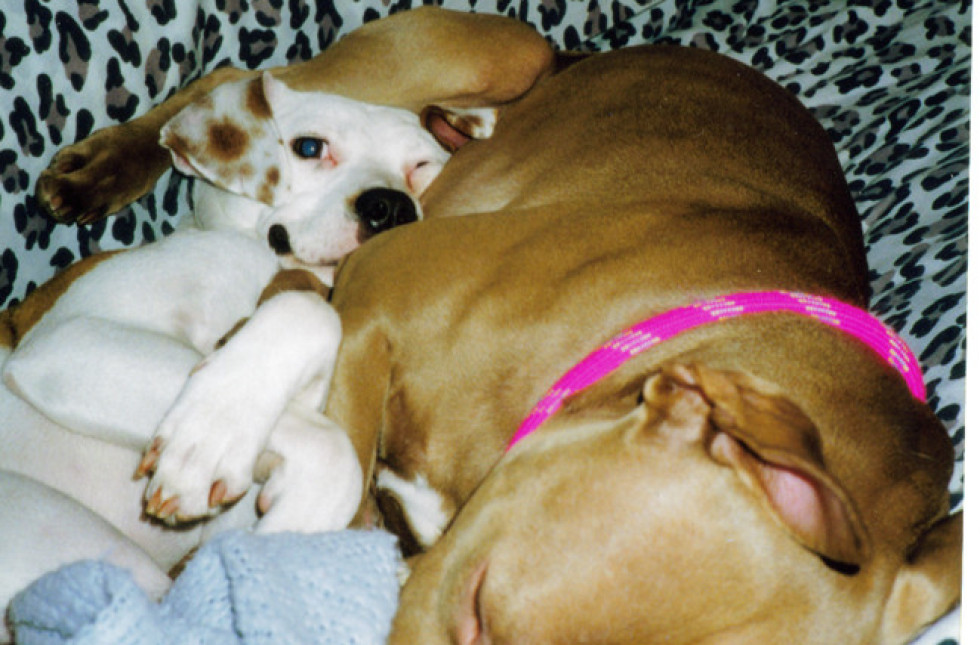 Morty with Myra, in 1998
Tonielli -- who is a watercolor artist, and sometimes works doing photo retouching, when she isn't volunteering with a local pet rescue group -- says she prefers to be behind the camera; she doesn't want us sharing photos of herself, she just wants people to know about her pups, and how much she loves them, so that hopefully others will come to see that pits are the same as any other dog: lovable, goofy, each with a distinct personality.
And no, she's never been hurt by any of the dogs, except, she says, "from 'happy tails' cracking me on the shins like a whip" and "maybe the occasional whack in the chops from someone trying to jump into my lap, therefore hitting me on the lip."
Tonielli is single, and she and her 77-year-old mother are living together, in her hometown, since "like all good and crazy Italian families, the door here at my parents home has always been open. If I rented or bought a home, the dogs would go with me and my parents loved them too much. So we all just stayed here and carried on with life."
Through the course of that life, so far, Tonielli says she's been delighted by her pits' antics and company, but despairs over stories of animal abuse and by the rampant prejudice, and worse, toward the kind of dog she has kept company with for some four decades.
"They are being grossly and horrifically abused every day and everywhere," she says. "Dogs just like mine and past dogs of mine that were my companions and lounging buddies, silly pals who I love and loved dearly."

But mainly, after all this time, Tonielli is just glad that things are getting better, not just for pits but for all pets.
"I am very happy to see that in the 20 years that I've been helping the local shelter, that more and more people are readily admitting that their pets are family," she says. "It's finally time that people realized this, as the pets already knew this to be true."
HuffPost Green is launching a week-long, community-driven effort to bust the myths and raise awareness about pit bulls, a maligned "breed" that often bears the brunt of dated, discriminatory legislation that can make it near impossible for these dogs to find a forever home. You can follow along with HuffPost Pit Bull Week here, or on Facebook and Twitter where we'll be using the hashtag #PitBullWeek.
BEFORE YOU GO
PHOTO GALLERY
Your Pit Bulls