Ice cream bread is a thing -- diet be damned. This is THE MORNING EMAIL for Tuesday, July 29, 2014.
The Scuttlebutt
TOP STORIES
NETANYAHU: 'READY FOR A PROLONGED CAMPAIGN'
"Signaling an escalation of Israel's Gaza operation, Prime Minister Benjamin Netanyahu told Israelis Monday to be ready for a 'prolonged' war, and the military warned Palestinians in three large neighborhoods to leave their homes and head immediately for Gaza City." Meanwhile, Israeli rockets hit Gaza's only power plant, eliminating the city's electricity. Doctors in the area warn that a shortage of relief workers and high-tech equipment is proving deadly. And here's a look at the Hamas tunnels at the center of the conflict. [AP]
U.S.: RUSSIA VIOLATED ARMS TREATY
"In an escalation of tensions, the Obama administration accused Russia on Monday of conducting tests in violation of a 1987 nuclear missile treaty, calling the breach 'a very serious matter' and going public with allegations that have simmered for some time." New sanctions from world leaders are imminent "amid worries that Moscow is stepping up its intervention in Ukraine and may be setting the stage for an outright invasion." Moscow appears to be preparing for "deeper international isolation." [AP]
QATARI WORLD CUP SCANDALS CONTINUE
"Migrant workers who built luxury offices used by Qatar's 2022 football World Cup organisers have told the Guardian they have not been paid for more than a year and are now working illegally from cockroach-infested lodgings." The latest revelations come after allegations of numerous worker deaths and Qatar ignoring its own terror warning. An ethics investigation into the awarding of the World Cup to Qatar will not be finished until September. [The Guardian]
STATESIDE: OMGCupid
Forget Facebook's emotional manipulation: OKCupid admitted to socially experimenting on its users. Bloomberg's gun safety group is turning up the heat with this graphic 30-second ad. A leaked campaign strategy memo strongly implies this senator spends 80% of her time on one thing: fundraising. Researchers believe about 70% of child sex workers are sold online. And San Diego just rubberstamped an $11.50 minimum wage.
In gravity news, this dog doesn't understand slides.
INTERNATIONAL INTRIGUE: Call for World Peace
On the 100th anniversary of World War One's outbreak yesterday, Pope Francis appealed for world peace. The former supreme commander of NATO argued that now is the time to step up talks with Iran. The CDC believes the Ebola outbreak will not spread outside West Africa. Two new craters have appeared in Siberia, baffling experts. A Canadian fertility clinic would not allow a woman to use sperm from a person of different race. And this video of Rob Ford on a seesaw will make your morning.
In cheeky news, this chipmunk has quite a few nuts.
BUY! SELL! BUY! Phones Are Dangerous

Here's why you shouldn't sleep beside your phone -- it could burn your house down. Collection agencies are ordering 35% of Americans to pay up. Workout clothes are where the money's at. Netflix is upping its documentary game. And the two largest online real estate websites, Zillow and Trulia, are merging. [Image via Yahoo]
In thighs of steel news, here's why water skiing is quite hard.
SCOUTING REPORT: Manning Can Dad Dance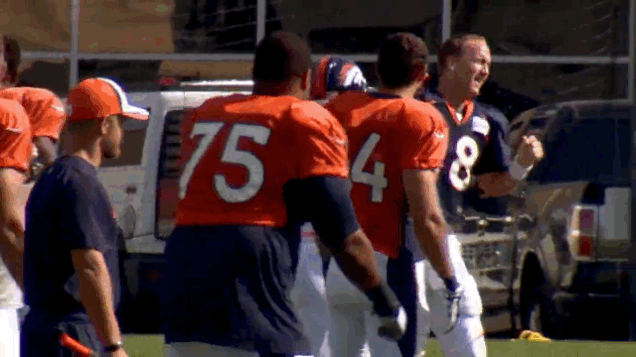 Peyton Manning dancing is everything you want it to be and more. Looks like the Donald Sterling saga is close to ending as a judge cleared the way for the sale of the Clippers. Watching this teenager's insane dunk, we couldn't help but hum a certain R. Kelly classic. Meet the woman making baseball announcer history. And we couldn't be bigger fans of Derrick Rose after he persevered through two knee injuries, and we're so happy that he finally hit the court yesterday. [Image via Deadspin]
In talented news, this doctor gets this baby to laugh while administering shots.
CULTURE CATCH-UP: Hilary Duff's Back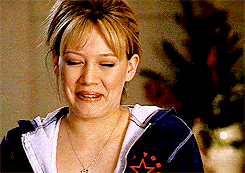 Ever wonder what Lizzie McGuire would sound like now? The trailer for the last edition of Peter Jackson's "Hobbit" saga, "The Battle of the Five Armies," is finally here. Kiefer Sutherland almost made Freddie Prinze Jr. quit acting. And there were some crazy reveals on the season finale of "The Bachelorette"
In feeling insufficient news, this three-year-old can play the drums a lot better than you.
LIVIN': Desk Set-Up 411
Check out how you should set up your desk to maximize your productivity -- spoiler: miscellaneous document piles dating back to 2007 don't cut it. This new site lets you send anonymous emails. NASA just changed the grilled cheese game. Here's how you can vamp up your white tee look. Learn how to love ANY job. And this easy how-to will help you hem your jeans evenly.
In sneaky news, this cat manages to steal fish from the freezer.
OTHER PEOPLE'S BUSINESS: Queen B's Vacation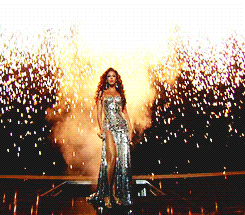 As Beyonce's vacation photos make us all green with envy, rumors abound that she's looking for an apartment -- without Jay Z. Things are heating up for Sofia Vergara and Joe Manganiello: she took him home to meet the family! Prince Harry proved he can out-photobomb the queen. Kate Middleton made some pretty great faces while attending a Commonwealth Games boxing match. And you too can own Renee Zellweger's Connecticut farmhouse for a cool $1.6 million.
In palling around news, this pit bull doesn't know what to do with his bulldog puppy friends.
TWITTERATI
@michaelianblack: Taking my kids to see "50 Shades of Grey" b/c I saw "Purple Rain" with my grandma and now I'm a millionaire.
@LouDPhillips: "@YMPhillips: Wallabies.
@LouDPhillips pic.twitter.com/B0Ro6KR9dR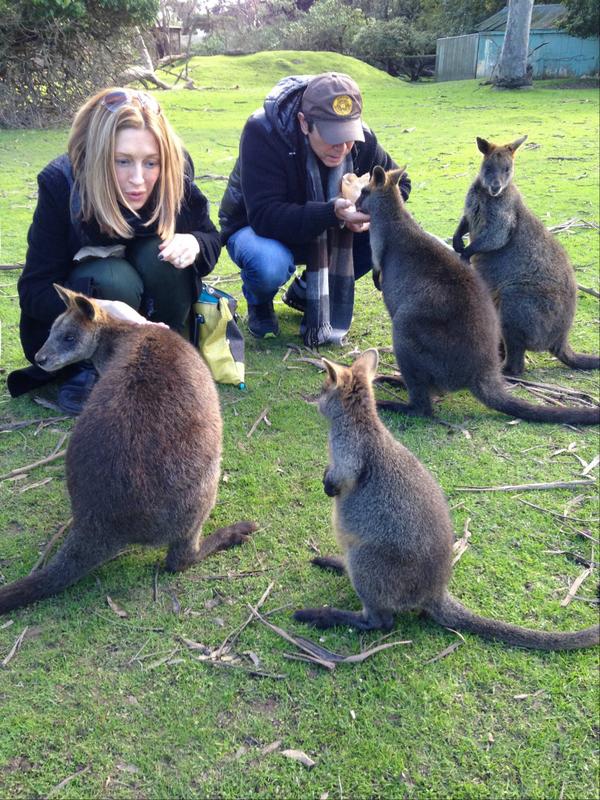 @RobLowe: I will not rest or even eat (with the exception of fruit pies) until "So sharky" is the new "swaggy."
@shanedawson: Sometimes when I'm misunderstood by people I remember that I'm completely understood by all of you guys.
@GettyImages: 12 eerie photos of World War I blended with the present, 100 years on bzfd.it/1ApFQBR pic.twitter.com/0TNX3lFSdJ via @BuzzFeed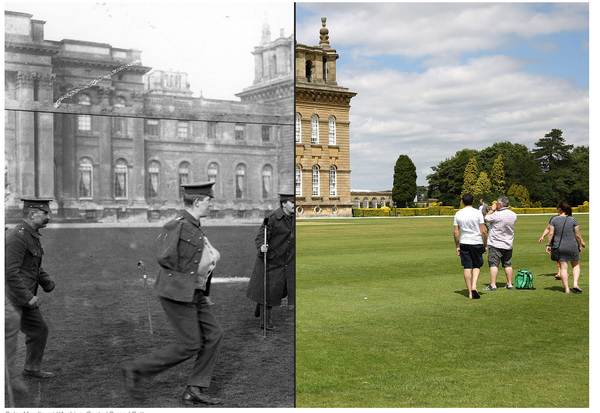 ONE MORE THING
These especially serene infinity pools will make for a memorable mental vacation.
Got something to add? Send tips/quips/quotes/stories/photos/events/scoops to Lauren Weber (lauren.weber@huffingtonpost.com). Follow us on Twitter (@LaurenWeberHP). Does somebody keep forwarding you this newsletter? Get your own copy. It's free! Sign up here.