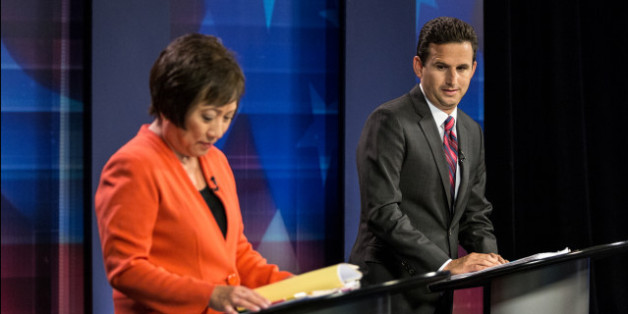 U.S. Rep. Colleen Hanabusa (D-Hawaii) has a utopian vision for Hawaii in which residents can earn more money, cut ties with the local electric utility and eat locally grown Manoa lettuce fertilized by tilapia farms in their backyards.
It's part of the congresswoman's belief that the most isolated state in the country can create high-paying jobs as well as be more economical for working class families so long as self-sufficiency and sustainability reign.
But when asked how life in the Aloha State can become more affordable for those in the middle class, Hanabusa shrugs.
"You know, if I could tell you that I would be president of the United States," Hanabusa said. "It's not a simple answer."
Sticking up for working families has been a major talking point in the Democratic primary race between Hanabusa and U.S. Sen. Brian Schatz (D-Hawaii).
Both candidates have said repeatedly they intend to make conditions more livable in a state where the cost of living can be exponentially higher than other parts of the country.
Hanabusa likes to remind people of her upbringing on the Leeward Coast, where she lived behind her parents' gas station and learned about local values.
Schatz, on the other hand, has pushed legislation to help make college more affordable, and often points to clean energy as a way to lower electric bills on the islands.
But in a state where the largest city's median home price is $700,000 and the only way to keep all the lights on is to burn massive amounts of oil, an everyday solution to the high cost of living can be elusive.
Where's the Money?
Each candidate would like to see job growth, particularly in research and development of new technologies. They say Hawaii's military presence and clean energy ambitions are the two obvious places where the state can take advantage.
Schatz looks to the U.S. Department of Defense's desire to boost energy conservation as a possible growth sector for Hawaii, particularly when it comes to retrofitting old buildings with more efficient technology.
"There was a time 15 years ago where diversifying the economy through clean technology was nothing more than a talking point on a politician's brochure," Schatz said. "But now it's real money. There are people employed not just in the R&D side, but the installation side."
According to a January report from the Pew Charitable Trusts, efficiency projects at military installations more than doubled between 2010 and 2012. There was also a 54 percent increase in the number of DoD renewable energy projects during that span from 454 in 2010 to 700 in 2012.
Schatz said the University of Hawaii plays a role in whatever new technologies develop on the islands. That's why he said it's important for lawmakers to help the state secure National Science Foundation grants and other funding to help advance research here.
"The University of Hawaii, despite all of its recent difficulties, has done very well in terms of increasing extramural research," Schatz said. "That continues to be our best strategy … It's not just important from the university system standpoint. Now you're talking about a real economic driver that's on par with some of the perceived bigger industries."
Hanabusa agrees the university is an important cog in fostering research. But she also focuses much of her attention on maintaining Hawaii's already strong military presence and the jobs it brings with it.
The congresswoman, who sits on the House Armed Services Committee, highlighted just how much money the military brings to Hawaii in March when her office announced that the Pearl Harbor Naval Shipyard was receiving $26 million through the National Defense Authorization Act for two construction projects.
In a press statement at the time, Hanabusa reiterated the military's importance to Hawaii, especially given the Obama administration's pivot the Asia-Pacific, which includes a refocusing of diplomatic, political and strategic efforts in the region.
She often talks about the pivot and how it can help make Hawaii a focal point of U.S. military action. This could translate into direct funding for innovative research, she said, particularly in the area of renewable energy.
"I can't even begin to say how important the research and develop areas of this whole issue are for us," Hanabusa said. "A lot of military research is what they call dual use so then you're able to take it from that and expand it into the commercial arena. We have the potential of being the center of that kind of research."
One project in particular that excites Hanabusa is the U.S. Navy's development of wave energy technology in Kaneohe. That research is in partnership with UH, which announced it would be getting $9 million to help with the project.
Hanausa said the amount of money the military can bring to the islands should not be understated. In 2011, RAND Corp. released a study showing that 18 percent of Hawaii's economy can be tied to DoD spending.
Getting 'Down to Basics'
Neither candidate is delusional about the state's high cost of living. In fact, both Schatz and Hanabusa see many of the same pressure points that make living in paradise so spendy, whether related to food, housing or the cost of a gallon of gasoline.
They both see increased density and better community planning — which are primarily state and county issues — as possible ways to help people stretch their dollars.
For example, Oahu is in the midst of a housing shortage in which demand is outpacing supply, sending home prices ever higher. What's more, according to a recent Hawaii Appleseed Center study, many of the units being developed are not for lower-income renters.
"We have to really consider whether we want to continue to allow suburban sprawl," Schatz said. "It's a good business model for the developer but it's not necessarily helping local people to be able to afford houses. There is openness in the market toward more density, and not just in urban Honolulu."
Hanabusa hopes the city's $5.2 billion rail project can help reduce the financial burden on people who currently need a car to get to work. But she also sees the high-end developments going up in Kakaako near the proposed rail line that she says are out of reach of those who need it most.
"Sometimes we get it all mixed up," Hanabusa said. "We're not really looking at the first fundamental question, which is who needs transit. A lot of the rich guys are not going to ride the train. They're going to drive around."
Another area where she'd like to see cost reduction is in the food market. Hanabusa believes that if Hawaii can start producing a larger share of its own food then complaints about how shipping costs affect the price of a gallon of milk could disappear.
And if the state can figure out a way to grow its own grain for cattle and other slaughterhouse animals, that meat could eventually turn into an export.
"Let's get down to basics," she said. "Let's at least try to control the cost of our basic things."
A New Energy Frontier?
A primary concern for both candidates is the cost of energy and how to reduce it. Hawaii is the most oil-dependent state in the country, as we need it to fly our planes, drive our cars and turn on our TVs.
Both candidates agree that weaning ourselves off of oil is the only way to cut energy costs for consumers, but doing so will take some time. The state tried a gas cap once, but that didn't work.
Hanabusa and Schatz say renewable energy should still be the first route of cutting the state's use of fossil fuels. The state wants to generate 40 percent of its energy through renewable resources by 2030.
But liquified natural gas is an intriguing option for both candidates, as it burns cleaner than oil and is cheaper too.
The state has already allowed limited shipment of LNG to the isles to determine if it can reduce overall energy prices.
At least one study says the cost savings to Oahu could be up to 50 percent. Projected savings on the neighbor islands ranged from 22 percent to 44 percent.
"LNG to me is a real alternative," Hanabusa said. "We can live in the interim with something that I believe has 50 percent less carbon emissions and, if done right, the cost should also be substantially less than what we do with fossil fuels."
Some environmental groups including the Sierra Club and Blue Planet Foundation have fought against LNG coming to the islands, saying it just furthers Hawaii's dependence on a fossil fuel.
There's also concern that switching out oil with LNG will just delay implementation of the state's clean energy initiative.
Schatz, who has received the Sierra Club Hawaii endorsement, says LNG should only be pursued if it's a temporary solution and the estimated cost savings are substantial.
And while he has some misgivings about the environmental ramifications of extracting natural gas — specifically through hydraulic fracturing, or fracking — he says it's tradeoff he'd be willing to accept to cut costs for residents.
"You're not going to hear me advocating for LNG in the sense of calling it clean energy, you're not going to hear me advocating for LNG in the sense that fracking has no implications," Schatz said. "What you are going to hear me saying is that we ought to look at anything that will reduce prices as we move toward clean energy."
Nick Grube is a reporter for Civil Beat. You can reach him by email at nick@civilbeat.com or follow him on Twitter at @nickgrube.
BEFORE YOU GO
PHOTO GALLERY
Senate Seats Up For Grabs In 2014