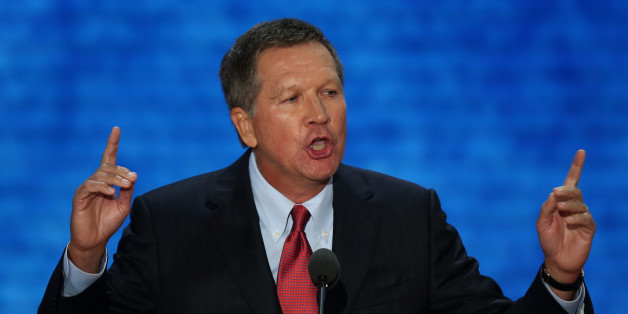 Ohio Gov. John Kasich (R) has the edge in his re-election battle against his Democratic rival, Cuyahoga County Executive Ed FitzGerald, two new polls find.
Kasich leads FitzGerald by 12 points, 48 percent to 36 percent, among registered voters in a Quinnipiac poll released Wednesday, and by a relatively narrow 6-point margin, 51 percent to 45 percent, in an online CBS/New York Times/YouGov survey of likely voters released Sunday.
The first-term governor was on shakier ground two years ago, following his decision to sign a controversial anti-collective bargaining bill that was later repealed. A Quinnipiac poll in late 2012 found that just 36 percent of voters thought he deserved re-election.
In the most recent Quinnipiac survey, however, most say he should be re-elected. While the majority still say the collective bargaining battle is important to their vote, a 45 percent plurality, including half of independents, say it makes no difference as to how likely they are to vote for him.
Kasich and FitzGerald are both viewed more favorably than unfavorably by voters. FitzGerald, who didn't release his first TV ad until mid-July, remains largely unknown, with nearly two-thirds of Ohio voters saying they haven't heard enough about him to have an opinion.
Polls released by the Democratic firm PPP, often for the Ohio Democratic Party or other partisan sponsors, had painted Kasich as potentially vulnerable, with a survey in July giving Kasich just a 1-point edge. Every non-partisan poll of the matchup, however, has given Kasich a lead of 5 points or more. HuffPost Pollster's model gives Kasich a 6-point lead with all polling on the race included.
Quinnipiac surveyed 1,366 voters between July 24 and July 28, using live interviewers to reach both landlines and cell phones. The CBS/NYT/YouGov poll surveyed 3,552 likely voters through an online panel.
BEFORE YOU GO
PHOTO GALLERY
United States Governors