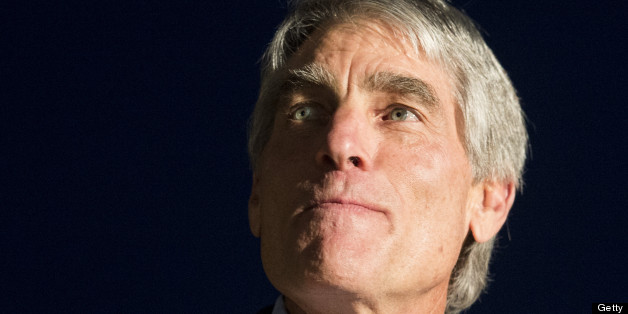 WASHINGTON -- A high-powered Washington lobbying firm representing the government of Alberta, Canada, made $17,000 in donations to senators it was courting for support of the Keystone XL pipeline, according to an investigation by the Toronto Star.
The firm Mehlman Vogel Castagnetti Inc. had a $74,000 contract with the Alberta government to tout the Keystone proposal, and its lobbyist, Kelly Bingel, met with representatives for 20 senators to "better articulate the benefit of Alberta's energy resource development," the paper reports. Five of those senators received a contribution from Bingel shortly before or after those meetings, the Star reports, based on a review of documents filed under the Foreign Agents Registration Act.
That includes a meeting with a legislative assistant for North Carolina Democrat Kay Hagan in March 2013 to discuss the Alberta tar sands, which was followed by a $3,761 contribution. There was also a $1,074 contribution to Sen. Mark Udall (D-Colo.) shortly before his staffers met with Bingel. A legislative assistant for Montana Sen. Max Baucus (D), now the ambassador to China, also met with Bingel shortly after receiving a $2,149 contribution. The Star doesn't name the other two senators who received contributions.
The proposed pipeline would carry oil from Alberta's tar sands to refineries in Texas, and there has been a major push to usher support from U.S. politicians behind the pipeline. As the Star notes, there's no evidence to show that the funds came directly from the money the firm received from the Alberta government, nor is this arrangement illegal under U.S. lobbying laws:
"As an appearance matter, you want to leave a little distance between a contribution and a meeting so it doesn't look like a quid pro quo," Kenneth Gross, a specialist on election law and a former lawyer for the U.S. Federal Election Commission, told the Star. "But in order for it to be illegal, the government would have to prove an actual quid pro quo took place ... that some official action was taken by the congressmen for that contribution."

Such a high standard of proof is difficult to meet, Gross said.
Even if it's perfectly legal, it is sure to raise a few eyebrows, however, given the highly contentious discussion around the Keystone XL pipeline in Washington.
BEFORE YOU GO
PHOTO GALLERY
Reaction To The Keystone XL Report