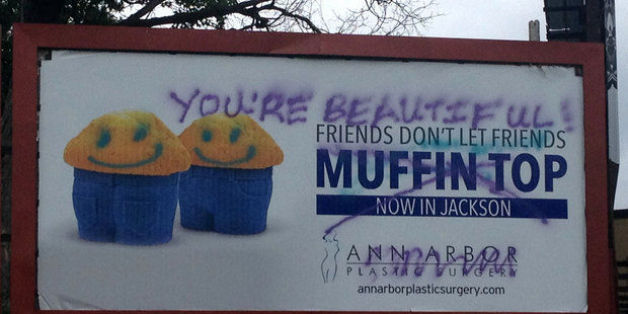 A Michigan plastic surgeon's office recently put up a controversial billboard that read "Friends Don't Let Friends Muffin Top." But now, thanks to some pretty stellar graffiti, the sign tells passersby "You're Beautiful."
Ann Arbor Plastic Surgery's billboard is believed to have been vandalized sometime between Saturday night and Sunday morning, according to local news outlet M-Live. The company plans to file a police report and replace the billboard with a new one.
In a Facebook post Tuesday, Ann Arbor Plastic Surgery defended the original ad, writing:
The decision to have plastic surgery is a highly personal one. Our patients run the gamut from young women whose breasts are so asymmetric they have never worn a bathing suit to elderly patients who have lost part of their facial structure to cancer. Our ads were meant to emphasize the lighter side of plastic surgery, and were certainly not targeted at one particular group or body composition.
This isn't the first time the plastic surgery office found itself in hot water for its ads. A previous billboard displayed two different-sized coffee cups, the smaller one labeled "B" and the large one "D." The ad's slogan, per M-Live, read, "Size matters."
On the company's Facebook page, one user aired his distaste for both ads: "I think this is yet another assault on the beauty of the human body and the self-esteem of especially woman [sic] young and old. I am appalled to see this especially after the insult on breast size."
Another user, shared the sentiment, saying: "I find the muffin ad just as tasteless and horrible as the coffee cup ad -- it's not funny. Kids that tease other kids for having 'muffin tops' are called bullies. I don't think we need giant billboards that do the same thing."
No one wants to be fat-shamed by a billboard as they drive to work. We're bigger fans of the vandalized sign.
UPDATE: August 1 -- Ann Arbor Plastic Surgery has removed the vandalized ad and two others in the area.