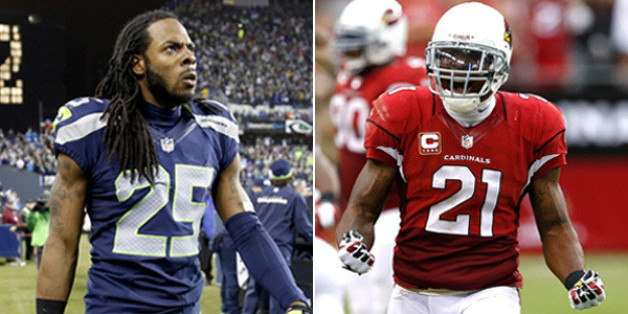 Arizona Cardinals phenom Patrick Peterson couldn't get a new contract extension without his counterpart and NFC West rival Richard Sherman chiming in. An excited Peterson announced on his Twitter page Tuesday night that five-year, $70 million contract with $48 million guaranteed.
Happy to announce my 5 year extension with @AZCardinals! $70M and $48M Guaranteed!! #AZCardinals #P2Nation #YearOfTheCardinal

— Patrick Peterson (@RealPeterson21) July 30, 2014
Mike Florio of ProFootballTalk reported that the deal is actually worth $70.05 million over five years, making Peterson the highest-paid cornerback in the NFL. The announcement prompted the Seahawks All-Pro cornerback, who signed a four-year deal worth $57.4 million with $40 million guaranteed earlier this year, to re-tweet a statistic comparing him to Peterson.
Richard Sherman and Patrick Peterson combined to allow 8 touchdown passes in 2013. Peterson gave up seven of those.

— Cody Swartz (@cbswartz5) July 30, 2014
In an apparent response to the stat, Peterson continued their ongoing Twitter feud.
Yu mad bro!!!! LMAO😂😂😂😂😭

— Patrick Peterson (@RealPeterson21) July 30, 2014
As usual, Sherman knew how to end the Twitter battle and pointed to his Super Bowl ring.
Can't ever be too mad lmao... pic.twitter.com/ZHA28B9Tji

— Richard Sherman (@RSherman_25) July 30, 2014
"Coming at me never work no matter who try"-Drake

— Richard Sherman (@RSherman_25) July 30, 2014