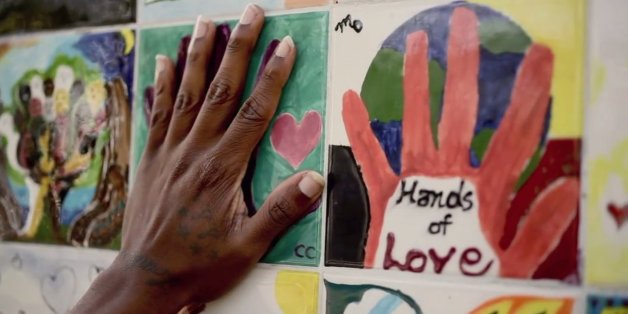 Each week, the HuffPost Entertainment team will compile and share some of our favorite tracks discovered across the web, whether they are brand new tunes, new music videos or newly discovered artists.
Lil B - "No Black Person Is Ugly"
Lil B blesses us with a song that he posted to YouTube with a question: "MOST POWERFUL SONG OF DECADE?" With a more (and rare) focused flow and a reminder that everyone, no matter the color of their skin or what some magazine prints, is beautiful, Lil B provides us with the answer. He also tells listeners to never breach the right of sexual consent. Lil B is bringing the sunshine. Lil B is a legend. THANK YOU BASED GOD.
RDGLDGRN - "Turn"
Taking the more indie route of their hip-hop, reggae, indie, go-go four-pronged attack, RDGLDGRN's "Turn" tells listeners to "turn up" in the midst of mellowed-out head bobber. It's a little confusing, but what's not confusing is right now, because you're a little drunk, surrounded by your best friends on a cool summer evening and this song just came on, so life is good.
Big K.R.I.T. - "Pay Attention" ft. Rico Love
Big K.R.I.T. proves again and again with each release that he is one the finest rappers in the game. "Pay Attention" allows K.R.I.T. to showcase his perfect Southern flow overtop of spacey production, teaming up with Rico Love for a sexier vibe than his typical output.
For BDK - "What I Must Find"
Stumbling upon the self-described emotional post electronic genre, there is something truly magical about the music For BDK creates. Everything about "What I Must Find" -- the stunning visuals, heart-rending vocals and transient production -- is narcotic and we couldn't quit if we tried.
QuESt - "Automatic"
You may not have heard of QuESt yet, but with tracks like "Automatic," he's guaranteed to become one of hip-hop's biggest names. A fantastic two-part cut, QuESt brings the lyrics, intensity and flow reminiscent of Kendrick Lamar. That's not meant to diminish his individuality, it just speaks volumes when you drop a track that sounds like it could have been one of the best cuts off "Good Kid, m.A.A.d. City."
Jessie J - "Bang Bang" ft. Ariana Grande & Nicki Minaj
Jessie J recruits Ariana Grande and Nicki Minaj for one of the catchiest songs of the year. Driven by claps and a simple beat -- with a dash of gospel -- it's impossible not to break out in dance.
G-Unit - "Come Up"
We've heard a number of freestyles from the freshly reunited G-Unit, and finally we get an original track. 50 Cent said his crew was working like they were fighting for a record deal and the smooth "Come Up" proves it true.
MNEK - "Wrote A Song About You"
MNEK is due for a meteoric rise a la Sam Smith. The 19-year-old U.K. native steadily unleashes his vocal capabilities in "Wrote A Song About You," pairing the club-friendly smash with a set of '90s psychedelic visuals.
Paperwhite - "Take Me Back"
Pigeons & Planes hit the nail on the head when they wrote that we might be reaching critical mass with '80s synth-pop. But Paperwhite does it so right you can't be mad.
Rich Homie Quan - "No Alibi" ft. PeeWee Longway
Rising ATLien Rich Homie Quan's "No Alibi" feels like a throwback to some Juvenile or Youngbloodz without losing touch with the times. Recruiting PeeWee Longway, the rappers trade bars back and forth so seamlessly that it feels like the duo entered the game together.
Peace - "Lost On Me"
English outfit Peace dropped their first single from their upcoming second album and "Lost On Me" is a funky jam that deserves its place among the summer closing jams.
Rustie - "Attak" ft. Danny Brown
Give Danny Brown any beat and he will find a way to rap over it. Give him an incredible beat from rising producer Rustie and he will (continue to) redefine the rap game.

BEFORE YOU GO
PHOTO GALLERY
See Your Favorite Artists Turned Into LEGO