As part of our Blended Family Friday series, each week we spotlight a different stepfamily to learn how they successfully blended their two families. Our hope is that by telling their stories, we'll bring you closer to blended family bliss in your own life! Want to share your own story? Email us at divorce@huffingtonpost.com.
No blended family is alike, which is why DD Richards prefers to use another term when it comes to describing her little tribe: a dual family. The term gets at how intertwined she and her ex-husband have become in their parenting roles over the years for the sake of their son Evan.

"What we have going for us isn't always easy, but we've made it work for several years now and it's going strong," she says. "My son benefits from it and so do the parents! When you can get along with your ex and the new family situation, it makes life so much easier and more fun."
Below, DD shares more about her unique dual family.
Hi DD. Want to introduce us to your family? How many of you are there?
Our dual family consists of myself, my fiancée Marc, my son Evan and my ex-husband Grant. Until recently, Grant was married with a wife and two stepsons. They were a part of our family as well. Marc and I are going on four years together.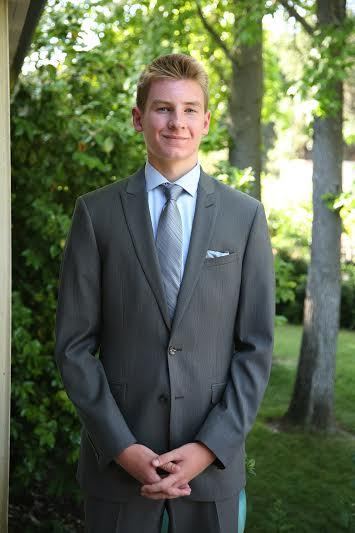 DD's son Evan
What are some of the biggest challenges of blended family life?
For us, it's a balance of emotions and attention. My son has had me to himself most of his life and he now has to share me. He's not the open, tell-it-like-it-is kind of kid who will let you know if something is bothering him so I have to look for body language hints. If he's unusually quiet, that can also be a sign that he's not happy with something. My fiancée doesn't have children and isn't the parental type. He can get a little jealous of my time with my son. What I've learned to do is set boundaries. I've told Marc that my number one priority is Evan. He will always come first. He's my only child and flesh and blood. He comes first. That can be a harsh blow if it isn't stated with care and love but that's the boundary. If Marc wants to watch a TV show with me and Evan needs help with his homework, homework wins every time. Now, Evan isn't with us every night; he spends about half the week with his dad so when he's not home, I give lots of extra attention to Marc.
What's the best thing about being part of a blended family?
I think knowing that there's always someone there to help. It's tough being a parent these days. With work and the normal stresses of life, trying to be the best parent you can is tough and sometimes we need help. If I can't pick up Evan from school, I know I can call his dad and ask him to get him and I can even call my ex in-laws to help. And Marc is always by my side, ready to help with anything. I know I don't have to do it all on my own. We work together for the greater good of the family and in turn we help each other and ourselves. It's great!
What makes you proudest of your family?
I truly am so proud of the way our family works together. It started with Grant and I wanting to get along better to co-parent Evan. That spirit of cooperation flowed over into our partners and all of us working together to co-parent all of the kids (this was when Grant was married and had step children). Then the grandparents got involved and now myself, Marc, Evan and my parents and Grant and his parents are all one big happy family, supporting Evan in his school activities and sporting events. Grant helps to coach Evan's basketball team and his dad (my ex father-in-law) helps as well. We're all at the games together, sitting together and cheering them on.
How do you deal with stress in your household?
Well, a tall glass of wine sure helps! I'm sort of joking about that -- but only sort of. You really have to make time to take care of yourself. I don't always make it but I try to work out every day. One of the things I really like to do is have a glass of wine when Marc comes home. It's our ritual. It happens almost every night. It's nice bonding and catch up time for us that we both treasure. I also need to get away by myself every now and then. Usually once a year I hit the road all by myself and go to Yosemite in December. It's my favorite time to be there and it's incredibly grounding for me. It puts me at peace, allows me to reflect clearly and I come home refreshed and better able to handle the daily stresses and strains of live and a dual family. For us, having our own time to be by ourselves and do what we need to do for us really helps.
What advice do you have for other blended families who feel like a peaceful family dynamic is out of reach?
Take it one step at a time. It doesn't happen overnight and sometimes you regress after making progress but you have to keep at it. My gym has this fun computer that tells you how much you've exercised and how many weights you've lifted. When I logged out tonight it said something like, "Congratulations! In the last month you lifted the equivalent of three elephants." I thought, wow, that's pretty cool. I've lifted three elephants! Now I could never actually lift three elephants at the same time. If anyone tried that, they would obviously fail. But if you chip away at it and just lift at little at a time and keep at it, before you know it, you've lifted three elephants. This is a funny analogy, I know, but it's the same with a blended or dual family. You do your best each day. Look with clear eyes at what you can do better and work on that. Take your ego out of it and be the best person you can be each day. You'll be better off for it and so will your family.
Keep in touch! Check out HuffPost Divorce on Facebook and Twitter. Sign up for our newsletter here.
BEFORE YOU GO
PHOTO GALLERY
Blended Family Friday