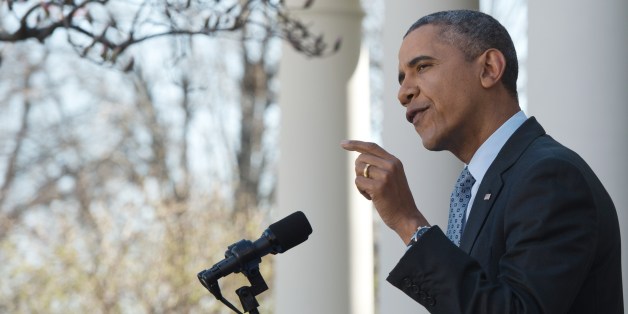 Negative opinions of the health care law are up in a new poll. Views of the Iraq and Afghanistan wars are as bad as ever. And online polling continues to spark controversy. This is HuffPollster for Friday, August 1, 2014.
UNFAVORABLE VIEWS OF ACA RISE TO NEW HIGH - Kaiser Family Foundation: "After remaining steady for several months, the share of the public expressing an unfavorable view of the health care law rose to 53 percent in July, up eight percentage points since last month's poll. This increase was offset by a decrease in the share who declined to offer an opinion on the law (11 percent, down from 16 percent in June), while the share who view the law favorably held fairly steady at 37 percent, similar to where it's been since March. Republicans continue to be the group with the strongest opposition to the law, but the increase in the share with an unfavorable view between June and July was similar across the political spectrum and different demographic groups. Despite the increase in the share with an unfavorable view of the ACA, a strong majority of the public continues to prefer that their representative in Congress work on improving the law (60 percent) rather than working to repeal and replace it with something else (35 percent), shares that have been consistent over the last several months." [Kaiser]
Meaningful swing, or a 'blip'? - Jason Millman: "'Normally, when negatives go up, you can tie it to an event," said foundation chief executive Drew Altman in an interview. Events like a broken enrollment Web site, or people losing their health plans. That doesn't seem to be case here, though...Altman said he couldn't really explain this month's finding. 'I think we're going to have to wait and see what this looks like in future months,' Altman said. 'It may be a blip.'" [WashPost]
Majority of Americans think Hobby Lobby decision will lead employers to deny coverage for other health services - More from Kaiser Family Foundation: "Nearly six in ten Americans (58 percent) believe it is 'very' or 'somewhat' likely that employers will use the Supreme Court's decision in the contraceptive coverage case to attempt to deny their workers coverage for other types of health care services – such as vaccinations or blood transfusions – on religious grounds, while about four in ten (39 percent) think this is 'not too' or 'not at all' likely. [Kaiser]
WIDESPREAD PESSIMISM ABOUT IRAQ, AFGHANISTAN WARS - Deb Riechmann: "Three in four Americans think history will judge the wars in Iraq and Afghanistan as failures, according to an Associated Press-GfK poll that shows that about the same percentage think it was right to pull forces from the two countries. Americans surveyed in last month's poll were not optimistic about the chance that a stable democratic government will be established in either country. Seventy-eight percent said it was either not too likely or not at all likely in Afghanistan and 80 percent said the same about Iraq. Roughly three out of four Americans polled think that in hindsight, each war will be deemed as an outright 'complete failure' or 'more of a failure than success.' A majority of those polled, or 70 percent, said the United States was right to withdraw American troops from Iraq in 2011 and pull most U.S. forces out of Afghanistan by December." [AP]
AMERICAN ASSOCIATION FOR PUBLIC OPINION RESEARCH CRITICIZES NYT/CBS ON TRANSPARENCY - Steven Shepard: "The leading organization representing the nation's pollsters criticized CBS News and the New York Times on Friday for releasing results of a nationwide poll the survey-researchers organization said was conducted using an unproven methodology. Last Sunday, the two news organizations unveiled their 'Battleground Tracker,' an online survey updated each month. The poll — conducted by Internet pollster YouGov — interviewed more than 100,000 people nationwide, the news organizations said, allowing them to project results for each Senate race in the country. The American Association for Public Opinion Research's statement on Friday criticized CBS and the Times for using a survey method that has 'little grounding in theory' and for a lack of transparency." [Politico]
AAPOR President Michael Link, in an open letter:
This week, the New York Times and CBS News published a story using, in part, information from a non-probability, opt-in survey sparking concern among many in the polling community. In general, these methods have little grounding in theory and the results can vary widely based on the particular method used. While little information about the methodology accompanied the story, a high level overview of the methodology was posted subsequently on the polling vendor's website. Unfortunately, due perhaps in part to the novelty of the approach used, many of the details required to honestly assess the methodology remain undisclosed…. Until this week, the Times maintained and published a set of rigorous standards to guide the determination about when polling data could (and could not) be used in a story. Those detailed standards were summarily removed and replaced with a statement indicating that the old standards were undergoing review and that "individual decisions about which poll meets Times standards and specifically how they should be used" would guide decisions in the interim. This means no standards are currently in place. [AAPOR]
What exactly needs to be disclosed?
- AAPOR's Code of Ethics specifically calls for non-probability studies like YouGov's to "include sufficient detail to determine whether the respondents were selected using probability or non-probability methods," and to make available "summaries of the disposition of study-specific sample records so that response rates for probability samples and participation rates for non-probability samples can be computed." HuffPollster asked Link which areas he thought required further details. His response, in a follow-up email to HuffPollster:
There are several areas where greater clarity would help readers better understand and evaluate the results. Some of these are found in the AAPOR Code, while others are important questions that the field has been struggling with in our attempt to make progress in understanding how to evaluate non-probability based studies. Issues such as:

How is precision assessed within this approach – are the margins of error reported on the YouGov website calculated as if the sample were probability-based? What measures allow us to have (or provided the authors with) confidence in the results?

How were the respondents recruited and what is the underlying sample design?

Is the questionnaire available to check for possible context effects/potential bias?

How were the weighting and estimation conducted? (A broad description of the variables used was provided, but with this new methodology it's unclear how those were applied and what the specific source was for the population parameters used, particularly for party identification?)

What about the completion rates in each area?

The Times actions over the past two months serve as more of a broader context and a cautionary tale for potential problems in this area. In May they released a story on undocumented immigrants using a non-probability sample and the conclusions reached were clearly problematic, if not outright incorrect. Use of that study also violated their own standards at the time. When the stories came out this week using a non-probability-based method, the standards were pulled from their website. That's a problem in my view. Exploring, testing and ultimately using different approaches is what we should be doing, but we need to do so within a framework of transparency and standards, particularly when the institutions involved are those that hold sway over public opinion as well. The rub, of course, is that it has been difficult for our industry to develop agreed-upon standards for how to assess these types of approaches. But that is where we need to place our focus to move forward with confidence with these new approaches.
NYT/CBS defend their work
- CBS News and the Times, in a joint statement, write:
The New York Times and CBS News are proud to continue our long history of presenting new and methodologically rigorous analyses to our readers and viewers. Our findings and methods for the new Battleground Tracker were laid out in great detail for all to see, and the underlying methodology is already well-known to, and widely used in, the survey research and scholarly communities. Moreover, both The New York Times and CBS News have successfully used online panel data in past projects. We remain committed to, and on the forefront of, the highest standards of transparency and data collection Battleground Tracker provides yet another example of both.
PredictWise.com's David Rothschild, in an email to HuffPollster, also defends YouGov's transparency:
The leadership of AAPOR is hiding behind weak claims on transparency to fight progress in their field of public opinion research. It is an unfair claim that YouGov is any more or less transparent than other major polling company. Doug Rivers, Andrew Gelman, Rand, myself, and many others have all written prolifically on the details of non-probability polling; people on the cutting-edge of research are not hiding anything, on the contrary, we are fighting hard to overcome entrenched methods by being even more diligent and transparent. Further, probability polling is not as simple as its defenders make it out to be; there are a multitude of choices on what is the representative sample, how to contact users, and weighting to cover non-response bias. As response rates fall, the decisions probabilistic polling must make increases. Regardless of the debate on transparency, non-probabilistic polling is going to dominate at some point due to the decreased cost, quicker time, and accuracy that can be gained from larger samples and panels. It is time for AAPOR to embrace the future or risk watching innovation pass it by. at some point due to the decreased cost, quicker time, and accuracy that can be gained from panels.
HUFFPOLLSTER VIA EMAIL! - You can receive this daily update every weekday via email! Just click here, enter your email address, and and click "sign up." That's all there is to it (and you can unsubscribe anytime).
FRIDAY'S 'OUTLIERS' - Links to the best of news at the intersection of polling, politics and political data:
-Margie Omero (D) finds that most women don't realize many convicted domestic abusers can legally buy guns. [HuffPost]
-Obama gets low marks for his handling of several foreign crises [AP]
-Ted Cruz remains wildly popular among Texas Republicans. [UTexas]
-More Americans say the economy is "good." [CNN]
-Most Americans don't consider themselves feminists, even if they agree with the dictionary definition of the word. [YouGov]
Religious Americans are much more sympathetic to the Israelis than the Palestinians in the Middle East. [Gallup]
-A new poll shows Sen. Brian Schatz (D-Hawaii) pulling further ahead in his primary. [Civil Beat]