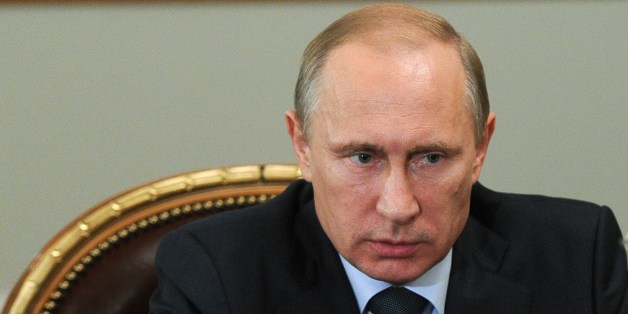 Americans want the United States to be tougher on Russia in response to its actions in Ukraine, a new HuffPost/YouGov poll shows. But the survey also shows Americans are divided over whether they think sanctions can actually change Russia's behavior.
Sixty-two percent of Americans in the poll said they support new sanctions on Russia, while only 16 percent said they were opposed.
The survey was conducted after President Barack Obama announced new economic sanctions against Russia on Tuesday. Sixty-eight percent of Democrats, 69 percent of Republicans and 55 percent of independents said they supported imposing new sanctions.
An Associated Press poll released Wednesday but conducted before the new sanctions were announced found that 53 percent of Americans said the U.S. had not gone far enough in sanctioning Russia.
But that doesn't mean Americans think sanctions will actually work. Only 5 percent in the HuffPost/YouGov poll said they think new sanctions would be very effective at preventing Russia from taking further action against Ukraine and other countries in the region. Twenty-eight percent said they would be somewhat effective, 29 percent said they would not be very effective, and 14 percent said they wouldn't be very effective at all.
Still, many Americans want the U.S. to take a harder line against Russia's actions in Ukraine, the survey shows. Forty-five percent of respondents said the U.S. response has not been tough enough, while 21 percent said it has been about right. Another 5 percent said the response has been too tough.
The HuffPost/YouGov poll was conducted July 29-31 among 1,000 U.S. adults using a sample selected from YouGov's opt-in online panel to match the demographics and other characteristics of the adult U.S. population. Factors considered include age, race, gender, education, employment, income, marital status, number of children, voter registration, time and location of Internet access, interest in politics, religion and church attendance.
The Huffington Post has teamed up with YouGov to conduct daily opinion polls. You can learn more about this project and take part in YouGov's nationally representative opinion polling. Data from all HuffPost/YouGov polls can be found here.
BEFORE YOU GO
PHOTO GALLERY
Ukrainian Troops Move Against Separatists