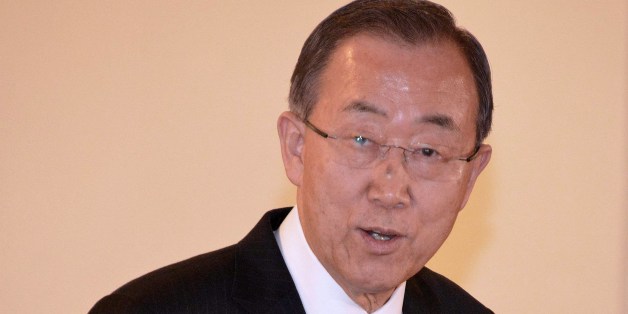 UNITED NATIONS, Aug 3 (Reuters) - U.N. Secretary-General Ban Ki-moon condemned a deadly attack on a Gaza school on Sunday as a "moral outrage and a criminal act" and demanded those responsible for the "gross violation of international humanitarian law" be held accountable.
The shelling of the U.N. school in Rafah in southern Gaza killed at least 10 civilians, the United Nations said. It was the third deadly attack on a U.N. school sheltering Palestinians during the 27-day conflict between Israel and Hamas militants.
All three incidents are being investigated, but the United Nations has initially blamed Israel for Sunday's attack and another strike last Wednesday on a U.N.-run school in Jabalya refugee camp that killed at least 15 civilians.
"The Israel Defense Forces have been repeatedly informed of the location of these sites," Ban's spokesman said in a statement.
"This attack, along with other breaches of international law, must be swiftly investigated and those responsible held accountable. It is a moral outrage and a criminal act," the statement said.
Israel began its offensive against Gaza on July 8 after a surge of cross-border rocket salvoes by Hamas and other guerrillas.
The fighting on Sunday pushed the Gaza death toll given by Palestinian officials to 1,772, most of them civilians. Israel has confirmed that 64 soldiers have died in combat, while Palestinian rockets have also killed three civilians in Israel.
Ban again demanded an end to the fighting and for the parties to begin negotiations in Cairo to address the underlying issues of the conflict.
"The resurgence in fighting has only exacerbated the man-made humanitarian and health crisis wreaking havoc in Gaza," the statement said. "This madness must stop." (Reporting by Michelle Nichols; Editing by Gareth Jones)
BEFORE YOU GO
08/05/2014 4:20 PM EDT
Israel Arrests Kidnapping Suspect
Reuters reports that Israel has arrested one of the suspects in the kidnapping and killing of three Israeli teenagers in the West Bank in June.
Hussam Kawasme, a 40-year-old resident of the West Bank city of Hebron, was arrested on July 11 in connection with the killing of Israelis Gil-Ad Shaer, Naftali Fraenkel and Eyal Yifrah, who went missing on June 12 and were discovered dead a couple of weeks later.

Their kidnapping sparked a cycle of violence that led to the month-long conflict between Israel and Palestinian militants in the Gaza Strip.

Kawasme's arrest was made public for the first time on Tuesday in a document from an Israeli court case over whether houses belonging to him and two other suspects - who remain at large - should be destroyed as a punitive measure.

The lawyers listed as representing Kawasme were not reachable for comment.

The court document said Kawasme had admitted to helping to organize the kidnapping - securing funding from the Hamas Islamist group in Gaza and purchasing weapons which he passed on to the two other suspects who carried out the attack.

Kawasme also helped to bury the bodies of the teenagers in a plot of land he had bought a few months earlier, it said.

Israel has named the other two suspects in the case as Marwan Kawasme and Amar Abu Aysha.