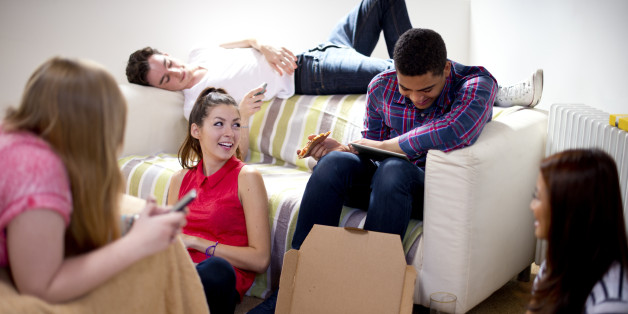 by Rachel Petty
As college comes closer and closer, you'll definitely be looking to make your dorm room the cutest it can be. Dorm decorations can get pretty expensive, especially on top of tuition, bedding and all the other necessities you have to buy.
Luckily, we put together the seven cutest and easiest DIY dorm decorations with step-by-step directions. Making your dorm room pop with original, affordable and doable projects has never been easier. Get working, collegiettes!
1. Dry erase board
There's no need to spend money on an expensive dry erase board when you can make one yourself (and it'll probably be cuter!).
Materials
Picture frame
White or colored paper
Gorilla Glue
Ribbon
Dry erase marker
Directions
Cut a piece of white or colored paper to fit inside your picture frame.
Glue ribbon tied into a bow to a top corner of your frame.
Attach the dry erase marker to a longer end of the ribbon.
Leave yourself messages on this adorable dry erase board!
2. Cosmetics organizer
Ditch the fancy cosmetics organizer for this pretty, antique-looking one you can make with supplies from the dollar store!
Materials
Two plates (one large, one small)
Candlestick
Gorilla Glue
Directions
With the candlestick upside down, glue the smaller end to the larger plate and let dry for 10 minutes.
Glue the larger end of the candlestick to the smaller plate.
Now you have a cosmetic organizer for makeup, hair supplies or anything else you want!
3. Photo heart
Change clichéd photo collages into something fun with this pretty heart design. Don't spend money on expensive frames when you can make this yourself for next to nothing!
Materials
38 pictures of your choice (37 horizontal, one vertical)
Ruler
Tape
Directions
Develop 38 pictures of your choice (there can be less or more, but this particular design requires 38).
Arrange the pictures into a heart shape (two on the top of each side followed by rows of six, seven, six, five, four, three, two and one vertical one).
Using a ruler to ensure that your lines are even, tape the pictures to a blank space on your wall and enjoy a unique collage!
BEFORE YOU GO
PHOTO GALLERY
A Dorm Room Of My Own