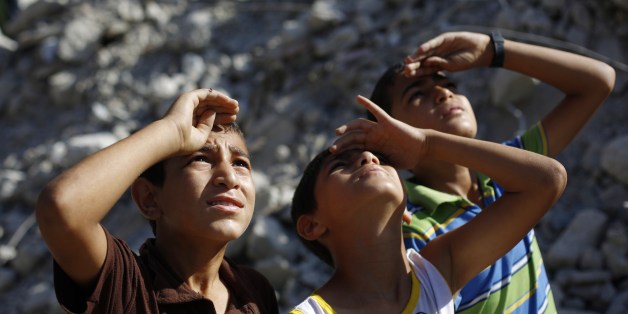 More than 1,800 people have lost their lives in Gaza since violence broke out between Israel and Palestinian militants a little over three weeks ago. According to recent UN figures 296 of those killed were children. Beyond the immediate need for aid and safety for Gaza's young population -- half of the enclave's population is under 18 -- there are pressing concerns about the lasting effects this conflict will have on an entire generation.
While both belligerents hold each other responsible for the high number of civilian casualties -- Palestinian leaders have accused Israel of targeting civilians and Israel accuses Hamas of using Gaza's population as human shields -- the violence continues unabated. The WorldPost spoke with Catherine Weibel, Chief of Communications for the United Nations' Children Fund (UNICEF) in Jerusalem on the the consequences of the current round of fighting for Gaza's children. She highlighted that this is the third escalation of violence in six years for many children in the enclave.
What effects can the kind of violence we've seen in Gaza have on children?
It varies from child to child of course, but overall there are two big effects. First, violence becomes kind of normalized. This problem can become especially pronounced in adolescence, where some children will take more risks because they have lost touch with the boundaries of safety. When violence becomes normalized some children will also tend to reproduce it in later life, using violence to solve conflict, with their children, their future wife or husband, or inside the community.
Then in the short-term, there are a lot of children who can't sleep anymore, who have completely lost their appetite. Young children can sometimes become very quiet, they stop babbling, they just stand still. A lot of children become jumpy if there's any noise in the room. The massive amount of displaced people -- 250,00 people, the majority of them children -- has large psychosocial effects.
How does the fighting affect children's access to food, water and hygiene products?
Some families fled with nothing. There are people who don't even have a toothbrush.
We estimate that half of the water infrastructure in Gaza is no longer operating and some sanitation problems have resulted in raw sewage flooding in the streets. About two-thirds of the population doesn't have access to the water network, so they no longer have water at home. They can go to private vendors but their water is sometimes contaminated and is becoming very expensive. UNICEF and other agencies are bringing water to UN-run schools and other places where people operate, but it's not always easy because of conditions on the ground. The agencies can only operate when humanitarian corridors are established during which there is no fighting. There have been a few humanitarian pauses but even during these pauses it's not always safe.
How can this humanitarian crisis be remedied?
The first thing we ask for is a cessation of violence. 249 children have been killed [as of publication the toll has risen to 296], and two-thirds of the 249 are under the age of 13. The youngest was 3 months old. They don't understand what's happening. They have absolutely no responsibility in what's going on and still they die and are injured.
Another thing we need is humanitarian pauses and humanitarian corridors so that we can efficiently access people to bring them help and to fix things. It's too dangerous otherwise. Six people who were working for the water administration were killed while moving around in Gaza.
We're also very concerned about the increasing number of displaced people. We're starting to see things like lice in the crowded schools. The sanitation problem also increases the risk of water-born diseases.
How are UNICEF's abilities strained by the magnitude of this crisis?
We have some small interventions for now but because of the situation on the ground we've been limited. There are five teams made up of about 25 people each, who give psycho-social support to children and parents. It's not a lot, but they go to hospitals, they go to homes and schools where there are displaced people to give them very basic coping skills. The children will need much more counseling and support in the future but this can't be provided unless there is a ceasefire. We're also distributing hygiene kits and jerry cans so families can store water when aid trucks come. These are small interventions and we are ready to do so much more, but it's very difficult unless there is a serious humanitarian pause
This interview took place on July 31st, 2014. It has been edited and condensed
BEFORE YOU GO
08/05/2014 4:20 PM EDT
Israel Arrests Kidnapping Suspect
Reuters reports that Israel has arrested one of the suspects in the kidnapping and killing of three Israeli teenagers in the West Bank in June.
Hussam Kawasme, a 40-year-old resident of the West Bank city of Hebron, was arrested on July 11 in connection with the killing of Israelis Gil-Ad Shaer, Naftali Fraenkel and Eyal Yifrah, who went missing on June 12 and were discovered dead a couple of weeks later.

Their kidnapping sparked a cycle of violence that led to the month-long conflict between Israel and Palestinian militants in the Gaza Strip.

Kawasme's arrest was made public for the first time on Tuesday in a document from an Israeli court case over whether houses belonging to him and two other suspects - who remain at large - should be destroyed as a punitive measure.

The lawyers listed as representing Kawasme were not reachable for comment.

The court document said Kawasme had admitted to helping to organize the kidnapping - securing funding from the Hamas Islamist group in Gaza and purchasing weapons which he passed on to the two other suspects who carried out the attack.

Kawasme also helped to bury the bodies of the teenagers in a plot of land he had bought a few months earlier, it said.

Israel has named the other two suspects in the case as Marwan Kawasme and Amar Abu Aysha.