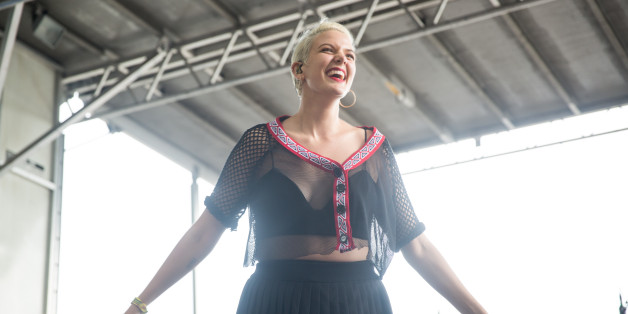 Betty Who was tucked away on a side stage during Lollapalooza's final day, but to the fans singing her hit single "Somebody Who Loves You," it was the most important set of the weekend. "You guys are so amazing. I'm obsessed with you all!" she said to the crowd. They knew all the lyrics to every song off her two EPs, and when she covered Destiny Child's "Say My Name," fans pushed three feet forward, screaming every word.
After the set, Betty Who, also known as Jessica Newham and from Australia, posted on Instagram that Lollapalooza was her biggest show ever. With a couple of EPs, an appearance on "Late Night With Seth Meyers," and a gig opening for Katy Perry, Betty Who is poised to be the next huge pop star of the decade. She's set to release her first full album, headline her a tour in October and, if all goes to plan, take over the Billboard charts. The LP's tile has yet to be revealed but Newham told HuffPost that four songs from the EPs, including "Somebody Who Loves You," will appear on the record.
"More than anything, the emotional growth I've had over the last year is very prevalent," Newham said before her set at Lollapalooza in Chicago. "I fell out of love with someone who I was not supposed to be in love with in the first place, then I fell in love with somebody who's absolutely the best person with this world. You feel that arc of this very taboo relationship and having that struggle being really tough, then coming out of it and moving onwards and upwards where it's like, 'Wait I really love you and it's really simple and this doesn't have to be that hard.'"
She collaborated with powerhouse producers Claude Kelly, Martin Johnson, Mag, Starsmith and Babydaddy on the new tracks, and recorded most of the album in Los Angeles' Westlake studio. "I finished the rest of it literally in my producer's bedroom," she said. Inspiration also came from one unlikely piano. "When I was writing one of the songs, I was playing on Michael Jackson's piano that him and Paul McCartney wrote 'The Girl Is Mine' on. I was writing this song and I could feel the energy and it was probably one of the craziest experiences of my life, playing the piano and singing this song that I was writing. It was insane."
Betty Who's fans have been waiting for new music with anticipation fueled by a strong and steady internet buzz. She's a huge One Direction fan -- "My phone case literally has Harry Styles on the back of it" -- but Newham has gained an obsessive fan base whose loyalty is on par with the British boy band. She's the star of internet memes, a Twitter force to be reckoned with and has no problem asking her audience to be on "nipple patrol" while she's on stage.
Newham and her band, made up of friends from Berklee School of Music, have a strict pre-show ritual. Before jumping on stage, they huddle up and chant. Inspired by a line in One Direction's movie, "This Is Us," Newham will yell out, "I'm just a little girl from [insert city/ festival/ music venue here]!" Her band responds "And now I'm smashing it!" After a show, she said, they just turn up.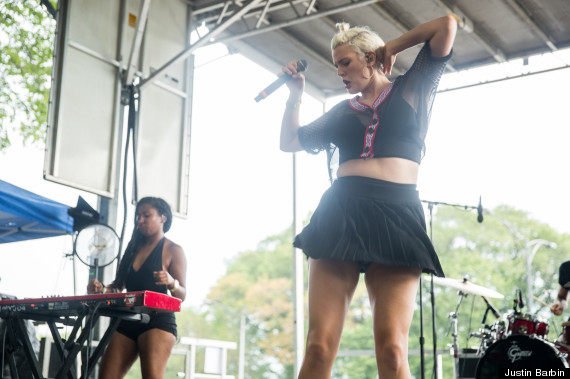 See more of our Lollapalooza coverage here:
This Is What Happens When You Give Musicians A Disposable Camera
10 Of Your Favorite Artists Pick The Song Of The Summer (Spoiler: It's Not 'Fancy')
R. Kelly Showed Up At Chance The Rapper's Lollapalooza Set
Rihanna Was The Best Thing About Eminem's Lollapalooza Set
BEFORE YOU GO