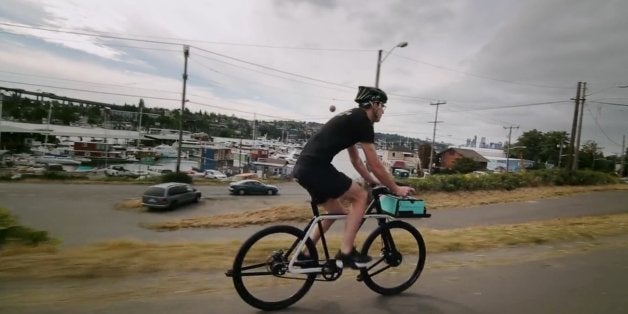 Imagine a stylish, yet sturdy, bicycle with storage space for all your stuff, a handlebar that doubles as a lock, and a removable electric motor that can give you a much-needed boost on those steep city hills.
This bicycle also has automatic gear-shifting and a clever lighting system, complete with integrated brake lights and turn signals, and lights that automatically switch on when it gets dark out.
If you think this sounds like some sort of commuter super-bike of the future, you'd be only half right.
The bike, dubbed the "Denny," was crowned the winner this week at the Oregon Manifest Bike Design Project competition. The contest pitted five teams from across the country (each a collaboration between a bike company and a design firm) against each other in the creation of the "ultimate urban utility bike."
The teams were "competing to concept, create and champion their unique vision of tomorrow's bicycle for the everyday rider," the project's website says. "The results will redefine the category and have the potential to reshape urban mobility itself." The winner was determined by popular vote.
By beating out the competition, the masterminds behind the "Denny" -- Seattle-based design consultancy Teague, which has designed the interior of Boeing jetliners, and custom bike builder Sizemore -- will now be partnering with Fuji Bikes to turn their idea into a real, mass-produced product.
Though the retail price of the bike has yet to be made public, the Denny -- which Engadget calls the "bike of the future" -- already has a group of fans.
"Please put this bike into production. I need it," wrote one Vimeo user last week after watching the promo video for the bike. "I'm seriously begging here. Please."
"I want one of those desperately," wrote another.
To learn more about the "Denny" or the other four bikes designed for the Oregon Manifest Bike Design Project, visit the project's website here. Watch the video, below.