It's official, Cristiano Ronaldo is the "Fittest Man Alive."
If there were any naysayers left, the soccer star's recent cover for Men's Health is bound to change some minds. In a video interview with the magazine, the Portuguese forward revealed why he finds it so important to stay fit.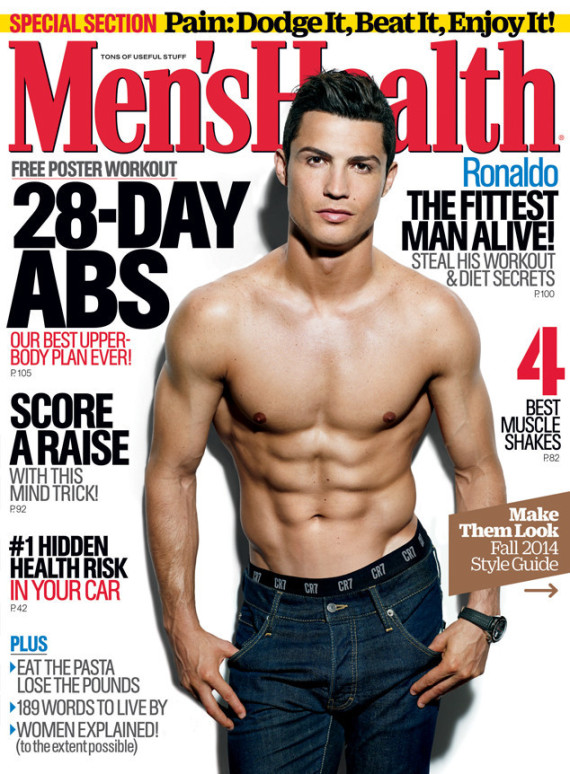 Ronaldo, 29, helped Real Madrid dominate Atlético de Madrid during the Champions League Final in May, ending the 4-1 win by taking off his shirt to show his sculpted abs. When asked to reveal the secret to six-pack abs, the star said he doesn't stay fit for aesthetic reasons.
"I think my whole body is fit," Ronaldo told Men's Health. "I do not prepare my body for photo shooting or to be beautiful. I do that for my job, for fútbol -- to be healthy, to be strong, to be ready for all the battles, all the season, for the whole competition. I'm always prepared, I'm not looking just for one part of the body, I work everything, even the mental [part]. Which in my opinion is the most important."
On the cover, Ronaldo is wearing jeans and briefs from his "CR7" underwear collection. Fans who were hoping to see more skin may remember his May cover for Vogue Spain, in which he bares it all behind girlfriend Irina Shayk.
Tres nombres siderales, Cristiano Ronaldo, @theirishayk y @mariotestino. En el número de junio
http://t.co/EKOweIqhJN pic.twitter.com/e8a04jnOdn

— Vogue España (@VogueSpain) May 19, 2014
Check out Cristiano Ronaldo's interview with Men's Health in the video above.
BEFORE YOU GO
PHOTO GALLERY
Cristiano Ronaldo for Armani