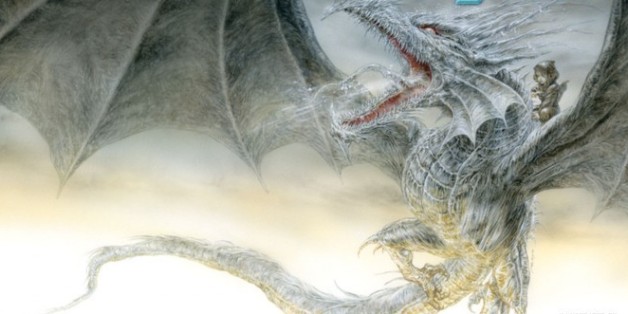 If there's one thing we've all thought as we watched a brutal sword fight or X-rated act of incest on HBO's drama "Game of Thrones," it's definitely "I wish I had an age-appropriate way to share this story with my young kid/niece/nephew/godchild." Now, finally, winter is coming for the kids as well. This fall, Tor is rereleasing George R.R. Martin's 1980 children's story The Ice Dragon, which is set in the same A Song of Ice and Fire world as "Game of Thrones."
The Ice Dragon was originally published as part of a 1980 anthology, Dragons of Light. In 2007, the story was released as a book, but it is no longer in print -- meaning for several years now, children have had no way to experience "Game of Thrones" mania for themselves, short of scouring used book stores and eBay for a used copy. The new edition, re-imagined with delicate, dreamy illustrations by Spanish artist Luis Royo, hits bookstores Oct. 21.
Adult fans of Martin's universe, admittedly, may not find much to excite them in the story. The Ice Dragon does not specifically mention Westeros or the characters familiar to fans of Martin's other work, and is not marked by the graphic violence of George R.R. Martin's A Song of Ice and Fire series. Instead, it reads rather like a fairy tale, albeit one set in a long, harsh winter reminiscent of those in Martin's adult books. The fable tells the story of a little girl who meets an ice dragon, with which she forms a fierce bond -- a bond that may later save her village.
Despite the kid-appropriate angle of the book, however, series enthusiasts may not wish to pass up any new offering from Westeros. As "Game of Thrones" hype continues to spread, Martin's sales have risen in conjunction with the popularity of the HBO show -- but readers have been waiting since 2011 for the next novel in the series, The Winds of Winter, to be released. Though his notoriously impatient fans have been champing at the bit for a new Westeros book to dive into, it remains to be seen whether they will be placated by the rerelease of The Ice Dragon -- or whether the pressure on Martin to set a publication date for The Winds of Winter will continue unabated.