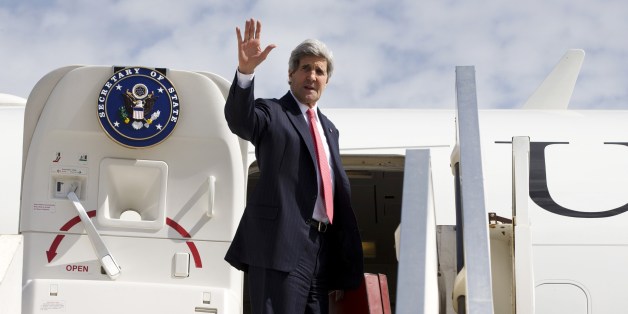 WASHINGTON -- During an appearance on "Fox News Sunday" several weeks ago, Secretary of State John Kerry was confronted with comments he had made in an interview earlier that day, apparently unaware that the cameras were rolling.
"It's a hell of a pinpoint operation," Kerry said, referring to Israel's airstrikes in Gaza, which the country had promised would cause limited destruction but were killing civilians. "It's a hell of a pinpoint operation."
As far as hot-mic moments go, it wasn't abject humiliation. Kerry explained his concerns about collateral damage and moved on. But the second portion of his comments was overshadowed.
"We've got to get over there. I think we ought to go tonight," Kerry said, before saying it was "crazy" for him to be "sitting around."
A day later, Kerry went to Egypt. After that, he went to Israel and to the Palestinian territories. Then he went back to Egypt, all in an effort to secure a truce to the war raging in Gaza. The effort may have been futile, but it was an effort nonetheless. And it underscored a main ethos of the Kerry-led State Department: that kinetic energy, determination and "being there" are instrumental in solving foreign crises.
All of which makes the recent articles about Kerry slouching away from the crisis a bit confusing. The Boston Herald on Monday said that Kerry had been "conspicuously" absent from the conflict in Gaza after suffering a notable setback in trying to secure a humanitarian ceasefire. The National Review followed up with a non-bylined item titled "While the Middle East Burns."
The Review took the opportunity to post a less-than-flattering picture of Kerry riding a pink bike at his Nantucket estate on Sunday, dragging around his dog on a leash. Certainly, the bike deserved a bit of ridicule. America's lead diplomat needs -- no, demands -- a manlier ride. How else to convey "stern business" to Vladimir Putin?
But the implication that Kerry has been MIA is not really borne out by the facts. A review of his schedule shows that he has made 56 stops to 34 different countries in 2014 alone. He visited France most often (seven times), followed by Jordan (four) and Israel, Saudi Arabia and the United Kingdom (three each).
According to the State Department, Kerry has spent 19 days on official travel in the month of July, traveling more than 50,000 miles. He's spent 108 hours and 47 minutes on his plane, or about 4.5 days. His public schedule shows that he spent just five days in Washington, D.C., in July.
The guy could probably use some time off. The case could even be made that a little R&R could help his diplomatic game.
But Kerry spent the weekend in Nantucket working. A State Department official told The Huffington Post that they "do not, nor have we ever, published a public schedule for the Secretary of State on weekends spent on non-official travel." But the official did say that Kerry had 16 calls with foreign leaders on Friday, four on Saturday and four on Sunday, all on the situation in Gaza.
So "While the Middle East Burns," Kerry was, at a minimum, dialed in –- perhaps on his bike phone.
Marina Fang, Samuel Levine, Akbar Ahmed and David McCabe contributed reporting.
Want more updates from Sam? Sign up for his newsletter, Spam Stein.
BEFORE YOU GO
PHOTO GALLERY
Secretaries Of State