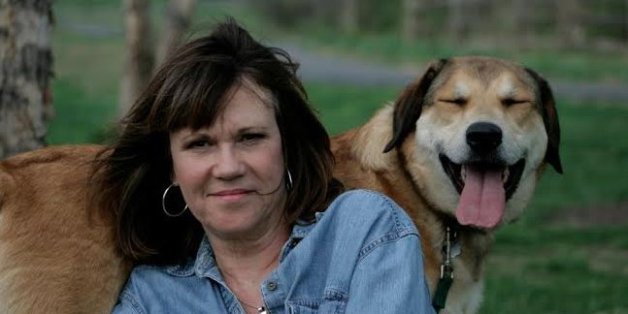 On a muggy August morning in 2010, Jean Ellen Whatley's dog Libby unwittingly set in motion a chain of events that would alter the course of Whatley's life.
Whatley, then 56, sat on her front porch in St. Louis and watched as Libby, who had spotted the neighbor's cat in the next yard, raced toward the border where the two lawns met. Suddenly, Libby stopped short. She barked and panted, but refused to go any further for fear she would be shocked by the electric fence. What Libby didn't realize was that the batteries in her collar had been dead for months.
The sight of her beloved dog, who was free to roam yet would not challenge her invisible barriers, prompted Whatley to re-evaluate her own priorities.
At the time, Whatley was working more than 60 hours a week in corporate video production, making custom content for various brands and businesses. Her brother Don was in the final stages of pancreatic cancer. In the 11 months since he had been diagnosed, Whatley had fantasized about taking a road trip with him to all the different places they'd lived or visited as children: Texas, California, New Mexico.
"I was sitting there so full of regret that I hadn't acted on my impulse to blow off my job and go do this trip," she said. "Watching Libby not challenging this artificial boundary was like a message from the universe. It was like a billboard dropped out of the sky and said -- excuse my French -- 'What the f**k is your problem, Jean?'"
The next day, Don Whatley died. Nearly one year later, Whatley quit her job, packed up her car and took off on a 9,000-mile odyssey to get in touch with her roots and herself.
ON THE ROAD
Whatley had about $3,800, the remnants of an income tax refund, available to her. In her first weeks on the road, she managed to raise another several thousand dollars with a Kickstarter campaign. She stayed in the cheapest hotels she could find, ate granola bars, and stayed with friends, friends of friends and family whenever possible.
"I was going back to revisit and reconnect with every person and place that had ever really formed my life," said Whatley. "I had not seen many of these people, like my cousins down in Texas, in more than 40 years [...] and I had a brother out in California I was looking for."
"When I first announced I was going, I was afraid people would ridicule me," she added, explaining that she blogged about her journey along the way.
But, she said, "without exception, everybody I called said 'Come [stay with me].' People I hadn't talked to in 30 years said 'I can't wait for you to get here.'" One by one, Whatley visited the spots and people who'd figured in her childhood and early adulthood, when she'd been a journalist traveling around the U.S.
After a few months on the road, Whatley satisfied the other purpose of her trip, making her way to California to look up a half-brother she'd never met. Once she found him, the two spent a day together. Whatley got to look through photos of their father that she'd never seen, and hear stories about him that she'd never heard before.
"It was a very wonderful opportunity to satisfy curiosity," said Whatley. She and her half-brother are still in touch.
WRITING IT ALL DOWN
On a beautiful, still evening, as the trip wound down, Whatley found herself sitting atop a rock overlooking Castle Valley, Utah.
"I was looking out over the desert, and it all just settled," she said. "All of the heartaches in my life."
"After 9,000 miles of solitude and the abundance of benevolence of people that I had known and met, all of that hurt and disappointment was gone," she continued. "It was like I had been just dropping pebbles of hurt across the country."
In that moment, she also cemented her plan to write a book about her journey, to provide a testament to her friends and family that "embodies the accomplishment of a lifetime for me," she said. "It gave me purpose."
But it didn't necessarily give her money. Whatley found a publisher for her memoir, Off The Leash, and in the summer of 2012 it was released. Yet although the book sold steadily, she struggled to make ends meet once she returned to St. Louis and her "real" life.
"It was really scary, because I was in a hole," Whatley said. "I had bill collectors coming to my house, knocking on the door."
Rather than second-guess her decision to quit her job and take her trip, she began to throw herself into freelance writing projects, small consulting projects and video work, bundling the profits together to make a modest living.
Eventually, she settled into the pattern she maintains to this day: writing, consulting, working with nonprofits and doing regular speaking engagements about her life and experiences. Her career is not as secure as her corporate job once was, but it's far more satisfying, she said. She has a sense of control over her own days that she was missing before. When she works now, it's from home, with her two dogs sitting happily at her feet.
"That is the number one thing I learned from my journey," said Whatley. "I am the best steward of my own life. Nobody else is going to save me ... Nobody else is going to make me happy."
If you or someone you know is taking steps to live a life that's simpler, saner and more fulfilling, we want to hear about it. To submit a Letting Go nomination, email thirdmetric@huffingtonpost.com.