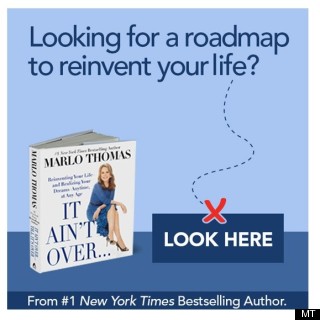 "One of the reasons I started my website is that I wanted a place for women to come together and dream. We women need to know that we don't have to hang on to an old dream that has stopped nurturing us—that there is always time to start a new dream. This week's story, an excerpt from my new book "It Ain't Over Till It's Over," is about Ofelia de La Valette, a successful insurance firm owner who found herself being called to dance – but had never taken a class before. She now owns and operates two dance studios, and teaches over 20,000 students!" —Marlo, MarloThomas.com
What is given to us can be lost. But what we create is forever ours.
 It was a lesson that had been imprinted on Ofelia de La Valette as a little girl, a lesson unwittingly taught to her by her father.
The grandson of a wealthy tobacco farmer in Cuba, Ofelia's dad spent his youth living the good life—no worries, no responsibilities. Though he became captain of Cuba's international equestrian team, he never finished college or got a job. There was no reason to—he had all the money he needed. So he married and started a family.
But in 1960, with Fidel Castro rising to power, he fled the country with his wife, three-year-old Ofelia, and her older brother. They arrived in New York City with only a few suitcases and no access to the family money back home. Within a year, at age 33, he was broke.
"Our lifestyle plummeted from the lap of luxury to abject poverty," Ofelia recalls. "It was a very hard fall, and although I was only a child, I felt it. The memory has never left me."
Thirty years later, as a young woman and single mom, Ofelia took a job selling flexible hours, doing so well that she opened her own Atlanta insurance company, de La Valette & Associates, in 1990. The firm took off and by age 34, Ofelia had a successful business, a beautiful house, and a flexible schedule that most days allowed her to be home to spend time with her family.
Then her world did a little spin on its axis.
One day, about a year after her second child was born, Ofelia was on the treadmill at the gym, determined to lose 25 pounds of stubborn pregnancy weight. As she was grinding her way through the workout, some funky music called to her like the Pied Piper. She followed the pounding bass to the next room, where she stood in the doorway watching a gaggle of sweaty men and women swinging their hips and pumping their arms to the beat. At the front, a guy wearing black-and-white-striped leggings, a skintight turtleneck, and jazz shoes was calling out the moves. Everyone looked like they were having a blast.
What am I doing on a machine? Ofelia thought. Why am I not in here?
Ofelia had fantasized about becoming a professional dancer someday, but her parents couldn't afford classes so she taught herself. In high school she joined various dance troupes, and later put herself through flamenco school.
Then she married, had kids, and started her company; there was no longer time for a little girl's silly dreams.
Still, this cardio-funk class at the gym looked like too much fun to pass up. But walking in, she froze: In front of her was a wall of mirrors that reflected her frumpy figure and a sea of incredibly fit people around her. Ofelia wanted to sink through the floor.
Article Continues Below Slideshow
But as the playlist of oldies and modern dance club beats—heated up, Ofelia let go and really started moving. Breathing hard, she struggled to keep up, but she was also smiling and laughing. "I felt invigorated," she says. "I felt happy. It made me feel like I was a kid again."
With hard work, her great rhythm and natural talent kicked in. One of her instructors pulled her aside after class one day. "You missed your calling," he told her. "Had you started training younger, you would have become a successful dancer." His words inspired her to keep going.
So she kept at it, taking modern dance, jazz, hip-hop, and ballet. "I rearranged my office schedule so nothing could interfere with those classes," she says.
In 2002, at age 44, after eight years of in
tensive training, she started teaching adult
 beginner dance classes part-time at Emory University. After one class, five students told 
her how much they loved her teaching style 
and urged her to start a studio that specialized in beginner dance classes for adults, which didn't exist in Atlanta at the time. 
It was tempting but scary. Ofelia didn't know the first thing about running a dance studio and she'd have to close the insurance agency to create a business model, run the studio, and teach full-time. She'd be risking everything she'd worked for her entire career. "My family was mortified," she says. "My life was stable and secure. Why would I throw all of that away to start over, especially in a field I knew nothing about—at 46 years old?"
 But once the idea was planted in her mind, it germinated. "I understood how therapeutic dance could be and wanted to share it with the world. I wanted to make my life count by contributing to others.'"
In 2004, Ofelia opened Dance 101, a studio just for adults. The curriculum was modeled after her own journey: She offered "discover" classes for newbies and higher-level classes for those who wanted bigger challenges.
She had only 35 students at first and little support from the local dance community. She couldn't even find teachers willing to work for her and was logging 14-hour days. "I affectionately refer to that period of my life as 'two Advil and a Redbull,' because that is how I got through it," Ofelia recalls. "But I was determined." And through word of mouth, new clients started streaming through the doors. Within a year, she had to relocate to a 10,000-square-foot space.
Today Ofelia has more than 20,000 registered students and 40 instructors (that first cardio-funk teacher now works for her) teaching more than 100 different classes, from ballet and jazz to salsa, samba, tap, musical theater, and belly dancing. Her students are all different body shapes, ages, ethnicities, and cultures. You might see a high-powered attorney dancing alongside a neurosurgeon dancing alongside a seamstress. "Dance is like the great equalizer," Ofelia says. "Everyone shares a passion to move their bodies."
* * *
To find out more about Ofelia's Journey -- and to read 59 other inspiring stories -- buy your copy of "It Ain't Over Till It's Over." Click here.
Add Marlo On Facebook:
Follow Marlo on Twitter:
Sign up to receive my email newsletter each week - It will keep you up-to-date on upcoming articles, Mondays with Marlo guests, videos, and more!