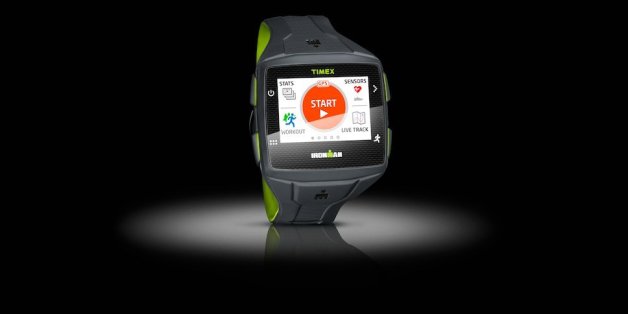 If you're one of the few people who actually has a smartwatch, you know it can't do much without a smartphone. In order for most smartwatches to be fully functional, they need to be paired to the mini-computer that we carry around in our pockets and purses all the time.
But Timex, the 160-year-old company known more for inexpensive but reliable watches than for technological innovation, is hoping to change that. Timex on Wednesday will announce plans for a smartwatch that connects to a cellular network, bucking the trend that most smartwatches must be paired with a smartphone in order to work.
Timex's jump into wearable tech comes as the biggest technology companies are girding for battle over your wrist. As the smartphone market matures, wearable technology is seen by many companies as the next area ripe for innovation. Samsung, Sony and Pebble, a crowdfunded upstart, are the leaders in the smartwatch category, according to Canalys, a research firm. Apple is rumored to be planning a smartwatch announcement this year.
The Timex Ironman One GPS+, as it's called, is no Dick Tracy-style wrist computer. It will not let you make calls, send texts, take photos or post Instagram pictures. It's more of a beefed-up activity tracker. It's waterproof to 50 meters, uses GPS to track how far and fast you've run, plays MP3s (via Bluetooth) and will show you your email (though you'll have to forward messages to the unique email address that comes with the watch). And because it's connected to a cellular network, you can upload your activities to popular apps like Strava, RunKeeper and MapMyFitness right from the watch.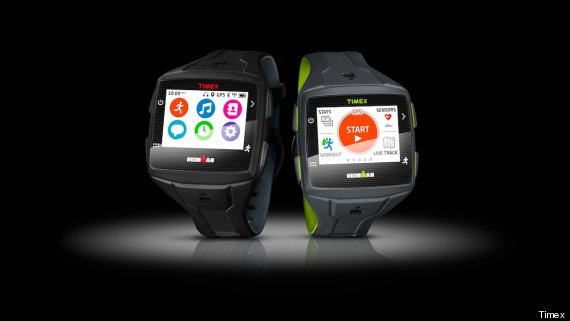 Timex, the maker of the iconic Ironman watch, is going after a crowd it knows well -- the athlete, Anette S. Olsen, chairman of Timex Group, told The Huffington Post.
"When you go for a run, you want to have your watch on, you want to stay connected," Olsen said. "It's really all about staying connected without having to carry too much around with you."
The Ironman One GPS+ only connects to AT&T's network, and it comes with a one-year data subscription to AT&T. It's unclear how much the plan will cost after the first year, but AT&T customers will likely be able to add it to existing shared data plans, said Glenn Lurie, the president of emerging devices at AT&T.
Being connected to AT&T's network allows the watch to function as a tracking device, uploading your location in real time so anyone you allow can know where you are in your workout. It also can send an alert with your location in an emergency.
The watch runs on Qualcomm's Brew platform. There's no plan for an app store, so you won't be able to download third-party apps like Spotify, iHeartRadio and Gmail.
Timex's deal with AT&T shows how wireless companies are exploring ways to increase revenue, now that the majority of American adults have smartphones. Wireless companies like AT&T have been moving customers to data plans that connect multiple devices, like cars and tablets, and adding monthly fees. Watches are a natural extension.
Other companies are working on connecting wrist wear to cellular networks. But cellular capability, as anyone with a smartphone knows, comes at a significant cost to battery life, Daniel Matte, an analyst at Canalys, wrote in an email. The Neptune Pine, which bills itself as "the first standalone, full-featured smartwatch," and offers texting, Internet browsing and a phone, is expected to start shipping in October. And the next version of Samsung's Gear 2 smartwatch is rumored to include a SIM card and may be able to make calls without being paired with a phone, according to a report in Phone Arena.
The Ironman One GPS+, which goes on sale in the fall for $399, has eight hours of battery life when it's being used as a GPS and the cellular capability is turned on, and three days when it's simply used as a watch.
This isn't Timex's first foray into wearable tech. Twenty years ago, Timex and Microsoft joined forces to create the Timex Data Link watch. The $130 watch could scan a computer screen to download contact and calendar information.