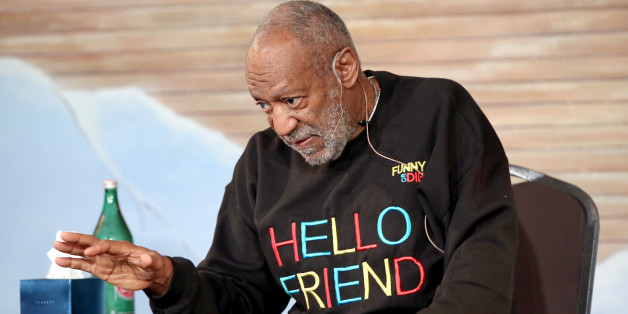 How do you get to Carnegie Hall? Be Bill Cosby, apparently.
The initial line up for the 2014 New York Comedy Festival (NYCF) was announced today, featuring shows by Amy Schumer, Hannibal Buress, Tig Notaro and more comedians du jour, but this year's Carnegie Hall show is reserved for Mr. Cosby.
Cosby will perform at the historic venue on Saturday, Nov. 8 during the festival which runs from Nov. 5-9.
"I would like to thank the New York Comedy Festival for bringing me to the great Carnegie Hall. Believe me, I have practiced," said Bill Cosby in a press release.
The 77-year-old comedian's most recent comedy special, "Far From Finished," was released in late 2013. Earlier this year, he performed to a completely packed audience at the South By Southwest festival in Austin, TX, where he also took his very first Instagram.
Now in its 11th year, the NYCF boasts over 200 comedians performing in more than 60 shows, often including panel discussions on the industry, such as 2013's Behind The Scenes Of "The Colbert Report."
According to the release, this year's festival will include, "a roster of festival favorites including Bill Maher, Hannibal Buress, and Maria Bamford, along with first-time festival headliners Carly Aquilino, Chris D'Elia, Tig Notaro, Amy Schumer, Marc Maron, Nick Offerman and Jessimae Peluso."
Tickets go on sale to the general public Aug. 11 on the festival's website. See the first announced line-up below.
THE 2014 NEW YORK COMEDY FESTIVAL SCHEDULE
(EVENTS CONFIRMED TO DATE AND ARE SUBJECT TO ADDITIONS)

THURSDAY, NOVEMBER 6
TIG NOTARO: BOYISH GIRL INTERRUPTED – 8 PM – TOWN HALL

FRIDAY, NOVEMBER 7
HANNIBAL BURESS – 7 PM – TOWN HALL
AMY SCHUMER: PROFESSIONAL – 8 PM – CARNEGIE HALL
MARC MARON – 7:30 PM – NYU SKIRBALL CENTER

SATURDAY, NOVEMBER 8
BILL MAHER – AN EVENING WITH BILL MAHER – 7 PM – BEACON THEATRE
CARLY AQUILINO AND JESSIMAE PELUSO — 7 PM — NYU SKIRBALL CENTER
BILL COSBY – 8 PM – CARNEGIE HALL
CHRIS D'ELIA: UNDER NO INFLUENCE – 7 PM – TOWN HALL
MARIA BAMFORD – 9:45 PM – TOWN HALL
NICK OFFERMAN: FULL BUSH – 9:45 PM – BEACON THEATRE
BEFORE YOU GO
PHOTO GALLERY
Comedians Then & Now