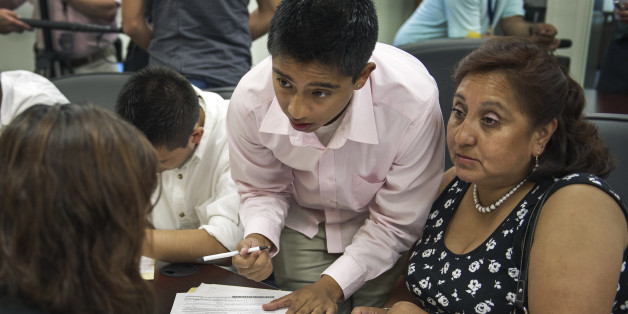 WASHINGTON -- Before congressional Republicans left for recess last week, they set their sights on eliminating President Barack Obama's policy to protect undocumented young people from deportation. The bill that passed the House would have stripped protections from half a million young undocumented immigrants, often called Dreamers. But according to a report published Wednesday, as many as 980,000 Dreamers are still living without that relief entirely, suggesting work needs to be done to both protect the Deferred Action for Childhood Arrivals policy and expand its reach.
The report, from the Migration Policy Institute, finds that 55 percent of eligible DACA recipients have applied in the two years since Obama announced the policy. These DACA beneficiaries have made great strides. They can apply for driver's licenses and open bank accounts, knocking down two substantial barriers to social and economic progress. And for the first time in their lives, they can work legally. A recent survey of DACA recipients found that nearly 60 percent were hired for new jobs, and 45 percent reported earning a higher income than before DACA. Now, members of the inaugural group who applied two years ago, in August 2012, are getting ready to renew their DACA status.
But the report acknowledges DACA's "mixed picture." It stresses that many eligible DACA beneficiaries have not yet applied. Under the report's expanded definition of eligible youth, which adds about 500,000 young people who have become eligible since 2012, only 41 percent have actually applied for deferred action. The rest face substantial financial and educational barriers.
"Our research makes clear that there is a substantial number of youth who are potentially eligible for DACA but have limited English proficiency and comparatively few years of secondary education," Margie McHugh, who directs the institute's National Center on Immigrant Integration Policy, said in a press release. "For many, access to adult education programs, including English as a Second Language and basic skills instruction, is critical to meeting DACA's education requirements."
The report estimates that 80,000 to 90,000 more young people will become eligible in the next two years.
Many Republicans justified the bill to end DACA by claiming the policy misleads undocumented immigrants and contributed to the influx of children crossing the border in recent months by giving them the false impression that they can stay. But none of those children are eligible for DACA benefits, and DACA recipients themselves still face immense uncertainty.
As the report points out, while the program allows undocumented immigrants to remain here temporarily without the fear of deportation, gaining citizenship under the Dream Act would be a much bigger challenge because the educational requirements are higher than those for DACA eligibility. The Dream Act, which would provide a pathway to citizenship for undocumented immigrants, would require Dreamers to pursue at least two years of postsecondary education. By contrast, DACA recipients must have at least a high school diploma or be in the process of earning one.
Of course, that's assuming the Dream Act requirements would go into effect. The legislation, first introduced in 2001 by Sens. Dick Durbin (D-Ill.) and Orrin Hatch (R-Utah), has continually been blocked by Congress. Most recently, it was included in last year's comprehensive immigration reform package, which passed the Senate but floundered in the House. Given that House Republicans voted to end DACA before they left town last week, the chances for passage of some form of the Dream Act look bleak.
The report also analyzed data on a state-by-state level. California, Texas, Illinois, Florida and New York, states that traditionally attract high numbers of immigrants, have the largest proportion of DACA-eligible young people. But the rate of people actually applying varies widely -- 64 percent have applied in Texas, but only 39 percent have applied in Florida. The report said that application rates depend on "differences in population composition, language diversity, access to information, state policies, and the climate of reception for immigrants," as well as how restrictive state policies are with respect to enrolling in school or obtaining a driver's license.
Overall, Arizona leads in the rate of eligible applicants who have applied -- 66 percent have applied for DACA since 2012. Other top states include Nevada, Colorado and North Carolina.
Arizona's DACA application rate is particularly notable given the battles advocates have fought on immigration in the state, which approved its infamous "show me your papers" law, SB 1070, in 2010. Fueled in part by the controversial law, immigration advocacy groups set up clinics and workshops to educate young people about DACA and to aid them in the application process.
"Immigration has been such a contentious issue for so long and it's so high visibility in Arizona that people knew about the program and probably felt it was in their best interest to sign up," Migration Policy Institute President Michael Fix told The Arizona Republic.
BEFORE YOU GO
PHOTO GALLERY
11 Ways Immigration Reform Helps The Economy