Live updates covering the latest information on Iselle and Julio, from HuffPost editors in Hawaii and New York.
08/10/2014 2:02 AM EDT
Hurricane Julio Downgrades To Category 1
Julio has been downgraded to a Category 1 hurricane on Saturday evening, according to the report from the Associated Press below. At 5 p.m. HST, the National Weather Service in Honolulu said Julio was weakening as it traveled east northeast of Hawaii's Big Island.
From Associated Press:
The National Weather Service has downgraded Hurricane Julio to Category 1, the least powerful level.

Sam Houston, a forecaster with the weather service, says Julio's winds have weakened to about 92 mph or 80 knots.

The hurricane is about 355 miles northeast of Hilo and 510 miles east of Honolulu. Julio is expected come closest to Hawaii early Sunday and linger near the state into Monday.
5pm update, Hurricane Julio slowly weakening far to the east northeast of the Big Island. http://t.co/nPhXgapPN6 #hiwx #julio

— NWSHonolulu (@NWSHonolulu) August 10, 2014
EARLIER UPDATES:
UPDATE, Aug. 7, 11:30 a.m. HST: As Iselle's bands of rain begin to lap Hawaii Island, Honolulu Star-Advertiser created this interactive map of emergency shelters.
Monitor the storm as it affects the Big Island's Kohala Coast via Hilton Waikoloa Village's Lagoon Tower Cam.
Hawaii's State Department of Education will close all public and public charter schools and DOE offices across the state on Friday. "We will continue to monitor both storms and will make another announcement regarding whether school will be in session on Monday," Superintendent Kathryn Matayoshi said in a statement.
Larry Ellison's Island Air has cancelled interisland flights from Honolulu to Maui and Lanai beginning on Thursday and will suspend all flights on Friday. Flights to Kauai will continue until the last flight departs at 7:34 p.m. tonight, however Hawaii Public Radio's Molly Solomon tweeted that all airports currently remain open. (We are following #HIWX for updates.)
Hawaii's primary election, which is to take place on Saturday in the time span between Iselle and Julio, will continue as planned, Attorney General David Louie said in an update from the Governor's office.
UPDATE, Aug. 7, 8:57 a.m. HST: Hurricane Julio strengthened overnight, is now a Category 2 storm and is expected to strengthen further before gradually weakening by Thursday night. Julio, 1,230 miles southeast of Hilo, is currently forecast to affect Hawaiian Islands as early as Sunday morning.
Iselle, still a Category 1 storm, is about 245 miles southeast of Hilo, moving at 17 mph. It measures 80-mph winds with stronger gusts. Radar imaging shows Iselle's outer bands are near the coast.
Waimea on Hawaii Island experienced a 4.5 magnitude earthquake this morning. At 6:24 a.m. Thursday, the quake shook the island, its epicenter located about 7 miles out from the northern tip of the Big Island. So far, there are no reports of damage, and Hawaii County Civil Defense Director Darryl Oliveira said moderate quakes are "not uncommon."
UPDATE, Aug. 6, 5:17 p.m. HST: Oahu is now under a tropical storm warning, as issued by the National Weather Service. Kauai County is now under a tropical storm watch. A hurricane warning continues for Hawaii Island.
UPDATE, Aug. 6, 3:20 p.m. HST: Hawaii Governor Neil Abercrombie signed an emergency proclamation before Hurricanes Iselle and Julio make landfall. It includes all islands in the state, activates the Major Disaster Fund for disaster relief, and allows access to emergency resources at state and federal levels. According to the proclamation, the emergency relief period will last through August 15.
Maui County Mayor Alan Arakawa declared a state of emergency for the county, which includes Lanai, Molokai, Maui, Kahoolawe and Molokini, effective 11:10 a.m. this morning and extending until September 5, if needed. Maui Bus will suspend services on Thursday and Friday, acting as a shuttle service to evacuation shelters.
On Oahu, Honolulu will shut down TheBus and Handi-Van services at the end of the day on Thursday. However, at 10 p.m. that night, TheBus will act as a shuttle service to provide free rides to hurricane shelters.
The Hawaii Emergency Management Agency released a list of evacuation shelters, opening at 10 p.m. on Thursday, most of which are at schools and are pet friendly. The agency emphasizes that shelters should be used as a last resort if you have no where else to go.
Hawaii State Civil Defense shared this brochure on preparedness, including emergency kit suggestions, web resources, and a planning checklist.
Island Air will join Hawaiian Airlines in waiving reservation change fees and fare differences for customers who need to change travel plans as a result of Iselle and Julio.
UPDATE, Aug. 6, 12:30 p.m. HST: The Honolulu Star-Advertiser is reporting that Hurricane Iselle has strengthened, against previous forecasts, which now anticipate Iselle to retain hurricane force winds as it makes landfall on Hawaii Island tomorrow.
Hawaii Island is under a hurricane warning, Maui County is under a tropical storm warning, while Oahu remains under a tropical storm watch.
Iselle is measuring 95 mph winds, up from 85 mph at 5 a.m. Below, an updated forecast map: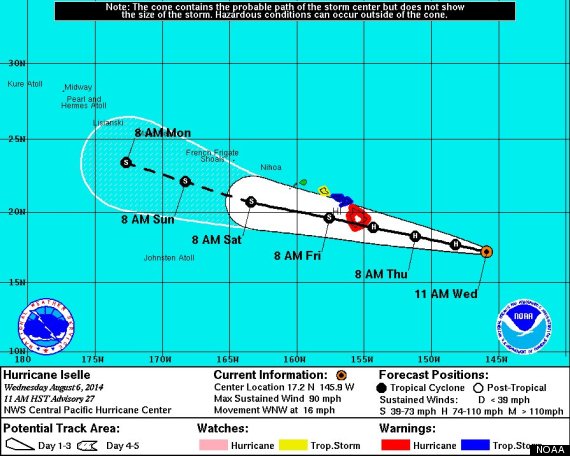 UPDATE, Aug. 6, 7:30 a.m. HST: Hurricane Julio was upgraded from a tropical storm at 11 p.m. Tuesday and, according to KHON2, was located 1,774 miles away from Hilo and moving 15 mph with maximum sustained winds of 75 mph.
Meanwhile, Hurricane Iselle has been downgraded to a Category 1 hurricane as the storm continues along a path to Hawaii Island and is scheduled to make landfall there tomorrow. As of 7:00 a.m. HST on Wednesday, Iselle was about 695 miles east-southeast of Hilo, moving west-northwest at 15 mph.
A tropical storm watch is in effect for Oahu, Maui County (which includes Maui, Lanai and Molokai), and Hawaii Island.
--
Hawaii is about to experience two very rare, back-to-back storms.
The National Weather Service Central Pacific Hurricane Center (NWSCPH) is monitoring two large storms as they approach the Hawaiian islands. Hurricane Iselle is expected to reach Hawaii Island on Thursday afternoon and continue along the island chain through the weekend, and tropical storm Julio is expected to follow along the same path two or three days behind.
It's being called an extremely rare and unprecedented event. The Weather Channel's lead meteorologist Kevin Roth wrote that "In 75 years of reliable data you only have one case where [tropical storms] were even 10 days apart," referring to a time in 1982 when two weaker tropical storms and depressions hit Hawaii.
Iselle is classified as a category 2 hurricane right now but is expected to weaken into a tropical storm due to cooler waters and increased wind shear around the islands.
Below, everything we know about these rare tropical storms.
Where are they headed?
Iselle is currently a little less than 970 miles away from main Hawaiian islands, moving westward in the tradewind flow towards Hawaii at 13 mph. Iselle's center is expected to cross Hawaii's Big Island Thursday night and continue on a trajectory south of (but still affecting) the other main islands, including Oahu, Maui, Molokai and Kauai.
Tropical storm Julio, which is trailing Iselle and was 905 miles east of Hilo on the Big Island as of Tuesday evening, is expected to become a hurricane by Wednesday.
How strong are they and what will happen?
Iselle is predicted to remain a hurricane through Wednesday before weakening into a tropical storm, which could have wind speeds between 39 and 73 mph. Iselle is also predicted to have winds in the 45-55 mph range, with gusts as strong as 65 mph or more, especially on mountain ridges.
Hawaii's Big Island, where the storms are expected to hit first, was under a tropical storm watch beginning Tuesday evening, which means "tropical storm conditions are possible within the watch area within 48 hours." Because of the warmer water outside the Big Island, Iselle's speed, which was at 13 mph on Tuesday and is expected to increase, is too fast for the warmth to strengthen Iselle back into a hurricane, Lau said in a press conference.
A flash flood watch is issued for all islands starting at 4 a.m., Thursday, through 6 a.m., Friday. Otherwise, there are no other watches or warnings related to Iselle, but that could change suddenly and with little notice.
Main threats include heavy rains with area flash flooding and coastal inundations through Friday, with tropical storm-force winds: 45 to 55 mph and gusts of up to 65 mph.
8/5 11a HST: Tropical storm watch has been issued for the Big Island of #Hawaii due to #Iselle http://t.co/hVMu6PTz9D pic.twitter.com/Sbjh3AGO7M

— The Weather Channel (@weatherchannel) August 5, 2014
What are Hawaii residents doing now?
As of 11 a.m. Tuesday, NWSCPH, which is based in Honolulu, has taken over forecast responsibility for Iselle and Julio from the National Hurricane Center in Miami.
All public schools on the islands of Hawaii, Maui, Molokai and Lanai will close on Thursday.
Drivers are beginning to line up at area gas stations, as well as hit stores such as Costco and Wal-Mart for comestibles and toiletries. Things they're buying include Spam, toilet paper, bottled water, baby supplies, and rice.
Hawaiian Airlines will waive reservation change fees and differences in fares for any customer changing travel plans on August 7 or 8 due to Iselle and Julio, effective immediately. The change must be done by Hawaiian Airlines personnel prior to the departure time of your original flight. There's some fine print, so click here for more information.
Lines are crazy at Costco Iwilei right now. Submit your own photo via Report It http://t.co/Nhx5xn7CRQ #Iselle #Julio pic.twitter.com/Cks1LglnL4

— khon2 News (@KHONnews) August 5, 2014
We will update this story as the storms develop.
BEFORE YOU GO
PHOTO GALLERY
Hawaii In Photos