If you happened to be walking in the neighborhood of Madrid's Congress of Deputies this month, you might have noticed a strange sight.
Flanking the Marqués de Casa Riera stood 30 neatly parked cars equipped with flashing police lights. But what appeared to be a congregation of law enforcement vehicles was actually a massive street art intervention aimed at protesting Spain's Citizen Security Law. Furthermore, the entire installation was made from recyclable materials.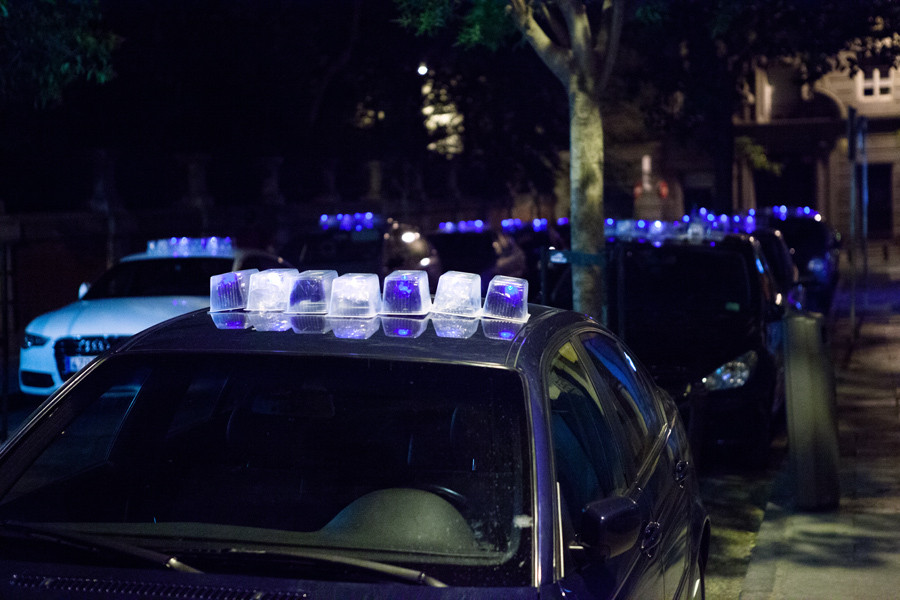 Yup, those bright blue and white lights -- positioned atop random cars already parked on the street, no less -- were made from 200 roast chicken containers, colored cellophane paper and flashing LEDs. With seven containers on each car, the vehicles resembled those of the National Police. And it's all the work of Spain's bold art activism collective, Luzinterruptus.
The intervention, titled "The Police are Present," points a finger at the Citizen Security Law, commonly referred to as the "Gag Law." Introduced in November of 2013, the bill originally intended to heavily fine individuals for unauthorized street demonstrations, offensive slogans, efforts obstructing pedestrian traffic, loss of identity documents occurring more than three times in five years and the circulation of "images of members of state security forces that might infringe upon their 'right to honor.'" A tamer -- yet still criticized -- version of the law passed in July.
"This act... has as its ultimate purpose, the illegalization of citizen's protests against the government," Luzinterruptus wrote on its website. "And in order to achieve this, seeing that many of its articles go against the Spanish Constitution, dangerously eroding the rights of assembly and demonstration in public spaces and the citizens in frankly defenseless, with greater possibilities of being arrested and fined.
"The law overprotects the security forces in the exercise of their law enforcement functions, being able to exercise violence against the citizens with impunity and according to their subjective criterion."
Check out photos of the installation, taken by Gustavo Sanabria, below. Let us know your thoughts on the project in the comments. For more on Luzinterruptus, check out our past coverage of the collective here, here and here.