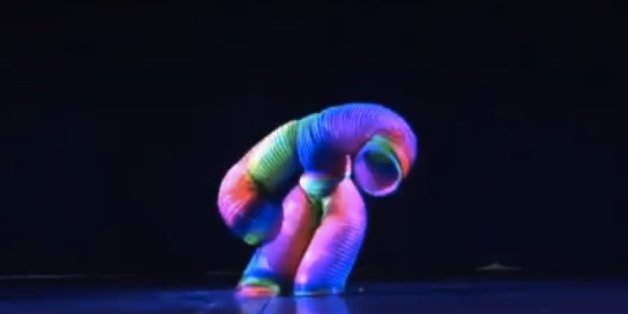 This is a human slinky. Per Buzzfeed, the five-year-old video is "the closest thing on the internet to doing actual drugs." The hyperbole is probably warranted, given that it's almost impossible to resist this whimsical performance art that awakens the happily screaming child in all of us.
However, in honor of Throwback Thursday, we wanted to signal to one of the original masters of slinky par excellence -- Mummenschanz. Is the Swiss mouthful of a name throwing you? Let YouTube refresh your memory (the slinky business begins at about 0:45):
The troupe of mummers, known rather appropriately as Mummenschanz, banded together in the 1970s under Floriana Frassetto, Andres Bossard and Bernie Schürch. They were known for their not-so-subtle costumery, an ability to toy with light and form and a hypnotic choreography style all its own. You might have caught them on PBS's "3-2-1 Contact" show when you were a kid -- or an adult. Either way you were probably transfixed by their particular brand of bizarre.
For more on Mummenschanze, check out our coverage of the troupe from 2012. Prepare yourself for some sweet, sweet nostalgia. And a few hours of contemplation in which you wonder how exactly a human slinky can exist.