A wealthy Republican fundraiser wants to erect a 500-pound American flag high over downtown Miami as a "sign of gratitude for many of us who weren't born in this country."
Mike Fernandez, a Cuban-American billionaire who famously feuded with the re-election campaign of Florida Governor Rick Scott (R), is offering to fund the $5-10 million flagpole project, according to WSVN. His location of choice is a sliver of land in the public Museum Park, which sits on prime downtown waterfront.
If he gets approval for his project, Fernandez's 40-story flagpole would be the tallest in North America. The Miami Herald reports the idea was inspired by a 400-foot flag that the insurance company Acuity erected over its Wisconsin offices. ("Now I understand why insurance is no longer affordable," wrote a commenter on video of Acuity's flag.)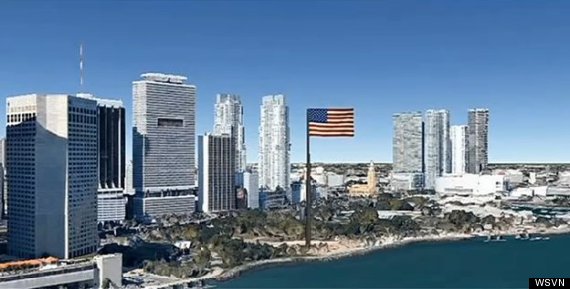 Concept art for the proposed project.
"It's kind of a symbol to the world that Hispanic Americans, we're not just proud of our Cuban heritage, but we're also proud of our American heritage," Miami City Commissioner Francis Suarez told the Herald.
Fernandez has been a headline mainstay this year in Miami.
In March, he suddenly quit his post as finance co-chair of Scott's reelection campaign. Leaked emails detailed behind-the-scenes clashes with Scott staffers, including an accusation that campaign aides had mimicked a Mexican accent on their way to a restaurant in Coral Gables, where Fernandez lives.
The son of a shopkeeper, Fernandez built his fortune in healthcare companies after arriving from Cuba at age 12.
"You can put a glass of water in front of people and whether they drink is up to them. This country puts a lot of glasses in front of people and a lot of people choose not to drink. I come from a pretty arid place so I drink," he told Florida Trend last year.
BEFORE YOU GO
PHOTO GALLERY
Distinguishable Members Of Congress