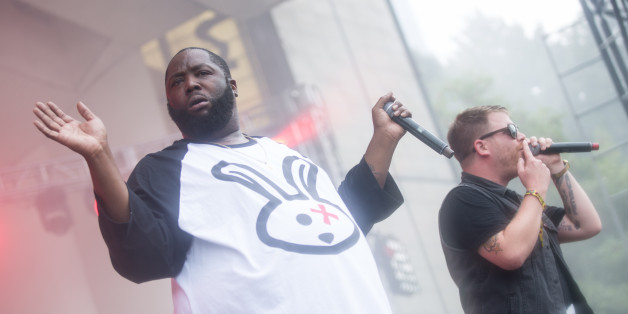 Hip-hop superduo Run The Jewels is a lot like a delightfully dangerous high school chemistry project: Two completely unique ingredients -- in this case, musicians -- combine and make one explosive show.
And right now, the year-old experiment sparked by Killer Mike and El-P making guest appearances on each other's records is blowing up.
Killer Mike would appreciate the chemistry reference: After all, the 39-year-old rapper, born Michael Render, is a huge "Breaking Bad" fan. (He even recapped the final season for hip-hop magazine XXL.)
"I had a high school chemistry teacher who was about your size," Killer Mike says, pointing to my roughly 5-foot frame shortly after wrapping Run The Jewels' set at Lollapalooza in Chicago Sunday. "I always wonder if he was into some of those Walter White experiments."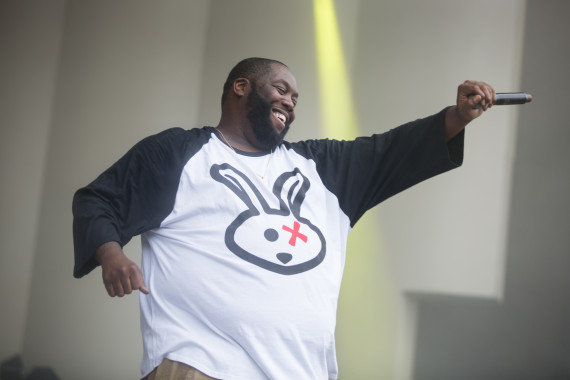 Atlanta-based Killer Mike, aka Michael Render, takes the stage at Lollapalooza 2014.
Reflections like these are common for Mike and El-P. Both individually successful in their music careers before they united to form Run The Jewels, the two still constantly nod back to their roots -- musical influences, family, mentors -- and repeatedly stress the importance of community.
During a performance at last year's Pitchfork Music Festival in Chicago -- smack in the middle of a grueling summer of gun violence -- Mike said building community was the solution to stopping the killings and implored the crowd to "give a damn about your neighbors."
The message wasn't a tossed-off remark, either: Mike, who uses his Atlanta barber shop as a base for community activism efforts, takes it everywhere he goes.
"I told our audience this last night [at an after-party show]," Mike said post-Lolla performance, "I say it every time I play in Chicago: 'Please find one child and mentor them. If you don't believe it can really change that child's life, my name is Michael Render, and my mentor is from North Chicago. Her name is Alice Johnson.'
In fact, he bought his shop, Graffiti SWAG (Shave Wash And Groom), to ensure the community he so often speaks of thrives. Mike said the reasons were threefold: Running a barber shop gave him a chance to create a better experience than what his community had been receiving; he wanted to provide people -- "specifically, black tradesmen" -- jobs; and the shop acts as a direct line to his neighbors so he can "hear what the community thinks and feels."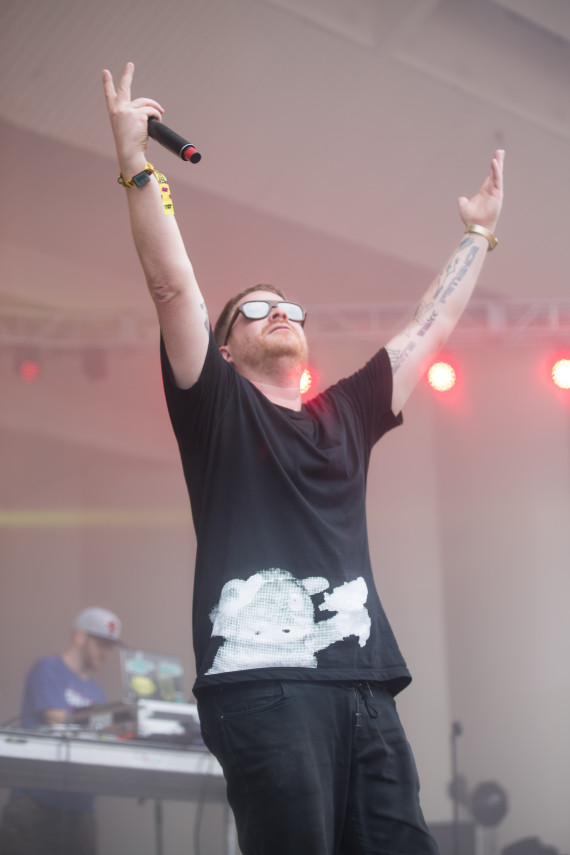 Brooklyn-based El-P, aka Jaime Meline, on the Palladium Stage at Lollapalooza 2014 during his performance as Run The Jewels.
In their fans, Mike and El-P say they see a vibrant and devoted community where everyone can be counted.
"That's really what hip-hop is: It's the most inclusive music of everything around it," El-P, otherwise known as Jaime Meline, said. "The roots of it come from people who were really listening to everything that was out there, applying their ideas and making something beautiful of their own."
As recently as five years ago, major music festivals like Pitchfork, Bonaroo and Coachella were still warming up to the idea of hip-hop as anything but a niche in the lineup. This year, Kendrick Lamar, Kanye West and OutKast were the bold-faced headliners for each of the respective festivals.
"I don't think there's a festival now where people would feel right about if there wasn't that representation [of hip hop]," El-P said. "And it wasn't always that way -- it used to be that hip-hop was an invading force on the larger music scene. [The change] speaks to a lot of things: The cultural and community significance of where hip-hop comes from."
The two cite artists like Boogie Down Productions, L.L. Cool J, The Beastie Boys and 2 Live Crew among their influences, particularly for their use of irony.
"We talk a lot of shit on our records, but i think it's apparent that it's all in good fun. Our vibe is very inclusive," El-P said, adding, "We can say something totally screwed up and people can still smile about it because they know they're in on the joke. We're not making the joke out of you."
But like their predecessors, Run The Jewels' lyrics about drugs, sex and theft (however ironic) have opened them to criticism.
In 2012, Fox News host Bob Beckel seized on Killer Mike's politically charged solo song, "Reagan," and slammed the rapper as "fat" and "rude" while calling his craft "the worst genre of music there ever was."
"The blame game is still a problem," Mike said as the two quickly riff on how subjects like danger, misogyny and violence have always been part of rock 'n' roll, the blues and literature. El-P argues the profane has been the catalyst for art, "even good art," since the dawn of time.
"People have restraint put on them for [moralistic reasons], because of government or religion -- but human beings also need a place to put something that's at times profane or decadent, something that may shock," Mike said.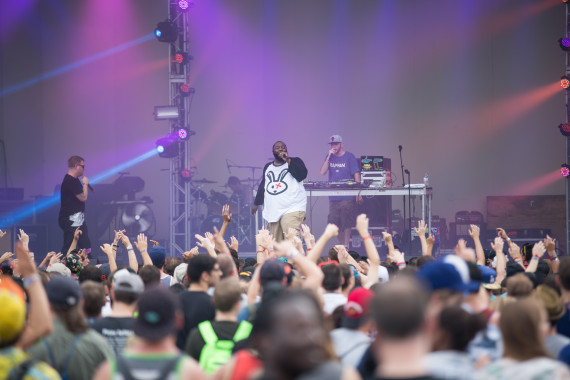 Run The Jewels in front of their Lollapalooza fans in Chicago.
Still, El-P says the two "feel [a] responsibility to project something that's positive." Mike uses the audience from moments earlier as an example of this.
"Most kids raged out there today. They ran around, they swarmed but they didn't hurt each other and they took care of each other. That's what I love about this and this community of Run The Jewels."
That community will no doubt expand when the recently completed "Run The Jewels II" is released later this year. (El-P plays coy on a specific date, saying only the album will drop "in the near future.") The two see it as an opportunity to, in a way, fill a void with something they want to see more of in hip-hop and music at large.
BEFORE YOU GO
PHOTO GALLERY
Lollapalooza Photos