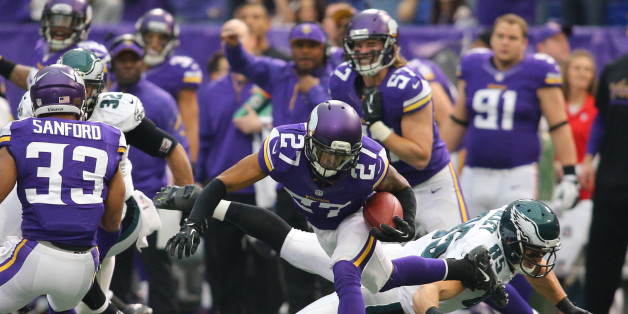 State Senator Scott Dibble (DFL-Minneapolis) put it very simply to Minnesota Vikings owner Zygi Wilf: The taxpayers of Minnesota are footing the bill for the Minnesota Vikings' $500 million "brand new shiny stadium," and if the Vikings want more tax breaks for the Super Bowl in Minneapolis in 2018, then Vikings special team coordinator Mike Priefer must experience a harsher penalty, perhaps even lose his job entirely, for having said, "We should round up all the gays, send them to an island, and then nuke it until it glows."
Dibble, the gay legislator who spearheaded marriage equality in Minnesota, wrote a letter on July 25 signed by 16 other state lawmakers and copied to Gov. Mark Dayton, to the Vikings owner in the wake of the release last month of a 29-page summary report regarding former Vikings punter Chris Kluwe's allegations of homophobic remarks by Priefer. The Vikings penalized Priefer with only a three-game suspension, which could be reduced to two games if he completes sensitivity training. Kluwe has said he now intends to sue the Vikings for the coach's remarks and for allegedly firing him because he wouldn't suppress his public advocacy of marriage equality.
"Mike Priefer said something that was pretty horrendous," Dibble said in an interview with me on SiriusXM Progress. "And he lied about it repeatedly until finally there was evidence corroborated… and he provided a kind of a half-measure apology for what he said. And [his comments have] been dismissed in various reports, including by leadership of the Vikings, as, 'Well, you know, people say these things. He said it in jest. He doesn't mean it. He's a good man, etc., etc.' It wasn't just homophobic -- it was genocidal. It was violent. It was really horrific. And when you contemplate for just a second: If he had said anything like, 'Let's destroy all African-American people. Let's destroy all Jewish people in this country. Let's put them on an island and nuke it until it glows' — that's what he said — he wouldn't have his job today."
The 17 legislators who signed the letter are demanding that the full investigation be made public. The Vikings only released a 29-page summary of the report of an investigation carried out by an independent firm that then handed it over to another firm. Dibble believes the summary is "suspicious" and a "PR polish job." He said the initial firm that carried out the investigation was led by a "highly respected" former chief justice of the Minnesota Supreme Court, but it mysteriously gave the report to another firm, which produced the summary.
"I have a hunch — I have no evidence, but I have a hunch — that the lead investigator wouldn't package his report in this [summary] manner and that's why they went to another firm to create this summary," Dibble said. "So, they just need to disclose the full investigation and then deal forthrightly with what's found."
Dibble explained that the lawmakers' involvement has everything to do with massive tax subsidies and tax breaks the state has given the Minnesota Vikings.
"The nexus here, the reason a bunch of legislators are getting involved, is that we're giving the Vikings half a billion dollars, $500 million, to build a brand new shiny stadium for them," he said. "So they're spending tons of taxpayer money. They're bringing the Super Bowl to Minneapolis in 2018. They want a bunch of tax breaks on their ticket sales and other considerations. They're in partnership with the public. They need to uphold the values we have as a state. It's a reflection on how our citizens are regarded and treated by this organization."
Listen to the interview here:

BEFORE YOU GO
PHOTO GALLERY
Straight Professional Athletes Who've Come Out In Support Of LGBT Rights