TOP STORIES
CDC UPGRADES EBOLA THREAT The Center for Disease and Control has classified Ebola as a level one threat, highlighting concerns about the virus's spread into Nigeria. Medical experts continue to call for greater access to the experimental drugs two infected American missionaries received. The death toll of the deadly virus is fast approaching 1,000, and health workers are frantically looking to track down 70 people who may have had contact with the virus. And here's how Ebola kills its victims. [NBC]
GAZA CEASE-FIRE CONTINUES Israel looks ready to extend the cease-fire as peace talks continue. Meanwhile, an assessment finds the fighting has led to the irreparable destruction of key industry. By the numbers: over 1,000 Palestinians have been killed, 10,000 homes leveled, 100 factories destroyed, and 80 mosques blown up. And here's a map to put it in context. [Reuters]

RUSSIA RUMBLINGS "When you see the build-up of Russian troops and the sophistication of those troops, the training of those troops, the heavy military equipment that's being put along that border, of course it's a reality, it's a threat, it's a possibility..." Defense Secretary Chuck Hagel said regarding the growing possibility that Russia will attack Ukraine. Experts believe Russia has hit its "tipping point." Meanwhile, Russia has banned food and agricultural imports for a year to retaliate against EU sanctions. The Kremlin is also mulling over banning EU commercial flights over Russian airspace. And Vladimir Putin's clocking an 87% approval rating. [AP]
ISIS STARVING OUT IRAQ MINORITIES Members of the Yazidi sect, whom the ISIS consider to be devil-worshippers, are beginning to starve after taking shelter from the Sunni extremists on Mount Sinjar. The children and the elderly are dying in droves from a lack of supplies and water. Meanwhile, ISIS continues to rack up military victories. The group captured three more Iraqi towns that help strengthen their position close to the northern Kurdish region. [WaPo]
HIGH-SPEED RAIL DREAMS COME TO SCREECHING HALT "High-speed rail was supposed to be President Obama's signature transportation project, but despite the administration spending nearly $11 billion since 2009 to develop faster passenger trains, the projects have gone mostly nowhere and the United States still lags far behind Europe and China." Bob Dylan called this one a while back. [NYT]
NET NEUTRALITY HAS A SHOT President Obama spoke out against internet fast lanes this week, a change from his relative silence since the FCC announced its plans for new Internet regulations. [HuffPost]
TIME TO PAY UP Bank of America is close to paying the U.S. government the largest settlement in history for its role in the 2008 financial crisis. Moral: You sell corrupted mortgage securities, you pay over $16 billion to make it go away. And here's a refresher on where monster banking settlements go. [NYT]
COULD COLLEGE ATHLETES SEE THE MONEY? University leaders are expected to vote to give students and universities a larger share of the NCAA money pie. According to NCAA president Mark Emmert, such a restructuring "shows a clear commitment to support student-athletes and allow them not only a place at the table but a voice in the process." However, some critics worry the plan will result in increased professionalization in college sports that would eviscerate the focus on athletes' roles as students. [HuffPost]
WHAT'S BREWING
DRESSED TO IMPRESS Vanity Fair released their international best dressed list, and the usual suspects have taken the honor. As an added bonus, Emma Watson revealed her fasion secrets. [Vanity Fair]
HBO GO WANTS TO BE LIKE NETFLIX After finally mentioning the company by name, HBO's CEO deemed Netflix a legitimate rival. The man's a fan of stating the obvious: he also pointed out earlier this year, "We're in the business of creating addicts." [Quartz]
THE GIRL WHO LIVED J. K. Rowling penned a letter from "Dumbledore" to Cassidy Stay, the 15-year-old who lost her entire family after her aunt's former husband shot her parents and four siblings. During their memorial service, Stay had quoted one of Dumbledore's greatest lines: "Happiness can be found even in the darkest of times if one only remembers to turn on the light." [Story via HuffPost, Image via Houston Chronicle]
FDA FACTORS IN HAPPINESS QUOTIENT FOR SMOKERS "Buried deep in the federal government's voluminous new tobacco regulations is a little-known cost-benefit calculation that public health experts see as potentially poisonous: the happiness quotient. It assumes that the benefits from reducing smoking — fewer early deaths and diseases of the lungs and heart — have to be discounted by 70 percent to offset the loss in pleasure that smokers suffer when they give up their habit." [NYT]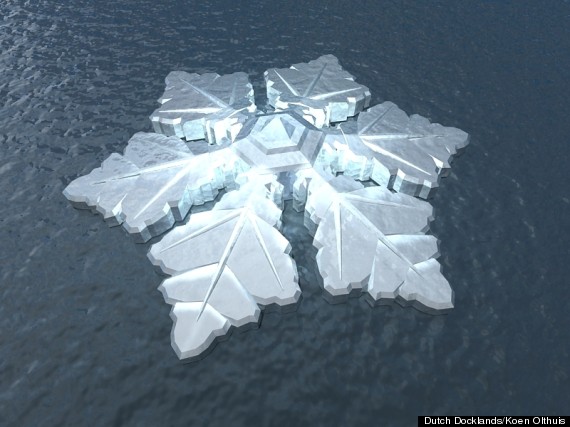 ELSA WOULD BE RIGHT AT HOME Developers are building a glass hotel shaped like a snowflake that will float in the middle of the Norwegian fjord. We can't make this stuff up. "The Krystall" will likely open at the end of 2016, offering insane views of the Northern Lights with its wall of windows. [HuffPost]
YET ANOTHER REASON TO MOVE TO HAWAII Behold the ten healthiest places to live in the U.S. Surf on. [HuffPost]
ON THE BLOG
'WORST TIME FOR MENTAL ILLNESS IN THE U.S.?' "My personal response to this depressing question would have to be an ashamed 'Yes' for the United States; a relieved 'No' for most of the rest of the developed world...The severely ill are now often jailed or homeless -- worse off than they were when I started psychiatry." [HuffPost]
WE THOUGHT YOU SHOULD KNOW
~ This grandmother found her grandson, who was taken by the Argentinian miltary junta, after searching for 35 years.
~ Chrissy Teigen is a supermodel who's married to John Legend, and she can throw a perfect first pitch for the Dodgers while hammered. Yeah, some people have all the luck.
~ You're going to want to pack your bags for a night of camping under the stars after watching this stunning time lapse of The Sequoia & Kings Canyon National Parks.
~ Copyright law can be highly entertaining when it's used to give a monkey the royalties for a selfie he took. Yes, a monkey.
Got something to add? Send tips/quips/quotes/stories/photos/events/scoops to Lauren Weber (lauren.weber@huffingtonpost.com). Follow us on Twitter (@LaurenWeberHP). Does somebody keep forwarding you this newsletter? Get your own copy. It's free! Sign up here.