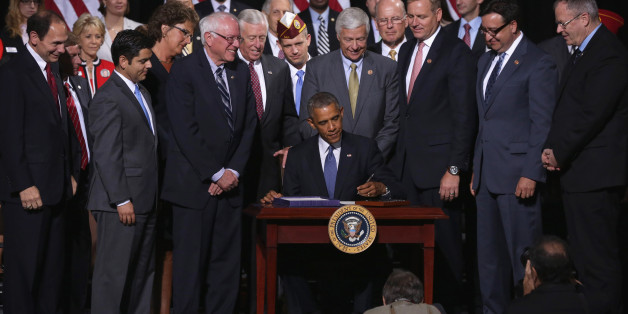 WASHINGTON -- On Thursday afternoon, in the Wallace Theater at Fort Belvoir, Virginia, President Barack Obama signed into law a major reform of the embattled Veterans Affairs system.
The celebratory nature of the event was rare. Signing ceremonies are fewer and farther between for this White House. Occasionally, they are held for such doleful legislative achievements (Congress averts a debt default!) that the mood is more relief than jubilation.
The VA bill was different. Its passage marked the end of a months-long negotiation process sparked by the revelation of scandalously long wait times for veterans' health care. The sides agreed to a fairly even trade. In exchange for more money to lease VA facilities ($1.5 billion) and to hire doctors and nurses and improve operations ($5 billion), the legislation gave veterans the option to pursue treatment at private medical centers, provided they live more than 40 miles from a VA facility. It also made it easier for the VA secretary to fire employees who failed to perform their jobs or, worse, deceived their superiors about wait times. Part of the legislation ($5 billion) was paid for. The remaining $12 billion was treated as "mandatory emergency money."
What made the legislation even more remarkable -- beyond its huge bipartisan backing -- was that it passed when every other recent attempt at congressional compromise has failed spectacularly. Efforts to deal with the crisis of undocumented children at the border didn't make it out of the Senate. Efforts to pass comprehensive immigration reform never received a vote in the House. An extension of unemployment insurance was left basically dead by the beginning of the summer. A long-term extension of the highway trust fund was abandoned in favor of an eight-month patch. Each chamber accuses the other of holding up job creation bills. And the rate of confirmation of Obama's ambassadorial nominees is widely regarded as plain sad.
So what was it about the VA reform that made it pass with such broad support? What tricks could lawmakers use to grease the wheels for other bills? What were the sticks and carrots that proved effective in moving votes? Why was Congress able to set aside differences in this instance? What, dear God, was the secret sauce behind the VA reform's success?
The Huffington Post asked this question of congressional aides from both sides of the aisle in hopes of unlocking the key to future legislative activity. The answer shocked us.
"Clearly everyone wanted to help the veterans," said a House GOP leadership aide. "Everyone had stories in their districts from veterans and the system worked."
Added a senior Senate Democratic aide: "I think it's because vets seem to be the last group you can't oppose."
So, basically, the key to legislative success is not screwing over veterans?
"That's the answer," the Senate aide replied.
Want more updates from Sam? Sign up for his newsletter, Spam Stein.
BEFORE YOU GO
PHOTO GALLERY
Veterans Affairs Secretaries