There's just something about a cowboy name. So lean and lanky, with a relaxed, ambling swagger that calls up the (perhaps romanticized) romance of the Old West. From real life frontier heroes to the characters and stars of early movie westerns and1950s TV shows, these names project a nostalgic image that's pretty dang irresistible. Gene Autry
Gene Autry was, along with rival Roy Rogers, a popular singing cowboy for decades -- an amiable, upstanding, straight-shooting hero who crooned songs like "Back in the Saddle Again." Although Gene was actually christened Orvon Grover at birth, Autry was his real surname -- one that could make a wonderfully evocative moniker for a boy. Its meaning is "noble strength." Fess Parker as Daniel Boone
Daniel Boone was one of the towering figures of the western frontier and his name projects an image of strength and daring. The name is also associated with modern magnate T. Boone Pickens, and there have been Boones on "Lost" and "The Waltons" and in the novel The Big Sky, as well as the coonskin-capped TV Boone played by Fess Parker.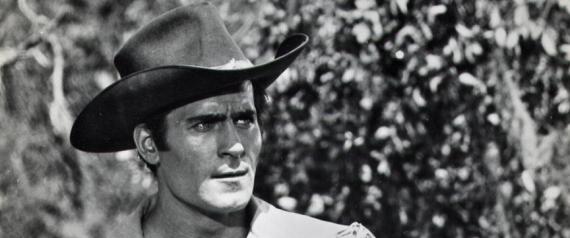 Clint Walker played Cheyenne Bodie in "Cheyenne"
"Cheyenne," which ran on TV from 1955 to 1963, centered on the character of Cheyenne Bodie (another possibility), played by Clint Walker. Cheyenne became a legitimate first name via this show, and a cowgirl name in the eighties. Westerns have been heavily populated with with western place named characters like Reno, Rio, Colorado, Dallas and Houston.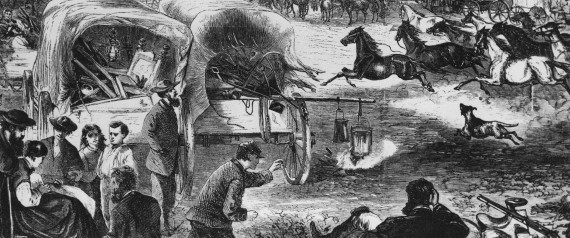 'Pilgrims On The Plains', a lithograph by Theo R. Davis 1869, showing a wagon train encampment
Flint McCullough was a Trail Scout in the popular sixties show "Wagon Train," about a pioneer covered wagon caravan trekking west. Flint and Clint were typical of the strong, muscular -- if not macho -- cowboy names that have come back into fashion.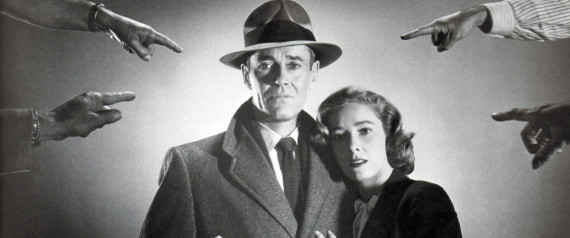 Henry Fonda in "The Wrong Man"
"How the West Was Won" was a 1962 film with an all-star cast (Henry Fonda, John Wayne, Gregory Peck et al) and a bonanza of great cowboy names. Fonda was Jethro Stuart, and there was also a Zebulon, a Zeb and a Jeb. A TV series followed in 1978, starring ex-Gunsmoke lead James Arness. James Garner as Maverick
The always charming James Garner starred as the dapper poker-playing Bret Maverick in the TV series from 1957 to 1962, along with brothers Beauregard and Brent. Of those more likely choices, Maverick became a surprise hit following the movie version starring Mel Gibson and then the 1986 film "Top Gun," in which Tom Cruise was known as Maverick. It's now at Number 273. Clint Eastwood as Rowdy
Another bad boy name, rowdier than Maverick, is the moniker inhabited by Clint Eastwood in his breakthrough role of Rowdy Yates, troubleshooter during a sprawling cattle drive on Rawhide. Clint was in his twenties when the series debuted in 1959.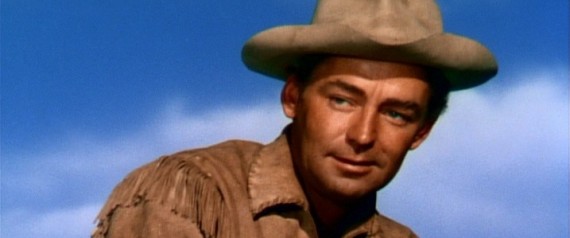 Alan Ladd in Shane
A movie Western with a lot more depth and heart than most, "Shane," starring Alan Ladd, premiered in 1953, winning six Oscar nominations. It was no coincidence that the name, a modern variation of Sean, entered the popularity list that year and was a Top 100 fixture for twenty-five years, still sitting at Number 257.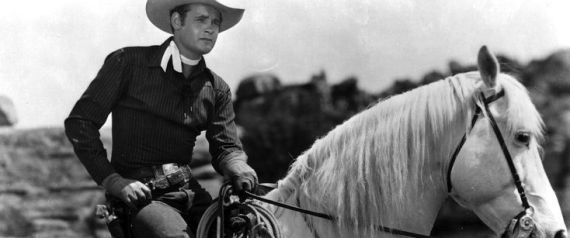 Sunset Carson
OK, so Sunset Carson wasn't really his name (he was born Wilfred Maurice Harrison) but what a colorful idea for a western word name. The six-foot-six Sunset was a B-western star of the 1940s and a rodeo rider, born in Texas. His mother's name: Azalee. Actor Kevin Costner playing Wyatt Earp
Wyatt became a quintessential western name thanks to real-life lawman Wyatt Earp, celebrated in countless movies and a popular TV series as well; he was named after his father's commanding officer in the Mexican-American War. The name didn't really take off until the 1990s but has been zooming up since, now at Number 41, and a sensational Number 12 on Nameberry.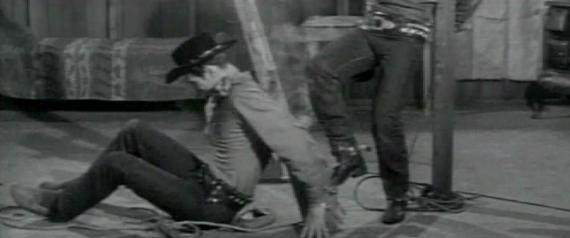 Jack Mahoney in a scene for "The Range Rider," he was also known for his character Yancy Derringer
Yancy Derringer was the eponymous hero of a late 1950s TV show, a former Confederate Army officer who carried a, yes, Derringer gun, in his hat. Though Yancy has a certain swagger, it's never made a mark -- perhaps because it rhymes with 'fancy.' Writer Zane Grey
Zane Grey was the number one writer of Western-themed fiction with titles like Riders of the Purple Sage, and a buckaroo image has clung to his name, which is now at a high of Number 215. Doubt if this would have happened if he'd have stayed with his birth name of Pearl -- Zane was his mother's maiden name and his middle.
BEFORE YOU GO
PHOTO GALLERY
The Best Cartoon Character Names