Summer camp is the place where millions of kids learn the skills -- survival, problem-solving, making out -- that will serve them through life. But for a few lucky teen and pre-teen girls, their summer camp experiences teaches them how to rock.
On Sunday, Girls Rock! Chicago wrapped its ninth year of teaching campers ages 8 to 16 how to play instruments, mix and record music, produce and collaborate. "Music is just a medium for other stuff — it's about putting kids in a positive environment, building community, building self-esteem," GR!C outreach director Melissa Oglesby recently told The Huffington Post. "The kids look at the experience as making them who they are."
(Story continues below.)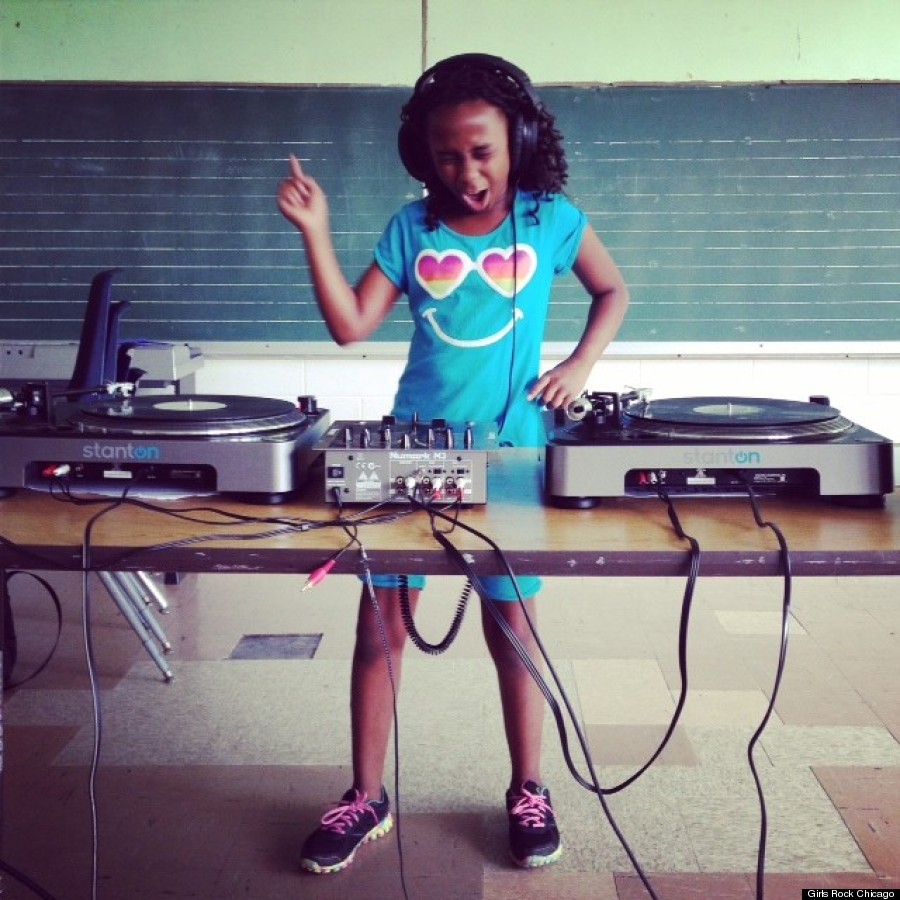 Faith, aka "DJ Remixa," one of the campers from this year's Girls Rock! Chicago, works her skills on the decks.
If you've ever wondered how one week of camp can change someone's life, just ask Alexandra Fryer. The 22-year-old co-owner and co-founder of the specialty garage rock cassette label Dumpster Tapes calls the weeklong stints she spent at Girls Rock! Chicago from age 14-18 "the most important thing I've done in my life."
"I feel like Girls Rock! Chicago hit me at that point in life where it really shaped how I saw my female peers," Fryer told HuffPost. "I never felt the need to be catty or talk down to another young woman. I never felt the need to put down another girl and I still don't."
Fryer adds, "I pretty much knew once I started at Girls Rock I only wanted to be around women that were empowering other women."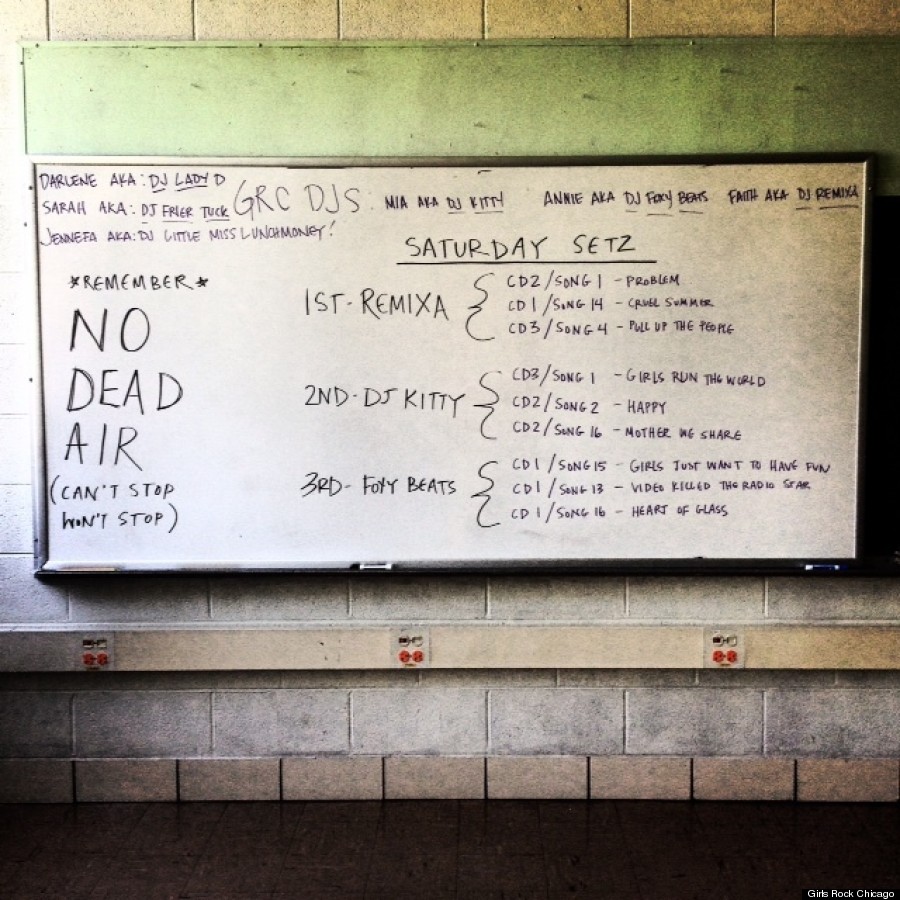 A whiteboard covered in performance notes during one of the Girls Rock! Chicago DJ workshops.
"We look at music as a kind of expression -- they find their voice," Oglesby said. "It's a way to build power."
Xeene Bain, who started at the one-week-a-year camp when she was just 9, told HuffPost: "Before Girls Rock I was really, really quiet. I think it helped socially and educationally." Now 17, Bain said her camp experience also helped her become comfortable with gender issues and respectful of "what other people have to say."
Like Fryer, Bain's Girls Rock experience opened doors to what she called "great opportunities." She created a YouTube channel for her recordings, and that led to offers to perform as an opening act in some of Chicago's iconic rock venues.
The counselors and fellow campers have also become what Bain describes as her second family. "When my dad passed away about two years ago, I got a package of all these CDs from the counselors and campers. ... It was amazing."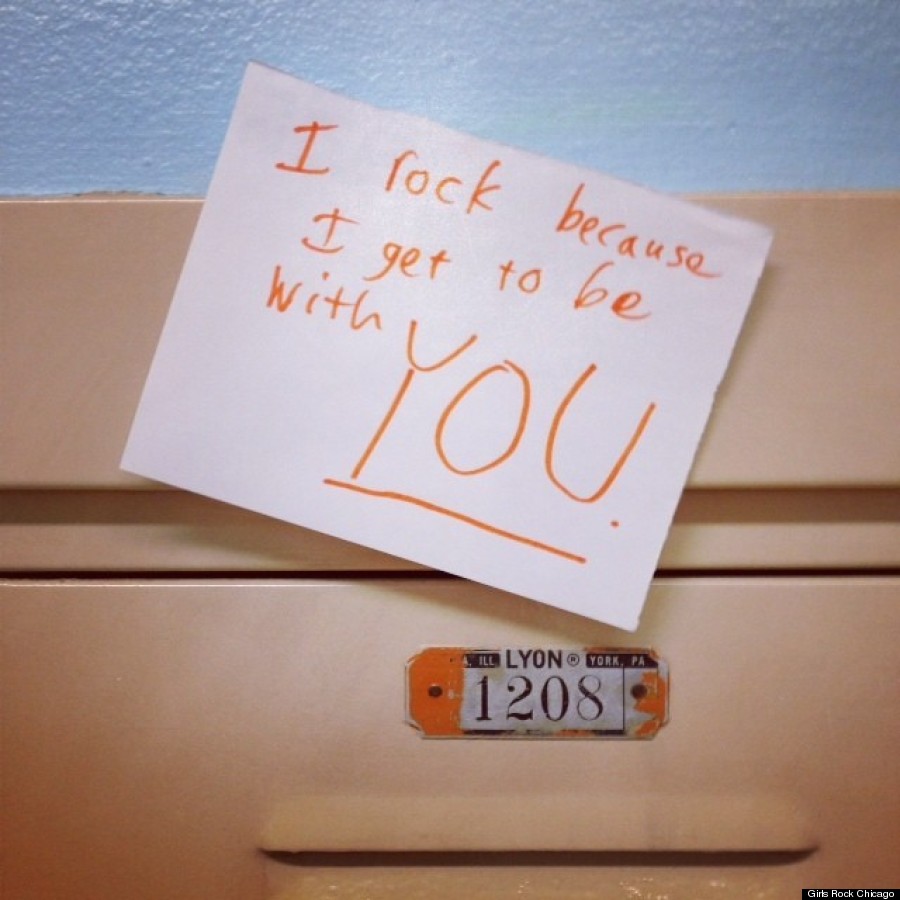 Campers and counselors write messages of encouragement throughout the week.
During the seven-day sessions, which are held in two separate bouts each summer, Oglesby said a typical day for campers includes a morning assembly, instrument lessons, a workshop and band practice. At the end of the week, the campers perform an end-of-camp show at local venue The Bottom Lounge and later record an album at Wall To Wall, a Chicago-based recording studio used by artists like Neko Case and the rock label Thrill Jockey.
"Music is different for different kids," Oglesby said. "The little kids just go crazy -- they're so excited and are having so much fun. They just dive right in and they're going nuts at the dance party. But even if they leave camp and don't touch their instruments till next year, we feel like that's ok."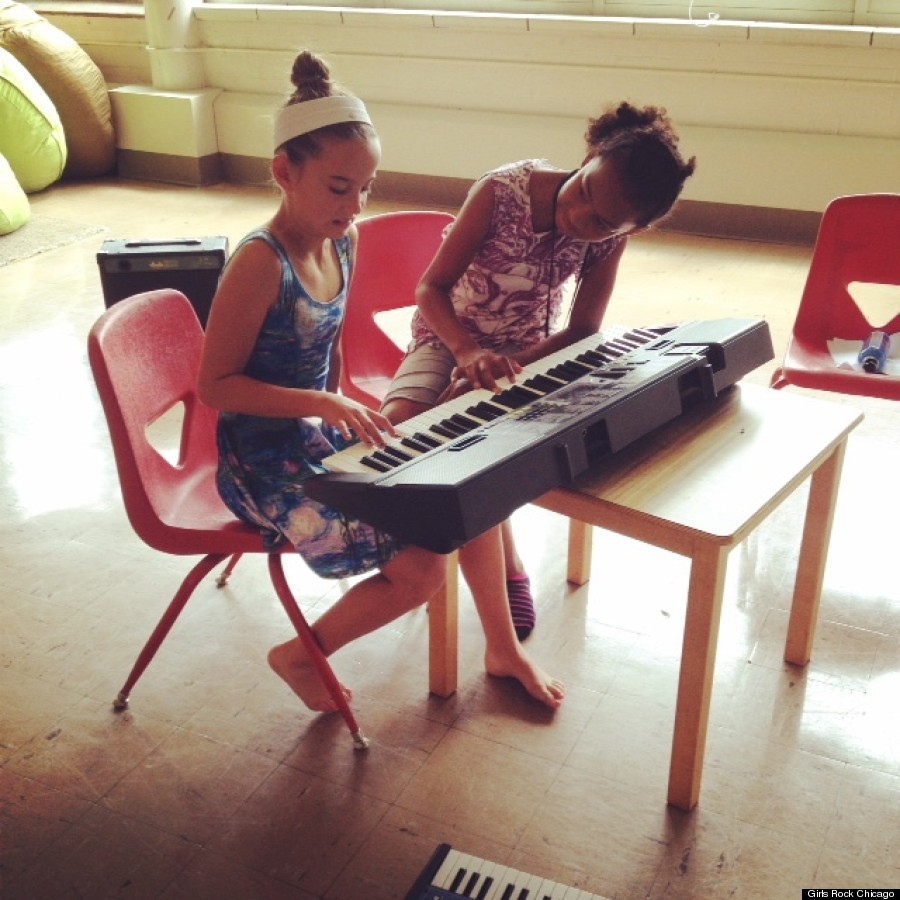 Young Girls Rock! Chicago campers work through a keyboard demo.
As the camp gears up for its 10th season, which will be held next summer, it's expanded to include a ladies camp for adults. It's also had some of its earliest campers, like Bain and Fryer, return as junior counselors.
"Being a camper is really fun, but in some ways, being a counselor is even more fun," Bain said. "Giving back and helping is really great. I'm asking every five seconds if there's another opportunity to get involved."