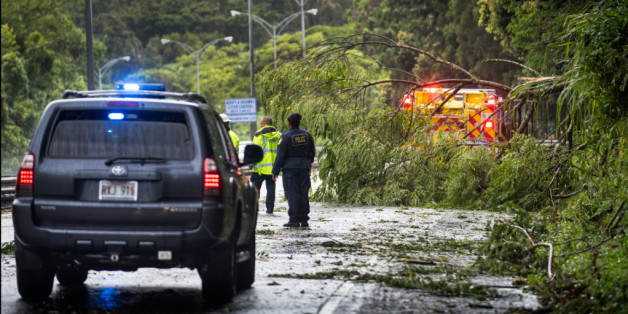 Hurricane Iselle had been downgraded to a moderate tropical storm by the time it swept across the Big Island early Friday morning, but it still brought strong winds, high surf and heavy rains — as much as 15 inches in certain parts of the state's easternmost island.
The weather caused significant damage in some areas there, knocking down trees and power lines and leaving more than 19,000 people on the Big Island without electricity as of mid-Friday morning.
The storm continues to weaken and make its way west, advancing south of the remaining islands. All the Hawaiian islands are under a tropical storm watch, and a flash flood advisory is in effect statewide.
By mid-day Friday, the storm appeared to be slowing down, meaning it could hover over the state longer, officials said.
"This is not Kansas, this is not Florida," Gov. Neil Abercrombie said on Friday. "The brunt of the storm has yet to come, so I do not want anyone to misconstrue the conditions that are pretty severe. Don't get fooled by it. I can't give the 'all clear' until late this afternoon or this evening."
No serious injuries had been reported as of Friday morning.
Hurricane Julio is following close behind Iselle. As of 5 a.m. Friday, Julio was 860 miles from Hilo and was expected to hit the waters north of Hawaii early Sunday morning. Officials on Friday said it looked as if Julio was sucking energy away from Iselle, weakening the tropical storm's force.
"We have been fortunate that Iselle appears to have subsided a bit, but we are still in a Tropical Storm Warning and must remain vigilant as Hurricane Julio is right around the corner," said Maui Mayor Alan Arakawa in a statement.
As of Friday afternoon, Saturday's primary election was still going forward as scheduled, with voting hours running from 7 a.m. to 6 p.m. as originally planned. Abercrombie said he didn't anticipate any changes to the election, though the elections office continues to monitor the situation.
On Friday morning winds were blowing at about 50 mph, with gusts as strong as 60 mph. Once the system traverses Oahu's waters in the mid-afternoon or early evening Friday its winds are expected at 35 mph to 45 mph.
Officials warned residents against going into the water or riding the surf, which is forecast at 10 to 15 feet on east-facing shores.
The winds were strong enough to knock down trees in areas on Oahu ranging from Nuuanu to Enchanted Lake, according to city advisories and social media posts. Around noon on Friday the city of Honolulu reported that a tree was about to topple on Tantalus Drive.
According to Hawaii County spokesman Kevin Dayton, some of the most severe damage on the Big Island occurred in Hawaiian Beaches, Nanawale Estates and Hawaiian Paradise Park, all of which are in the island's easternmost corridor.
Olani Lilly, an administrator at Hilo's Ka Umeke Kaeo school, said the storm brought massive, "crazy" waves that destroyed the school's fishpond and intense gusts of wind that knocked trees down all over the streets.
"I haven't seen a surf like that on this side in forever," said Lilly, who lives in Keaukaha two blocks from the beach. Lilly's family still has electricity, though her neighbors don't, she said.
Meanwhile, Daniel Caluya, principal of Mountain View's Na Wai Ola Public Charter School, said some of the campus's classroom tents and portables have experienced significant damage. A roof on one room blew off completely, he said.
Caluya, however, is most concerned about the school's students, many of whom are considered homeless and live in tents. Caluya has been spending the past few days delivering to them water, ropes and other supplies and urging parents to bring their young children to the evacuation shelters.
"It shouldn't be like this," he said. "This is heartbreaking."
At least two energy plants on the island — Hamakua Energy Partners and Puna Geothermal — were offline as of Friday morning, Dayton said. And the water main in Paauilo Mauka has broken, cutting water supplies for about 200 people in the area. It's expected to be fixed within eight hours, according to Dayton.
The Department of Water Supply around noon on Friday reported that power generation shortfalls had prompted the depletion of tanks in the Pahoa water system, and officials are now asking residents in the Pahoa, Kapoho and Makuu areas to restrict water use to essential uses only.
Current highway closures on the Big Island include Highway 132 at Nanawale; Highway 11 or Volcano Highway between the 53 and 63 mile markers from Kaaawa Flats to Naalehu; and Highway 250 or Kohala Mountain Road for the entire length of the road.
The county is in the process of preparing comprehensive damage assessments, Dayton said.
Meanwhile, as of Friday morning the only area in Maui County to have limited water was Upper Kula, where Maui Electric Co. crews are currently working on restoring power to the Olinda Water Treatment Plant.
Iselle caused fairly minimal damage in Maui County, although it did tear off the roofs of some homes, according to spokeswoman Lois Whitney.
All airports across the state remain open, according to the Hawaii Tourism Authority.
Emergency shelters are still open across the islands. As of Friday morning, 577 people remained in Oahu shelters, while 1,283 people were still in Big Island shelters and 231 people in Maui County shelters, officials said.
On Friday morning shelters in Kau and Hamakua were prohibiting people from leaving because of the extreme weather.
Most county and state agencies suspended operations in anticipation of Iselle on Thursday and Friday, including all public and charter schools, various government offices and municipal branches in charge of services such as trash.
Municipal services on Oahu will likely resume Saturday, Honolulu Mayor Kirk Caldwell said Friday.
Officials expected high winds to hit Oahu later Friday as the storm moved through the area to the south.
CORRECTION: The headline was updated to clarify that the storm was weakening as it passed the Hawaiian islands.
BEFORE YOU GO
PHOTO GALLERY
Tropical Storm Iselle On Oahu