Minnesota police are searching for the driver in a deadly hit-and-run that claimed the life of a married mother of two.
According to the Minnesota State Patrol, Mai Doua Yang, 35, and her husband, E Xiong, 37, were completing a weeklong bicycle ride Saturday, when a vehicle in Oak Park Heights struck them head-on.
Authorities believe the driver fled the scene without stopping. A passing motorist who came upon the crash, found Yang in the middle of the road and her husband nearby, police said.
Yang, who suffered critical head injuries, was transported to Regions Hospital in St. Paul, where she died on Monday. Xiong suffered severe leg injuries. He remains hospitalized in fair condition Friday.
"This is obviously a tragedy that initially resulted in a serious injury and now has become a fatal crash," State Patrol Lt. Eric Roeske said during a Thursday news conference.
Roeske said investigators have few details to go on and hope to get tips from the public.
"I wish we had more information on what type of vehicle might be involved, but at this point we have nothing to go on, so we're restating our plea for help from the public," said Roeske.
In a Wednesday interview with The Pioneer Press, Xiong's older brother, Xue Xiong, said his brother and sister-in-law were completing the final trek of a 355-mile bicycle ride from Sheboygan, Wisconsin, to St. Paul. He said they had about two more hours to go when the hit-and-run driver struck them.
"They were on an adventure," Xue Xiong told the newspaper. "They wanted to do something crazy. Sometimes they did spontaneous stuff, and this just happened to be one of those times. They were just really taking their time, enjoying the views and stopping when they needed to rest."
Xue Xiong said his brother needed surgery on both his legs and will need to endure months of physical therapy to walk again. While his sister-in-law was not as fortunate, he said her death did help others.
"She donated her organs to people to give them a better quality of life," he told The Pioneer Press. "How selfless an act."
E Xiong and Yang were high school sweethearts who had been married for 20 years.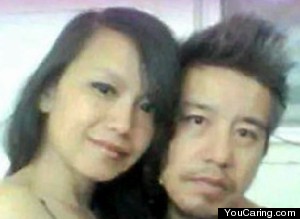 An undated photo of the happy couple.
"I have never seen true love in the making until I saw my brother with his wife in her final moments -- holding her hand, talking to her as if she's still there," Xue Xiong wrote on Youcaring.com.
Yang leaves behind the couple's two children, 16-year-old Chrystal Xiong and 13-year-old Dimitri Xiong.
In his post to Youcaring.com, Xue Xiong said his family is left searching for answers and justice.
"To the person who took my sister-[in-law], know that every day you not only took one person, but you took a lot of lives away," he wrote. "I grew up without a mother because of a stoke [sic], so I know what it means to look for love that only a mother can truly give … How can you take this away from my niece and nephew?
Anyone with information is asked to call the Oak Park Heights Police Department at (651) 439-4723 or The Minnesota State Patrol at (651) 539-1151.
A fund has been set up at YouCaring.com to help pay for medical and funeral costs. Click here to donate.
Like Us On Facebook |

Follow Us On Twitter |

Contact The Author
BEFORE YOU GO